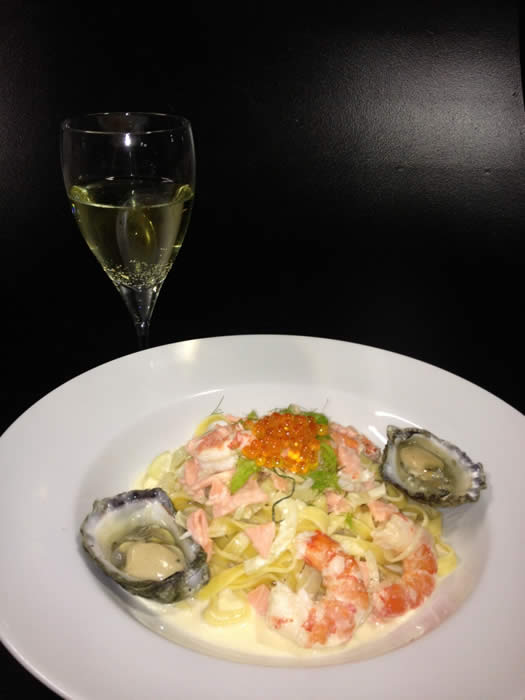 Every year the Sydney Royal Wine, Dairy and Fine Food shows independently judge a range of products and award them trophies, gold, silver and bronze medals if their standard is high enough. The recipe for this Masterclass pays homage to the latest crop of winners. Look out for Sydney Royal medal winning products at delis and supermarkets to be assured of superior quality and taste.
Serves 4
Preparation and cooking: 10 minutes
500g Pasta di Porto fresh egg tagliatelle
1 tablespoon Cobram Estate light extra virgin olive oil
1 small bulb fennel (or 1 leek), tips reserved, finely sliced
2 cloves garlic, finely chopped
Splash 2006 Coolangatta Estate Semillon (optional)
2/3 cup (160ml) fish stock
2 – 3 tablespoons Bulla sour cream (or to taste)
200g Huon Reserve Selection Smoked Salmon Banquet Slice, thickly shredded
20 Pacific Reef Fisheries, Farmed Cooked Tiger Prawns, shelled and deveined
8 Tathra Sydney Rock oysters
4 teaspoons Huon Reserve Selection Hand-Milked Caviar (salmon roe)
Brasserie bread Baker's Round or Harvest Grain sourdough, to serve
Duck River butter, to serve
2006 Coolangatta Estate Semillon
Cook pasta in at least 4 litres of salted, boiling water, according to packet directions.
Meanwhile place a large frying pan over medium high heat and oil, then fennel and garlic and cook for a minute or two or until softened. Add a splash of wine if desired. Add stock, sour cream, salt and pepper and bring to the boil. Simmer for a minute or so then add shredded salmon and mix through. Remove from heat and stir through prawns.
Drain pasta and divide between four wide bowls. Top with seafood sauce. Place two oysters and a spoonful of roe on each plate. Sprinkle with the fennel tips and serve immediately with crusty bread, butter and wine.
Lyndey's note: it is important not to overcook, or re-cook seafood. Therefore as the prawns which are judged are cooked, farmed prawns, they are only stirred through right at the end of cooking.
Award-winning products
Cobram Estate light extra virgin olive oil – 2011 Silver Medal
Fresh Egg Tagliatelle from Pasta di Porto – 2012 Champion 100% Durum Wheat Fresh Pasta
Bulla Premium Sour Cream – 2012 Silver Medal
Duck River Soft Butter – 2012 Silver Medal
Brasserie Bread – Baker's Round and harvest Grain – 2012 Silver Medal
Coolangatta Estate 2006 Semillon, winner of two trophies: The Restaurant and Catering Industry Association Perpetual Trophy awarded to the Exhibitor of the best Wine exhibited by a Small Producer in Named Vineyard Classes 73 to 77 and; The Len Evans Memorial Perpetual Trophy awarded to the Exhibitor of the best Wine in Named Vineyard Classes 73 to 77.
Pacific Reef Fisheries, Farmed Cooked Tiger Prawns – 2012 Champion Winner
Tathra Oysters- 2012 – Champion Winner
Huon Reserve Selection Smoked Salmon Banquet Slice, 250g- 2012 Silver Medal
Huon Reserve Selection Hand-Milked Caviar -2012 Silver Medal