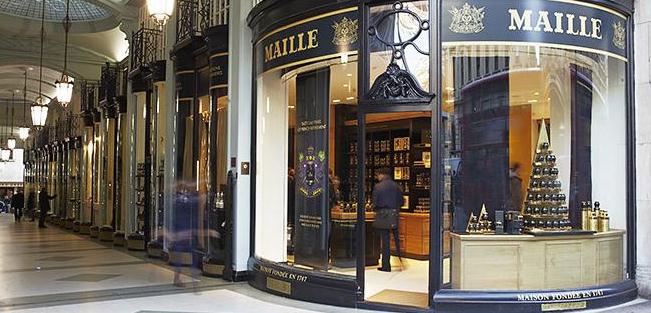 Have you noticed how many shops now look like jewellery stores? Think patisseries, even butchers like Victor Churchill!
Imagine my surprise, walking down Piccadilly in London, to happen on another – selling – wait for it – mustard! Maille (pronounced 'my') London Boutique is an entire store dedicated to mustards, vinegars, vinaigrettes and cornichons. A little slice of foodie heaven.
Had to go in, be guided through a tasting and buy some for gifts.  That's when I learned they would be setting one up here in Sydney. Well, La Maison Maille shop-in-shop boutique is now open in Ritchies IGA Mosman. It's only the fifth of its kind in the world, and a short while ago I had the opportunity to visit.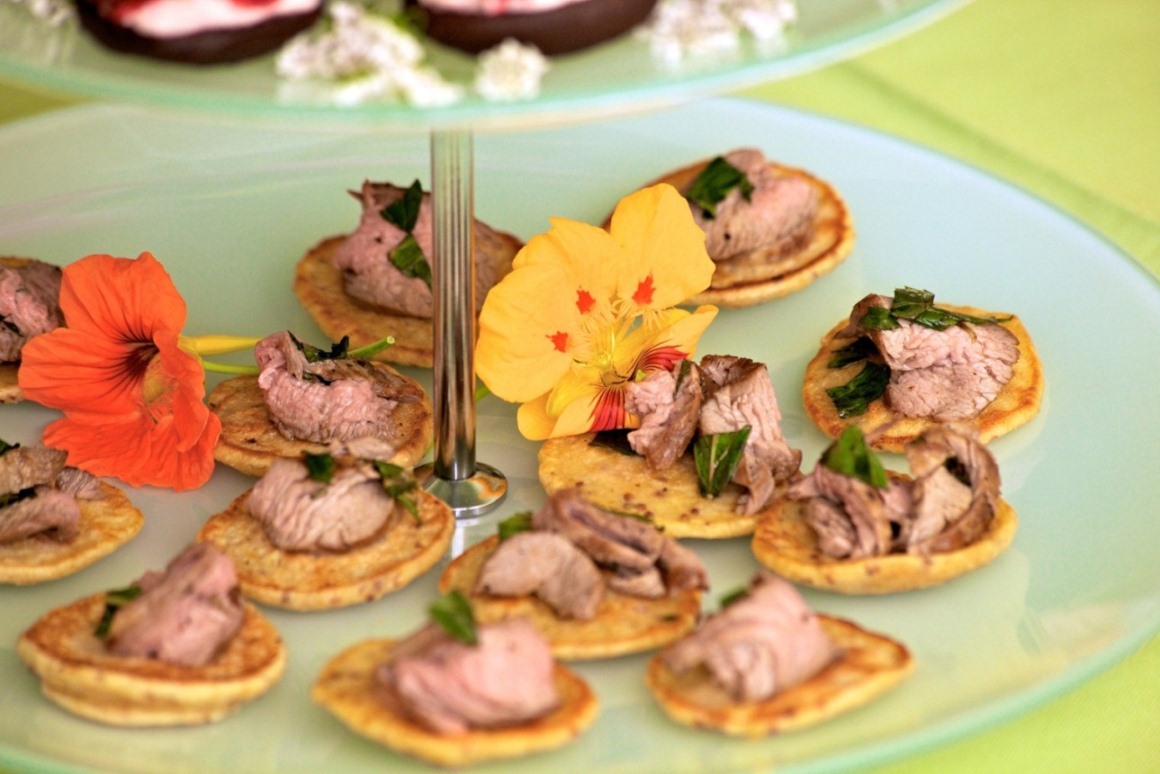 My mustard pikelets with minted lamb from the Taste of Australia cookbook.
Here I was greeted by their  "mustard sommelier"  Elodie Charlotte-Cleria. Yes, you heard it here first. We have sommeliers for everything but when I met her I was blown away by her knowledge, love of the product and charm. She was full of inspiration and ideas. She explained that the best way to taste mustard is to smell it first, then taste it on a neutral bread using the tip of your tongue. You can taste a variety of Maille mustards at the Sydney outlet including Blue cheese, Fig and Coriander and Walnut. I think the Celeriac and Black Truffle is a great last minute addition to eggs. Cooking mustard really decreases its pungency, so if you are adding it to soups, stews or sauces make sure you do it at the end of cooking so that you preserve its flavour.
Maille started life as a vinegar company. Antoine-Claude Maille discovered vinegar as an antidote to the plague and encouraged the residents of Marseille to rub it on their body or drink it in water. His 'Vinegar of the Four Thieves' saved Marseille from the plague.  Since 1747 Maille have been making mustards. They finely cut the mustard seeds rather than grinding them so as not to lose a lot of the aromats and flavours. They also use wine instead of vinegar in their mustard.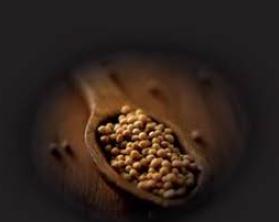 Mustard is made when the tiny seeds oils are activated by liquid. Originally it comes from the Romans mixing unfermented grape juice 'must' with ground mustard seeds. Known as 'burning must' or museum ardens, it was the first known source of the name 'must ard'.
It shouldn't be only thought of as a condiment to meat. Think Honey and Aceto Balsamic di Modena mustard glazed ribs, or Parmesan cheese and Basil mustard tossed through pasta. Or even mustard in desserts such as Hazelnut and Nutmeg mustard swirled through ice cream.
Mustard loses its pungency as it gets older, so the fresher the mustard the stronger it will be. At La Maison Maille Mustard with Chablis white wine and Mustard with Sauternes white wine are both served in the traditional method fresh from the authentic French porcelain pump into handmade French sandstone jars. The sandstone pots help keep the mustard fresh – keeping the light out and the mustard cool. Both these mustards are great served on seared scallops.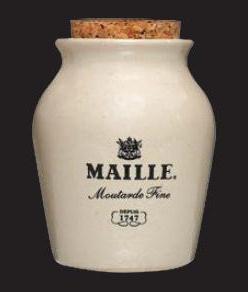 A jar of mustard could be just the thing for that "hard to buy for" Christmas gift!