The South Coast of NSW is a wonderful place to visit, not just for its stunning beaches but also the bounty of fresh fish and produce available. Its little wonder that chefs including the charismatic Rick Stein have made the region their second home. On this visit to the Shoalhaven I was truly spoiled by the sights and scenery – including kangaroos and dolphins – as well as the food, it really was a taste of Australia!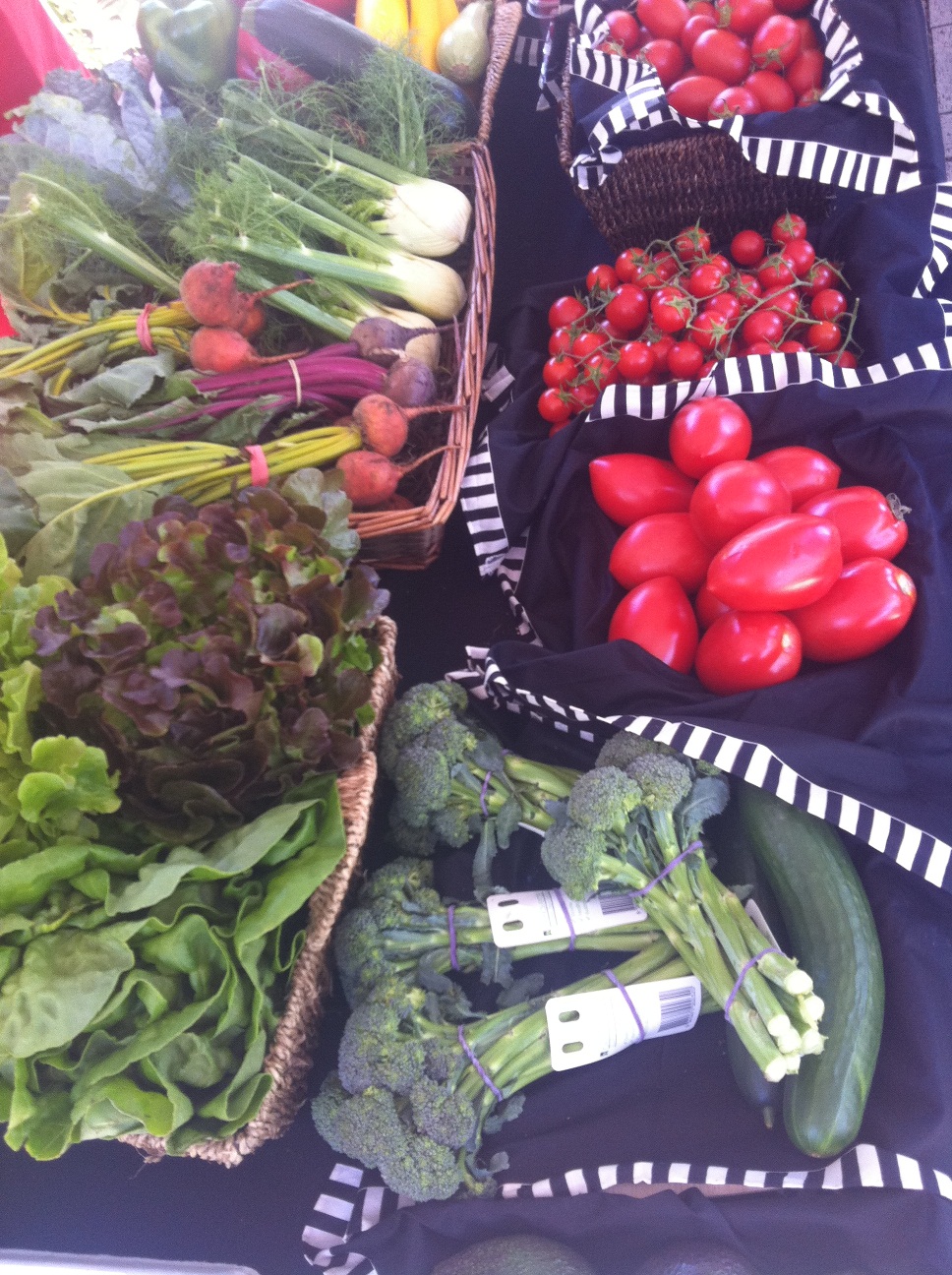 A farm trail with friends
My first stop on our journey was a farm trail starting at South Coast Providores.  The local business was started by a friend of mine and former colleague at Wine Communicators Australia – Carole Ruta and her partner Ian Gray. The pair moved to Berry in 2010 to set up South Coast Providores where they sell fresh and local produce as well as homemade chutneys, jams, zingy pickles and more. On the farm trail I picked up an array of vegetables and a truly splendid raspberry vinegar as well as some local wines including a sparkling wine from Coolangatta Estate, a dessert wine from Two Figs and a beautiful 2011 Shiraz – from the lovely Rosie Cupitt from Cupitt's Winery. Then it was onto the Clyde River, literally, to pluck oysters fresh from the lease with Ewen McCash – mind you he didn't expect me to have my own steel mesh glove and oyster knife with me!
Adding to my basket
Once laden with vegetables, I took my basket to meet fishmonger Lucky who I met at the wharf to to get the day's catch fresh off the fishing boat. Lucky supplemented this with some mussels and other goodies. With my basket near-brimming with local produce I had one more stop to make at Clyde River Berry Farm . The farm offers pick-your-own blueberries, boysenberries, loganberries, young berries and tayberries – all of which are derived from raspberries and blackberries. Now it was time to cook my day's collection – a seafood linguine and my Very Berry Trifle – an experience which proved a little trying under the glare of a 36' sun PLUS TV lights – it was fun but certainly not the ideal setting for making a sabayon for the trifle. And you'll have to watch to see what happens if you let sparkling wine get hot before you open it!

Rick's home from home
After a long (hot) day, I was treated to dinner by the gorgeous Rick Stein at Bannisters in Mollymook, which has long been a favourite haunt of mine. This instance was extra special as Rick happened to be in town. We've been friends since the mid-nineties, appeared on each other's shows and he kindly took time out for me from his Christmas holiday.  It's always a pleasure to catch up with Rick and to swap food stories.  The next day, Rick cooked me some snapper, his favourite fish, after a spot of foraging at the beach below Bannisters. Rick's passion for the region is so evident and truly infectious. According to Rick, 'to say this comes from somewhere specific … it just gives people a little, sort of, emotional tie to that food … And you say something like Clyde River oysters … or Illawarra prawns, you think, "oh, where is it? Where is the Clyde River? What's so special about them?"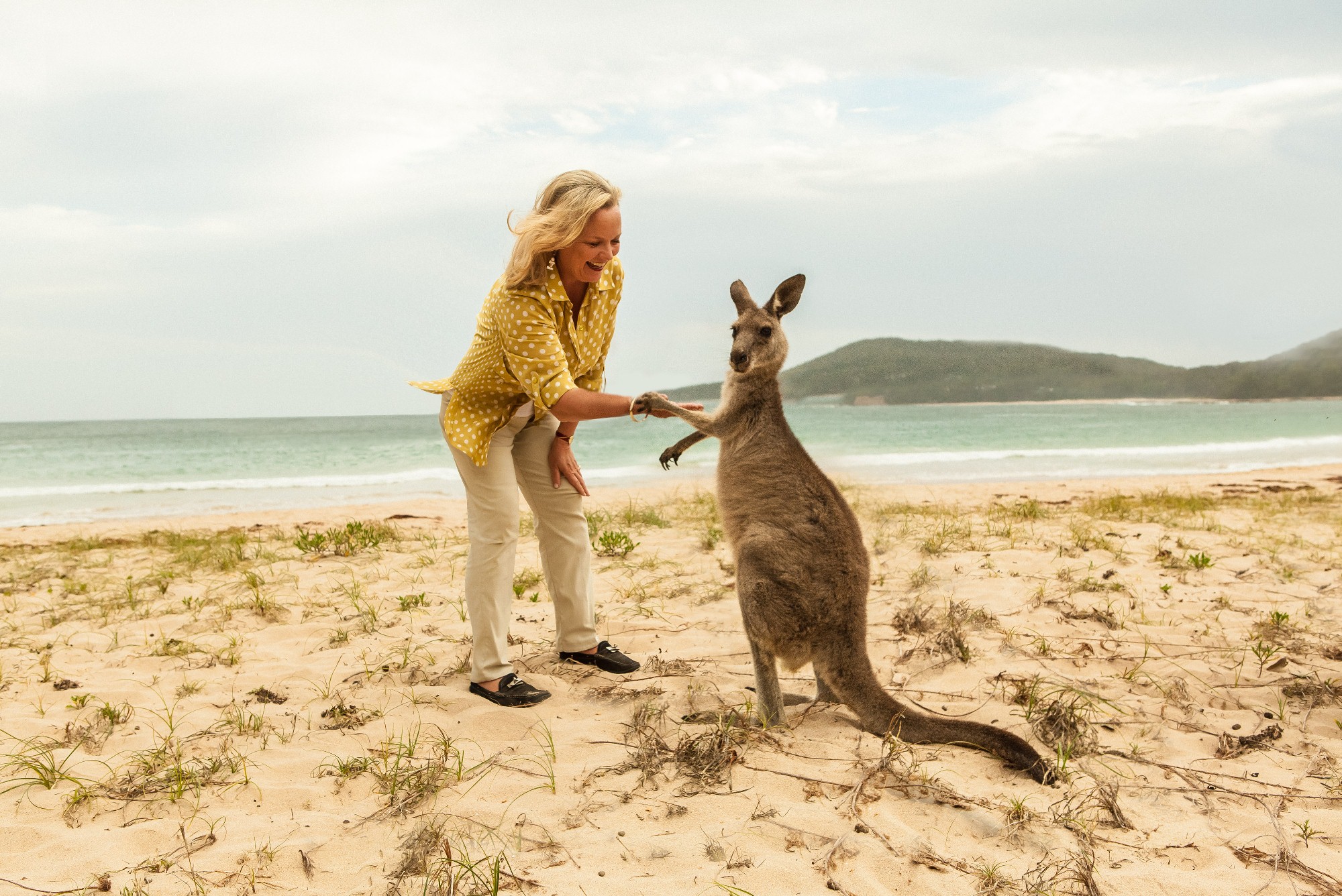 More than just good food
Aside from fine food and fresh produce, the South Coast boasts a number of other 'attractions' including the Bundanoon Homestead and Arthur Boyd's studio, which is open every Sunday and offers an insight into artist who claimed 'you can't own a landscape'.
On my trip across the country for this series, I have had several moments that have arguably highlighted Australia's beauty and bounty but none quite come close to fulfilling a stereotype of our great country as when I got to feed a kangaroo before dusk on Pebbly Beach – this surely is a photo and the footage of a lifetime!
And as if that wasn't enough, when I headed to Jervis Bay – home to the whitest fine sand in the world – I was fortunate enough to meet some of the 129 bottlenose dolphins who call the bay home. With such a high population, sightings are almost guaranteed when you take a cruise out from Huskisson. And if dolphins weren't enough – whales can be sighted from mid-May to late November as well!  I can't wait to get back!
If you have enjoyed Lyndey Milan's  Taste of Australia, the book of the same name is available from all good bookstores or www.flamedistributionstore.com , the book was recently been names 'Best TV Chef Cookbook in English' at The Gourmand World Cookbook Awards.