Project Description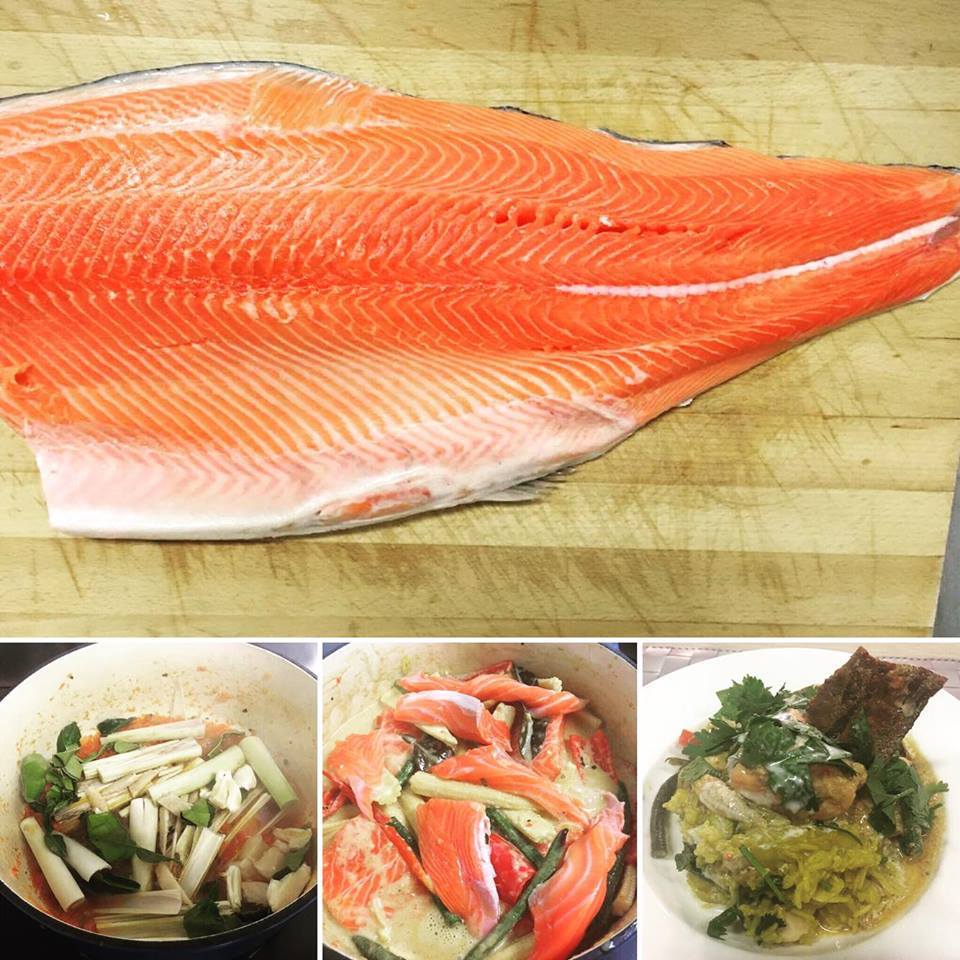 SERVES: 6
PREPARATION: 30 mins.
COOKING: 15 mins.
The Chilli Paste can be made a week ahead.
1/3 cup (80ml) peanut oil or coconut fat
8 sticks fresh lemon grass, trimmed, halved lengthways, bruised
16 slices galangal or ginger
16  kaffir lime leaves
100mls fish sauce, or to taste
1/3 cup palm or brown sugar
2 x 400ml cans (800ml) coconut milk, cream on the top reserved
6 x 180g fillets salmon
8 fresh red chillies, halved, seeded
300g baby corn, halved lengthways
12 snake beans, cut into 5cm lengths
1 cup loosely packed coriander leaves
8 kaffir lime leaves, shredded thinly
CHILLI PASTE
6 fresh  long red chillies
2 medium red onions, sliced
4 cloves garlic, crushed
8 kaffir lime leaves
CHILLI PASTE: Pour boiling water over the chillies in a bowl; stand for about 30 minutes or until soft. Drain. Blend or process chillies, onion and lime leaves to make a uniform paste. (This will make more paste than you need but it will store in the refrigerator.)
Heat the oil in a large saucepan, 1/3 cup of the chilli paste; cook, stirring, until fragrant and not smelling of raw onion, about 5 minutes. Stir in the lemon grass, galangal, lime leaves, fish sauce, sugar and the coconut milk; stir until the mixture comes to the boil. Simmer, uncovered, for about 3 minutes.
Add the fish, fresh chilli, baby corn and snake beans. Simmer gently, uncovered, for a few minutes or until the fish is opaque.
Season to taste with extra fish sauce and sugar if needed. Serve the curry in a large bowl sprinkled with coriander leaves, lime leaves and drizzled with coconut cream (if using).
Turmeric rice
3 teaspoons olive or peanut oil
1 large brown onion, finely chopped
3  garlic cloves, crushed
1 ½  teaspoon cumin seeds
1 ½  teaspoons turmeric
2 ½  cups (450g) basmati rice, soaked in water for 30 mins, rinsed
3 ¾  cups (940ml) chicken stock
½  cup (40g) toasted flaked almonds
1  cup coriander leaves, coarsely chopped
To make the turmeric rice, heat the vegetable oil in a medium saucepan over medium heat. Add the onion and cook for 3 mins. Add the garlic, cumin and turmeric. Cook, stirring, for 1 min. Add the rice and cook, stirring, for 2 mins. Add the stock and bring to the boil. Reduce heat to low. Cover and cook for 18 mins, without lifting the lid, then check to see if rice is almost tender. Remove from the heat. Set aside for 10 mins to steam. Use a fork to separate the grains. Stir through the almonds and coriander.