Project Description
Coriander Chicken Traybake
This Coriander Chicken Traybake is quick, easy, light, full of flavour and gluten-free. Adapt with any vegetables in season.
Serves: 4
Preparation time: 10 minutes
Cooking time: 40 minutes
Ingredients: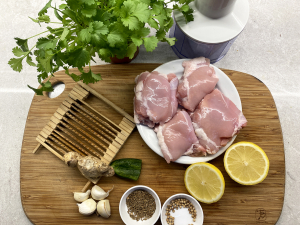 2.5cm piece ginger, peeled
4 cloves garlic
½ green chilli, deseeded
1/3 cup coriander leaves and stems
1 ½ teaspoons cumin seeds
1 teaspoon coriander seeds
1 lemon, juiced
650g free-range chicken thigh fillets
200g baby carrots, peeled and halved
1 large onion, cut in wedges
Salt and freshly ground black pepper
1 tablespoon (20 ml) extra virgin olive oil
1 bunch green onions (shallots), trimmed
1 bunch baby choy sum, washed, trimmed
Method:
Pre-heat oven to 180°C (160°C fan-forced).
Combine ginger, garlic, chilli, coriander, cumin and coriander seeds with lemon juice in a small blender. Rub this paste all over the chicken pieces.

Place chicken in a large baking dish lined with baking paper and pour over any liquid from the paste. Place carrots, onion and the lemon skins around the chicken. Grind over salt and pepper and drizzle with oil. Place in the oven for 20 minutes.

Add green onions and return to the oven for a further 20 minutes.

Meanwhile microwave the choy sum for a minute or so, or steam.
Serve immediately.
Wine: The zesty, lemony, spiced flavours are wonderful with a rose