Baking is hot, hot, hot and winter is cold, cold, cold so I was pretty excited to make a whole new TV series on Baking. I haven't done so much baking since I was Food Director of The Australian Women's Weekly and was the baking queen on Fresh TV. So there are six episodes each with a different theme and, as always, I like to have fun in the kitchen and make things foolproof.
If good things come in small packages, then baking is no exception. So we kick off with an episode of small food that is high on WOW factor: sumptuous almond cupcakes, decadently dressed with white chocolate ganache icing and a crown of crunchy, irresistible honeycomb; cheesey oat cream crackers and a make-over of an old favourite, raspberries and cream shortcakes.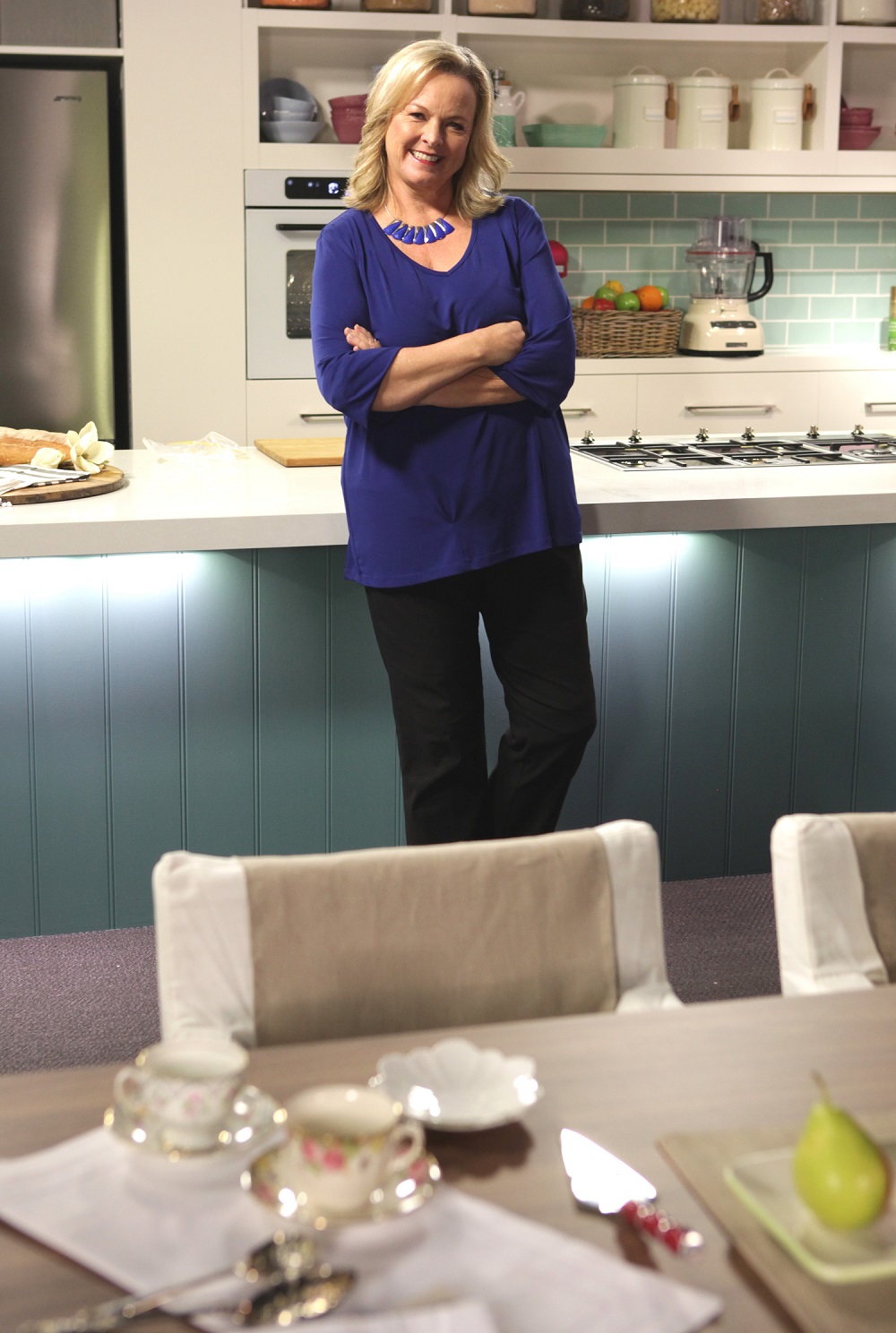 Baking is a lot more precise than many other forms of cooking; a combination of craft and science. That's what makes it so exciting!  But for success you do need some reliable equipment. I was pretty lucky for this series – not only did we create a whole new set in our studio (www.sydneystudiokitchen.com) but I got a whole lot of new equipment.  When it comes to baking, you can't go past KitchenAid – well, it's been around for almost 100 years but apart from the quality I can't resist the colours! Pistachio and almond won the day in this episode as I used the pistachio stand mixer to whip up my cupcake batter in a trice and the almond hand mixer for the whipped ganache, the almond food processor for my crackers. On a more serious note, though my many guests on the show like Dan Lepard (Great Australian Bake Off), the Pick your Poison girls (Cupcake Wars) all use KitchenAid. I have to say though, I am pretty amazed at the way those girls get alcohol in all their cupcakes!
I met up with girls and Dan at the Cake, Bake and Sweets Show in Sydney where he shared with me his five "must have" tools of the trade. This is only one of the baking secrets we share in this episode – each episode is packed with new secrets every week! This week I'll also show you how to get the best out of your oven and some pretty nifty icing techniques using Wilton icing combs.
The Cake, Bake and Sweets Show was a great day out, hobnobbing with other baking royalty like Duff Goldman (Ace of Cakes) who was very complimentary about the standard of cake decorating in Australia.  I could see why looking at some winning masterpieces and also when I met with Dean Gibson from Team Pastry Australia which is taking its chocolate artistry into international competition. One of the weirdest things though was seeing the cake pop which Kristie aka the Cake Pop Queen had made in my likeness – along with ones of Dan, Duff and famed patissier Eric Lanlard. No way I could eat it!
For all this and much more, tune into episode 1 of Lyndey Milan's Baking Secrets premiering on LifeStyle FOOD at 8.30pm on 14 July. If you miss that, there are 6 repeats on Tuesdays at 12:00pm & 5:00pm, on Saturdays at 9:30am and 8:00pm and Sundays at 12:30pm & 6:30pm!