OK, so I pinched the idea for the name of this episode – but was it from Breaking Bad or Eric Lanlard's Baking Mad???? Either way it's time to get rich quick as I stir in the butter, toss in the chocolate and spoon in the sugar for an unashamedly indulgent episode!
Cake Boy Down Under
I was somewhat nervous, taking my glossy chocolate tart to Master Patissier Eric Lanlard for a real life experience from his Baking Mad TV series when I visited him at Sydney's Cake, Bake and Sweets Show. I asked him to judge it honestly – and fortunately he was happy with my efforts. I have to say, soggy bottoms on tarts are something I abhor so I had taken a lot of trouble to get it crisp and dry! (Hint: I always use my KitchenAid food processor to make pastry – this time chocolate pastry. It ensures the disparate ingredients are blended evenly. Then blind bake the base!) Eric revealed a few secrets of his own when he made his salted butter caramel chocolate cake.
Sponge cake success
Like all episodes, this one is full of other tips. The secret to a good sponge cake? Beat the eggs and sugar for at least five minutes if not eight! For this you need a stand mixer (like my gorgeous hot pink KitchenAid), don't even think of trying to do it with a hand beater. Then you might be tempted to not beat for as long or as evenly. You can see above the kind of silky, voluminous texture I got from my mixer – this is the perfect start to a sponge cake – exactly what you want.
Extra Virgin Olive Oil chocolate ganache
This time I made a ginger sponge, well three really and layered them up with honeycomb cream, finished off with a chocolate olive oil ganache. As you know I always use Australian extra virgin olive oil and, and I am assured of freshness, using it in the ganache gives it great flavour as well as an extraordinarily silky texture.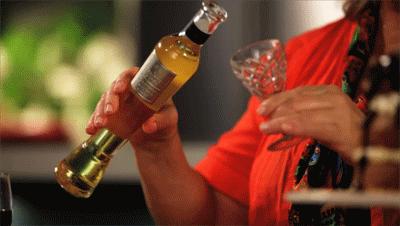 2011 Tempus Two Botrytis Semillon to match my Luscious ginger layer cake
Wine Matching
This then gave me an excuse to sit down and think about wine matching with sweet things and chocolate. The sugar level in a dessert ideally should be less than the wine with which it is served or else it can flatten the wine. So forget "sticky" wines and chocolate. Go instead for a liqueur Tokay or Muscat.  A 20 year old Yaldara Muscat* was a perfect foil for my rich, rich, rich chocolate tart.  However, the chocolate in the ganache was only a small part of my Luscious ginger layer cake, so here I chose a 2011 Tempus Two Botrytis Semillon.  Botrytis Cinerea, also known as Noble Rot, is mould which can form on grapes. It shrivels the grapes, evaporating moisture and therefore concentrating the juice along with sugar and acid levels of the subsequent wine. It imparts a unique flavour and aroma to the wine commonly associated with dried apricots.
Worth its salt
I wonder where that expression came "to be worth one's salt"?  Anyway, every bit of baking deserves a pinch and I for one am a big fan of salted caramel and salted chocolate.  I extended this idea to finish off the glaze on some donuts I baked. Yes, baked! Saves all that mess and if you're cooking with kids, it's much safer than using a deep-fryer. Wilton make the special tins, as well as a whole range of baking products well worth investing in. So I finished the donuts off with a sprinkling of my favourite pink salt. I have never understood why people buy imported salt flakes when they are right here on our doorstep! Murray River Salt is made from a brine pumped up from an ancient underground inland sea. I enjoy their subtle flavour and texture which melts in the mouth and gives a superior finish to my cooking. Their subtle saltiness helps to highlight the flavours of the maple glaze without overpowering it – a match made in heaven!

Maple glazed baked donuts
More Secrets
In this jam-packed episode I also give my tips on how to make the perfect meringue and how to choose the right baking tins for the right job.
Happy Baking!
*Yaldara Muscat available from Chateau Yaldara Cellar door. ph: +61 (0)8 8524 0225  email: barossa@mcguiganwines.com.au
This episode of Lyndey Milan's Baking Secrets airs on Foxtel's LifeStyle Food Channel on Monday 4 August at 8.30pm! Don't forget the encore episodes, Tuesdays at 12:00pm & 5:00pm, Saturdays at 9:30am & 8:00pm and Sundays at 12:30pm and 6:30pm.