Lobster Tails with Lemon Herb Butter

Lobster Tails with Lemon Herb Butter are quick and easy to prepare.  I also find them sweeter and more tender than large lobster. However, many people are unsure about cooking lobster themselves so I thought, rather than just publish the recipe, I would do a step-by-step blog. I was able to buy some Australian ones online, ready cleaned, individually packed and snap-frozen from FishMe. 
Serves: 4 as an entree
Preparation time:20 minutes
Cooking time:10 minutes
Ingredients:
4 lobster tails (approx. 100 – 115g each), defrosted if frozen
2 bunches asparagus, trimmed
Lemon Herb Butter
125g butter, softened
2 cloves garlic, finely chopped
¼ cup finely chopped parsley or coriander leaves
1 teaspoon Dijon mustard
Juice of 1 lemon
Method:
For the butter; combine all ingredients. Can be stored in the fridge if made in advance, but remove to soften before using.
To prepare the lobster tails: with kitchen scissors cut through the top shell of the lobster tail only, stopping at the base of the tail. Flip the tail over to the back and use your fingers to crack the ribs in the centre. Flip over again and open the shell using your fingers and loosen the meat from the shell, removing vein if necessary. Carefully lift the meat from the shell, keeping it attached at the base. Press the shell together and put the lobster meat over the top so it sits on the shell.
Heat the grill to high.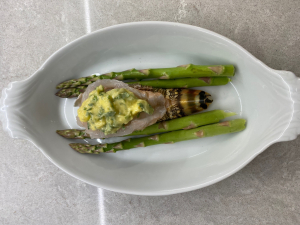 Place asparagus and lobster tails in an oven-proof dish. Top each with the butter then grill the lobster tails for 8 mins or until opaque and just until cooked through. Serve immediately, spooning any extra butter over the tails and asparagus.
Lyndey's Note: This is a great basic butter for seafood. It can also be rolled into a log and frozen.