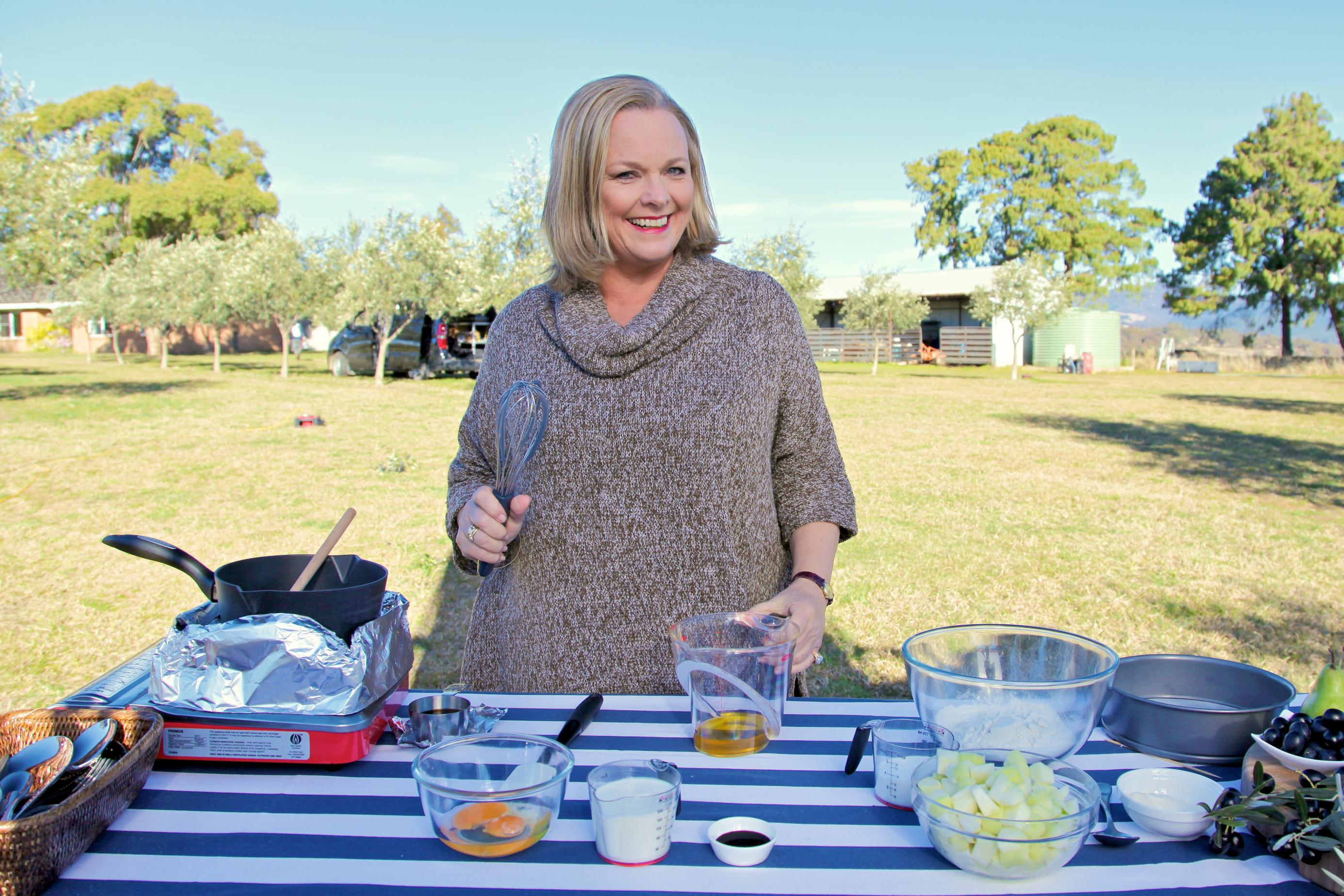 Orange in winter can certainly be chilly however it was well worth a visit in the middle of winter for the sublime produce, outstanding cool climate wines and vibrant community it has to offer.  I opened this show in a chopper, high over Orange and landed at Borrodell on the Mount, one of the highest vineyards in Australia.
Taste of Australia encore continues this Sunday 17th July at 12:30pm on Foxtel's LifeStyle FOOD! It has just been named Best Food TV Show in the World at the Gourmand Awards.
A warming welcome with Venison Curry!
The thermals were put into good use for our many early starts including a frosty 6am visiting Tim and Sophie Hansen at Mandagery Creek Venison farm. When we arrived the cameramen were inspired by the glorious sight of the mist over the valley. Tim asked me how many deer we would like rounded up for the camera and I said "As many as you can get!" Before we knew it a herd of around 500 deer were descending to the valley in front of me – a spectacular sight with their warm breath visible in the cold air.
It was special too, to hand feed one of the pet deer, Steph. Sophie worked with me many years ago at Table Magazine so it was great fun to cook Venison Massaman Curry, which was based on that of chef Martin Boetz. Very evocative because it was at a lunch to promote Mandagery Creek at Longrain, where Martin was head chef, that Tim and Sophie met!
Pulling on the gumboots to hunt for truffles
The early starts didn't stop me from partying into the night at the annual Borrodell Black Tie and Gumboots truffle hunt and dinner. Borrie (from Borrodell) planted inoculated trees some 20 years ago – and also has an amazing array of heritage apples.  In the rapidly cooling air truffle hunter Karen, with her highly trained dog Sally unearthed a large truffle worth around $3,000!
I MCed the 5 course truffle degustation which followed, creating  the cheese course with my decadent Twice-baked cheese and truffle soufflé before dancing the night away with Borrie himself.
Exploring Orange's historic past and seeking treasure for the future
I travelled back in time and went on a horse and cart ride in Milthorpe.  I can't believe how many barking dogs and then noisy children meant we had to go around and around to get a clean take! Established in the early 1900s and classified by the National Trust, it is a piece of living history, full of cobbled streets with bluestone borders and old buildings – and a fabulous restaurant Tonic.
More history as I went gold panning in Ophir Reserve. At the beginning of the Gold Rush, the first payable gold was found in the Ophir goldfields. Barry, the local tour guide, looked the part and was a bit of joker and I had a laugh when he planted a large piece of false gold in my pan to make me think I'd hit the jackpot. Afterwards, we warmed our feet by the campfire – mine were numb after gold panning in the river when it was only 2'C! Then I made olive dampers cooked on sticks in the fire accompanied by some delightful jams and relishes I had picked up from a local providore A Slice of Orange. They only stock produce sourced from 100 miles around them so it's a great place to stock up on local goodies.
It was here that I also sampled a terrific array of verjuice (the unfermented juice of green grapes). I used this on a Pear and Verjuice Olive Oil cake which I cooked when I visited Abilene Olive Grove to learn the whys and wherefores of olive oil.
If you have enjoyed Lyndey Milan's  Taste of Australia, the book of the same name is available from www.flamedistributionstore.com , the book was awarded 'Best TV Chef Cookbook in English' at The Gourmand World Cookbook Awards last year.