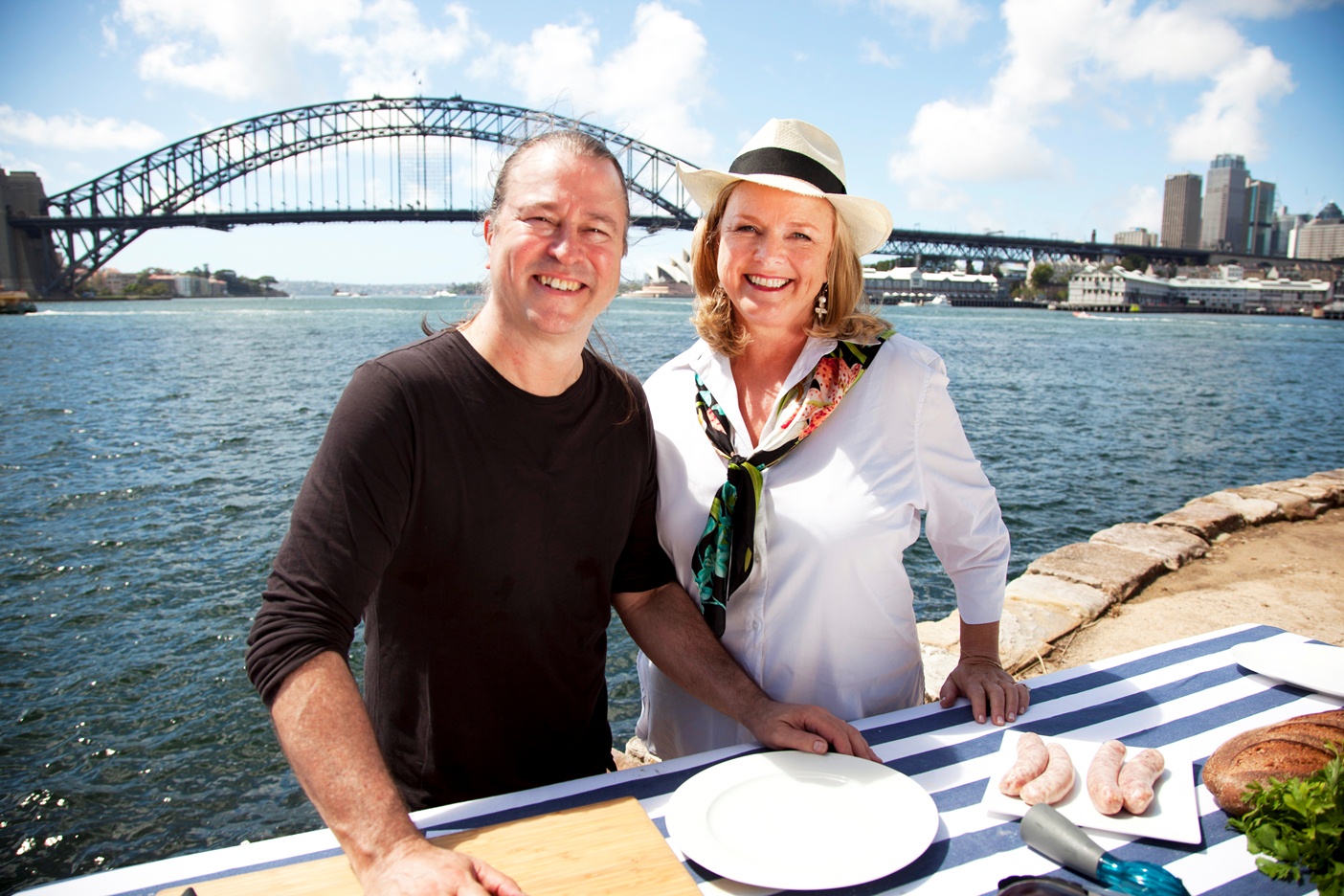 Sydney is my home town so it's great to have an episode which celebrates it; from climbing the Harbour Bridge to pig farming on the banks for the Hawkesbury River, getting up before dawn to explore Flemington Wholesale Markets to the buzz of Paddy's Market then hooking up with my old mate Neil Perry to source some beef from Victor Churchill for a BBQ beside the harbour.
Taste of Australia encore continues this Sunday 24th July at 12:30pm on Foxtel's LifeStyle FOOD! It has just been named Best Food TV Show in the World at the Gourmand Awards.
The Hawkesbury home of some fine Aussie pigs
The water in Sydney is not only in the harbour and beaches – the Hawkesbury River and its tributary, the Nepean River, virtually encircle the metropolitan area. Flanked by fertile farming land, the Hawkesbury wends its way west and north of Sydney for 120 kilometres.
Near Ebenezer, Melanda Park – which previously farmed cattle, kale, citrus and potatoes – is now home to some very happy – and hungry – free-range pigs. Here I have to fess up to a fondness for all things porcine. Pigs are actually very intelligent animals – and they roll in the mud to protect themselves from sunburn! Australian pigs are also said to be the most ethically raised in the world and here I learned that in Australia we're not allowed to feed pigs swill (restaurant or kitchen waste or anything that contains meat) but only fruit, vegetables and plants. I had the good grace to move away from them to cook Pork steak with polenta and cavalo nero with a dam and fertile countryside as a backdrop.
Sydney's legendary butcher
Buying product like really good meat is a pre-occupation for foodies. Much as chefs have an "in" to the best suppliers, it's great to see the rise of the destination butcher's shop. Vic's Meats opened their "designer" shop Victor Churchill in Woollahra a few years ago. Dating from 1876, this is the oldest continually run butcher shop in Australia. Named in honour of the founding Churchill family and master butcher Victor Puharich, it is now run with Vic's son Anthony, a fifth-generation butcher. Its breathtaking design pays homage to traditional Parisian butcher shops but with a glass-fronted aging room, Himalayan rock salt wall, a revolving rack of meat, butchers working on handcrafted timber butchers' blocks, mosaic-like marble tiles and cow-hide walls.
Neil Perry and I met up with Anthony to learn about his suppliers, the farmers, always striving for sustainable, ethical and great-tasting product. The shop is also a charcuterie and traiteur, complete with rotisserie which gives off the enticing aroma of roast chicken to cover the usual butchers shop aroma of raw meat. Anthony himself has become quite a star with his own TV series and popular app, Ask the Butcher.
A true blue BBQ with one of our best chefs
Armed with some Rangers Valley beef, I took Neil out of the kitchen to cook a BBQ at Blues Point with the Harbour Bridge and Opera House in the background. With seven restaurants in Sydney, Melbourne and Perth, he is one of Australia's most dynamic chefs. Neil has also done a great job with his long-term consultancy with the Australian flagship airline Qantas on their food offering for both inflight and lounges. As Neil says, 'Qantas is a major buyer of Australian raw ingredients … for wine, it's the third-biggest purchaser behind the two supermarkets. But we actually buy it – we're a shop window – we're serving it to people and letting people see great Australian wine brands. It's so important to small food producers and wine producers.'  And then, beside the harbour we cooked BBQ Rangers rump with garlic and parsley.
To market, to market to buy a fat pig (well vegetables actually, we've already had the pork!)
Another early start found me at Sydney's Flemington wholesale markets, the horticultural gateway to Australia. A hive of activity, every night 500 trucks and forklifts haul in a stack of fruit, vegetables and flowers with the voices of traders bargaining and bantering. It's a massive operation and equates to 2.2 million tonnes which feed nearly a third of Australia. Here I caught up with the local identities and had a go at bartering myself – with mixed results!
Its sister retail market, Paddy's Markets, in the heart of Chinatown, has its own specialties to offer. My dear friend Jennice Kersh first visited these markets in a pram with her mother Edna, after whom she and her brother Ray named their restaurant and now their catering business, Edna's Table. She believes the heart and soul of any city is its market and she showed me her favourite stalls. She also set me a challenge: to cook with what she had assembled – or at least some of it. Well, I love a challenge and my Mushroom eggnet was the result.
If you have enjoyed Lyndey Milan's  Taste of Australia, the book of the same name is available from all good bookstores or www.flamedistributionstore.com , the book was recently been names 'Best TV Chef Cookbook in English' at The Gourmand World Cookbook Awards.