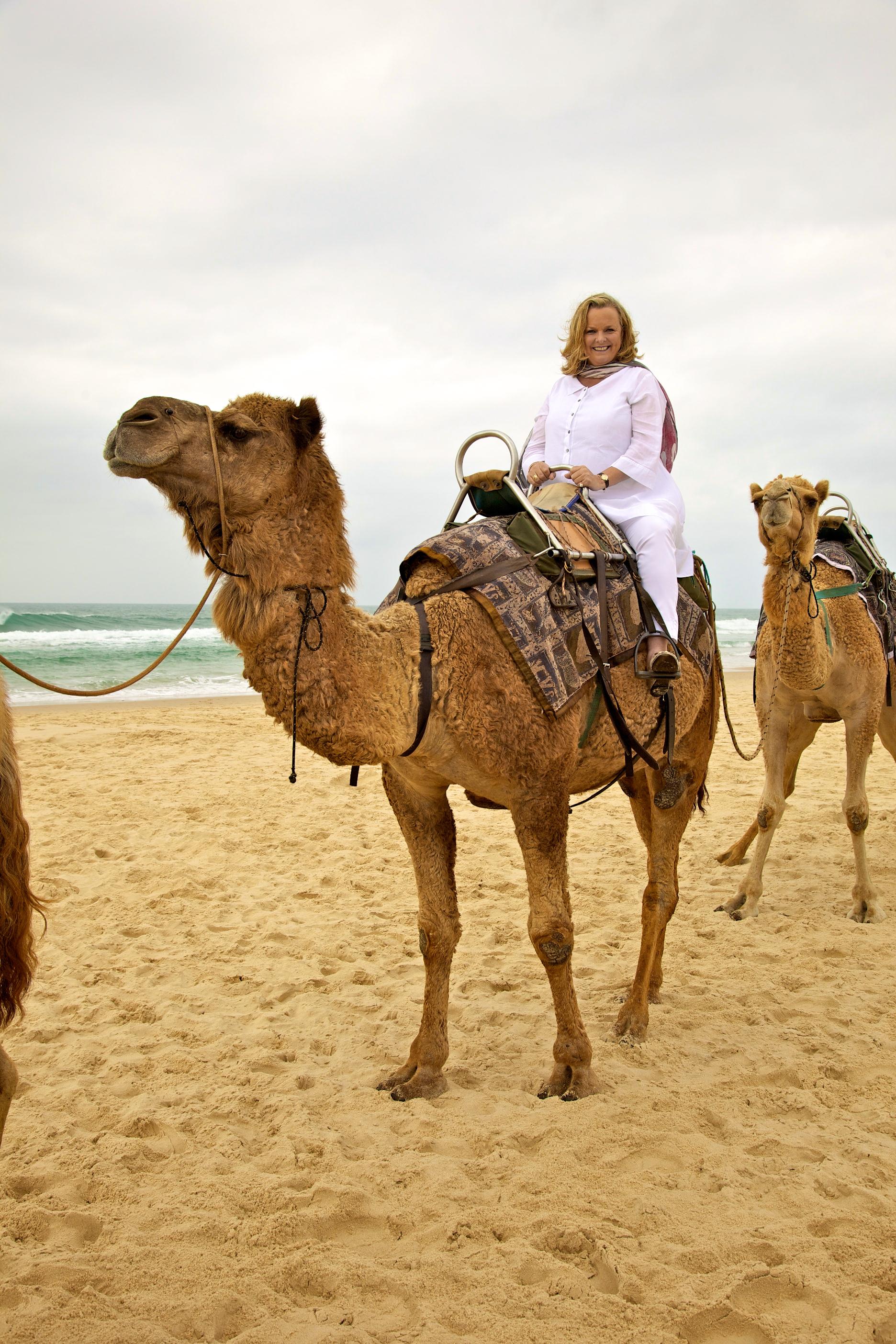 Warm.  The only word to describe both the people of Port Macquarie and magnificent weather! During my visit I was really impressed by the collection of fun things to do, great food experiences and the local characters. 
Taste of Australia encore continues this Sunday 31st July at 12:30pm on Foxtel's LifeStyle FOOD! It has just been named Best Food TV Show in the World at the Gourmand Awards.
Riding a camel along Lighthouse Beach with local camel-whisperer John Hardy, meeting Cheyne Flanagan and her dedicated team at the Koala Hospital and getting lost in the maze at Bago Vineyards with owner Jim Mobbs are just some of the highlights of my trip to Port Macquarie to film an episode of Lyndey Milan's Taste of Australia.
Koala Cuddling
At our first stop, the Koala Hospital, I cuddled an injured koala, one of up to 250 koalas treated each year by Cheyne and her dedicated team.  I had a little less success singing to one who is fond of music! Here the focus is on the preservation, conservation and care of wild koalas and releasing the rehabilitated koalas back into the wild.  While I was there an injured koala was brought in; it was incredible to see first-hand how these furry little fellows are treated.
Seeing red at Ricardoes
I then caught up with Anthony Sarks at Ricardoes Tomatoes and Strawberries.  Although I've been there before, the operation never fails to impress.  We sampled four different tomatoes, all grown hydroponically in their custom designed greenhouses.  Anthony and his brother Richard started the business ten years ago with an honesty box which has pride of place in their more recent café, Café Red.  After filming we enjoyed lunch in Café Red – featuring, of course, their lovely tomatoes.  I also sampled a few of their relishes – the Green Tomato Pickle was a particular favourite.
We go to Bago and defeat the Lilly Pilly Maze!
The next day, armed with a selection of Ricardoes Tomatoes, I headed to Bago Vineyards, a great example of single vineyard wines from the Hastings region. I cooked three tomato recipes – two savoury and one sweet – all well matched with Bago's signature Chambourcin, a red variety suited to this tropical, wet climate.  After I'd finished cooking, owner Jim Mobbs took me down to his maze, also known as his pride and joy.  Six years in the making the Lilly Pilly hedge maze occupies 10,000 square metres. Jim and I had a bit of fun chasing each other!  And I didn't get lost once!
I also enjoyed lunch at Bago, a spicy stir fry cooked by Somsri, a Thai woman who grows Asian vegetables on Jim's property for sale locally.  Veggies so fresh they squeaked!
Going nuts at Lorne Valley before a quick jaunt on the beach – on a camel…
Ray and Joanne Scott at Lorne Valley Macadamia Farm were next on our list.  This fun couple made a tree change from Sydney 13 years ago and have never looked back.  Their farm produces the sweetest nuts that are turned into delicious cakes, butters and confectionery as well as roasted and flavoured which are sold on site and at local markets.  Apart from sweet nuts, panoramic views and warm hospitality I also loved my tractor ride!
Using Ray and Joanne's macadamias, I created a dessert on the windswept but stunning Bonny Hills Rainbow Beach. Upside down salted caramel cheesecake with macadamia pretzel praline.  Great sugar fuel for my camel ride the next day!
Bright and early on our last day we headed down to Lighthouse Beach, just south of Port Macquarie town.  Although it looks like I'm having the time of my life, it was actually a little daunting, particularly for my cameraman and sound recordist who sat facing back towards me for numerous, jiggly rides up and down the beach.  Although John from Port Mac Camels knows his stuff, these animals are really noisy and somewhat smelly!  But it was fun.
I've loved my time in 'Port', as the locals call it and hope to go back again soon.
If you have enjoyed Lyndey Milan's  Taste of Australia, the book of the same name is available from www.flamedistributionstore.com , the book was awarded 'Best TV Chef Cookbook in English' at The Gourmand World Cookbook Awards last year.