Think coffee. Think Melbourne. It seems all Melbournians claim their home to be the heart of Australia's coffee culture with cafes lining the enchanting laneways and streets of the city. The city has always offered upbeat café food and really good coffee. But the state capital is not the only area to fly the foodie flag for Victoria, the Yarra Valley is seething with fine food and produce that is regularly awarded at national shows and favoured by the country's leading chefs – so, as you can imagine, I was very keen to head to both Melbourne and the Yarra to film an episode of Lyndey Milan's Taste of Australia.
Expressing a love of coffee through a cup of espresso
I always start the day with a cup of coffee – so in Melbourne where better to head than to Pellegrinis Espresso Bar. This coffee house, opened in 1954,  is famed for being one of  the first cafés in Melbourne which is quite an accolade when you consider the hundreds of cafes now in existence. Here I was enchanted by Italio-Australian Sisto Malaspina, co-owner of Pelegrinis who talked me through city's love and history of coffee in his own very charming way.
Sisto understands hospitality, so insisted on making not only coffee but breakfast for all the crew – greatly appreciated after a very early start!  Sisto explained that Pellegrinis was the first establishment to serve espresso coffee in the correct way and it was interesting to learn that they have a very long time affiliation with another company run by Italio-Australians, Canterella Brothers of Vittoria Coffee fame.  Sisto says their loyalty to good coffee, combined with the café's retro Italian diner charm has kept customers coming back ever since!
Then it was off to enjoy the vibe of the laneways with buskers like the very funny, delightful Stiletto Sisters. I ended the day as I had begun it, with coffee, this time as an espresso martini in Neil Perry's restaurant Rosetta – also made with Vittoria Coffee.
From one 'milk' to another
Feeling full of (coffee) beans, I left Melbourne to head out to the Yarra Valley where my first stop was at Yarra Valley Caviar where I caught up with my good friend Nick Gorman. I had been determined to film here as I had visited a year previously during the salmon milking season. This is something unusual, not only for Australia but the world. The salmon are humanely netted in their ponds then stunned in tanks with clove oil (like grandma used to have at the dentist in the old days). They are then gently but firmly milked, put in recovery tanks and then returning to their very large tanks till next year.  Yarra Valley Caviar is the only provider of hand milked Atlantic Salmon caviar in the country, and one of the only fresh water aquaculture farms in the world to use a natural method of harvesting the roe.  Being on the banks of the Yarra River with such good food on hand, I couldn't resist the temptation to steam some of the Brook Trout (like Char) with Thai flavours and then finish it with salmon caviar.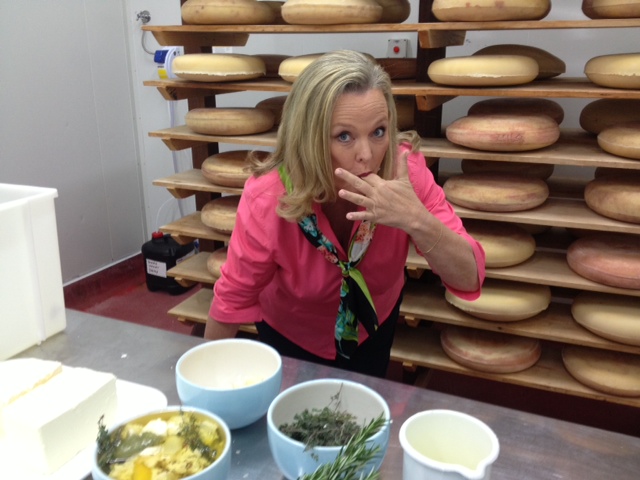 Sticking to the theme of milking, I headed to the Yarra Valley Dairy where I met up with another friend and wonderful senior cheese maker Jack Holman to learn first hand about their world class cheeses. Whilst the dairy has been running for 100 years, the team aren't averse to new creations and so I was lucky enough to have a go at making my own cheese!
Rounding off a great trip with some fine wine
Victoria offers a great grape growing climate and I couldn't complete my trip without a visit to more old friends Leanne de Bortoli and Steve Webber at one the state's prestigious wineries, De Bortoli. The cool climate is perfect for pinot noir which many wine makers regard as the holy grail when it comes to wine making! Certainly they are doing great things there and I was only too happy to put it in my Rustic goat's cheese tart with pinot eschalots and walnuts.
Back to school!
However, it wasn't all food and wine. As it happens I majored in Fine Arts at University after I left school. So I was thrilled to catch up with the daughter of one of my lecturers, Victoria Lynn at  the highly regarded Tarrawarra Museum, home to seasonally changing exhibitions of significant Australian and international works of art.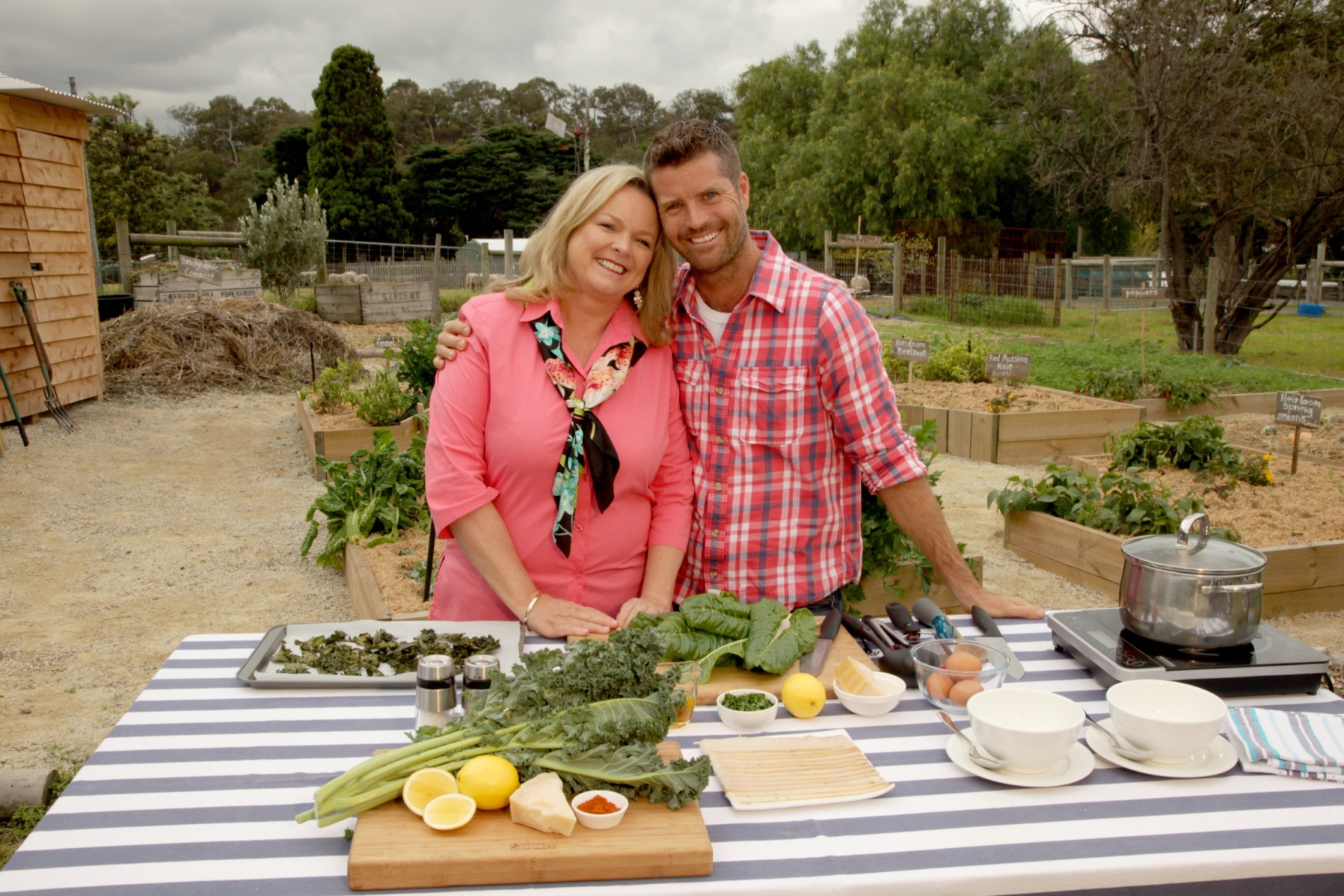 Finally, further back in time – to school!  I joined my old co-host, the ever lovely Pete Evans at the Sophia Mundi Steiner School in Abbotsford. He is an Ambassador for the Australian Organic School Program .This school has a very well stocked veggie patch where the children learn about food. Local boy Pete and I were lucky enough to have our pick of the home grown produce and cooked Stracciatella (soup) with silverbeet and  kale chips.
If you have enjoyed Lyndey Milan's  Taste of Australia, the book of the same name is available from all good bookstores or www.flamedistributionstore.com , the book was recently been names 'Best TV Chef Cookbook in English' at The Gourmand World Cookbook Awards.