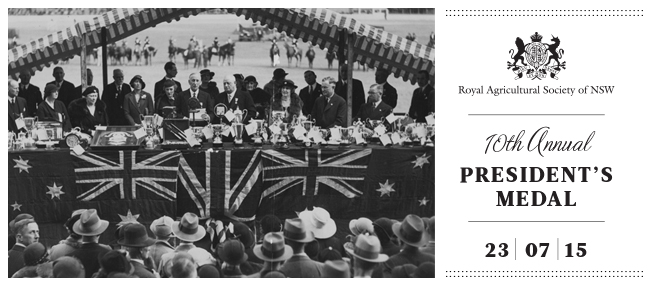 Nothing makes me prouder as an Australian than to acknowledge the efforts of our amazing food and wine producers. Without them not only would we not eat and drink, but I wouldn't have a job!
They work long, hard hours, have to contend with the vagaries of nature and come from businesses both small and large.
The Royal Agricultural Society of NSW (RAS) rewards these producers via the Sydney Royal Competitions for Wine, Dairy, Fine Foods, Beer and Cider. I am honoured to currently Chair both the Wine and Fine Food shows .
This is what all the competitors are after. A Sydney Royal medal, showing that their produce is of the highest quality as judged blind by an independent panel of experts. When a Gold Medal stands out from the rest, it will be awarded a champion trophy.
However, the RAS President's Medal takes thing s much further. Each year six finalists vie for this prestigious award. They represent sustainable agricultural practices, and have been selected from a pool of over 5,650 entries across the competitions. They need to already be Sydney Royal Champions from across the latest Sydney Royal competitions. The finalists are assessed on a whole-of-company approach to the production and marketing of a Champion Sydney Royal product, with financial, social and environmental performance all part of the judging criteria.
The only award of its type in Australia, it is an annual award that has been recognising Australia's best producers since 2006 – that's 10 years of celebrating all that is great about Sydney Royal, the competitions and its outstanding producers from around Australia.
This year the finalists are:
Serendipity Ice Cream, Marrickville, NSW for Death by Chocolate Ice Cream
Australian Agricultural Company, QLD & NT for Darling Downs Wagyu
Pacific Reef Fisheries, Ayr, QLD for Sashimi Grade Pacific Reef Nth QLD Cobia
Tyrrell's Wines, Hunter Valley, NSW for VAT 1 Hunter Semillon 2006
Soumah, Yarra Valley, Victoria for 2013 Single Vineyard Chardonnay
Yabby Lake Vineyard, Mornington Peninsula, VIC for 2013 Yabby Lake Single Block Release, Block 2 Pinot Noir
The judging process:
It begins with the judges travelling to the finalists' headquarters and judging them on the triple bottom line. Then the judges, assisted by a representative of Woolworths and a celebrity consultant chef, judge the products on market acceptance.
Simon Marnie, renowned food lover and ABC presenter has judged the President's Medal since its inception. He is joined this year by Michael Bullen, Department of Primary Industries, Deputy Director General, Agriculture NSW.
In recognition of 10 years of RAS investment in this programme, the Marketing Acceptance Judge this year is none other than the RAS Executive Chef, Tim Browne who is also crafting a menu highlighting the finalists' products.
Here are some hints as to what he will be serving – plus those amazing wines, of course
As MC, I will guide guests on a journey of inspiring stories and a gastronomic showcase of each of the finalists' products, as we delve deeper into the finalists' stories via videos taken by Simon Marnie and they are interviewed by roving reporter and RAS Agriculture GM, Murray Wilton.
This is one very special night which is not only reserved for industry – you too can wine and dine and find out who will be heralded the Best of the Best and receive the 2015 and 10th Annual President's Medal.
DATE: 23rd July 2015
TIME: 6:30pm
PLACE: The Stables, Sydney Showground, Sydney Olympic Park
DRESS CODE: Black tie
TICKET PRICE: Public $200 | RAS Member $180 (inc GST)