With Christmas upon us, locations, numbers and menus are being decided for the all-important Christmas feast in households everywhere. One dish that will feature on the menu in many homes is the ham. Australian Pork delivered mine yesterday!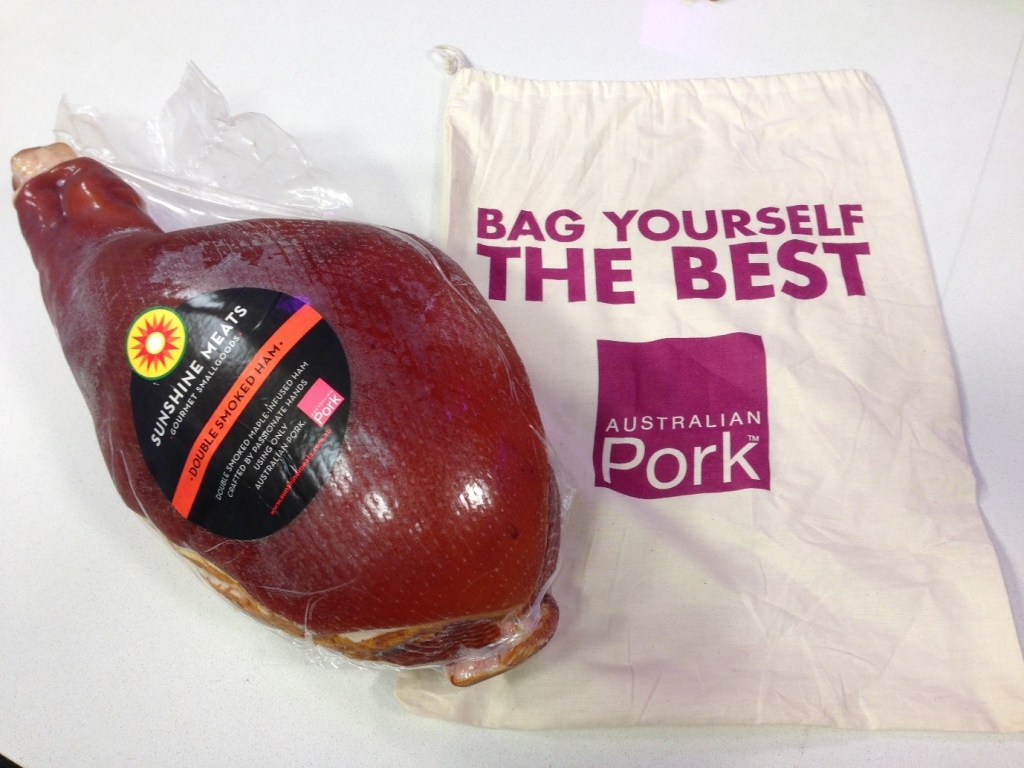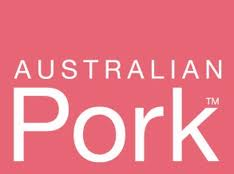 Hams can be bought at varying prices and the difference between the supermarket soccer ball ham and the more expensive hams can be hard to understand. When choosing a ham for Christmas, there are many variables which impact on the taste and quality of the ham. No two legs are the same and there are seasonal changes in the flavour of the pork. Interestingly pigs feel the heat as much as we do and do not eat as much in the middle of the summer. Fortunately, the pork needed for hams is produced well before this. But this also begs the question: why do we say "sweat like a pig", when pigs don't sweat at all? And gorgeous they are too. Intelligent animals and I've had the pleasure of learning about them and shooting them in both Lyndey Milan's Taste of Australia and Lyndey & Herbies Moveable Feast.
There are various ways to transform a leg or piece of pork into a ham and the good news is there's a size and shape to suit almost everyone. The more commercial producers may inject the brine and then tumble the hams to reduce the curing process to as little as 12 to 24 hours and increase the weight but as with all things there are traditionalists such as Pino Tomini Foresti and his wife Pia, owners of Pino's Smallgoods at 45 President Avenue, Kogarah in Sydney's south.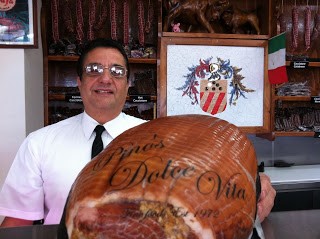 Pino with one of his magnificent hams
Pino's family has been making ham for seven generations and supplying the Australian market since his arrival here from Italy in 1973. Pino uses only Australian hams that take ten days to prepare. Pino takes great care in the preparation of his hams, using no additives, which he claims makes his hams safe for pregnant women to consume and chooses legs with a good amount of fat covering. He produces a ham which is a cross between the English and drier Italian style, brining it for 8 to 10 days. Then, they are baked and smoked for 16 to 24 hours using his secret combination of woodchips and seasonal herbs such as rosemary, sage or fennel.
Pino makes hams in every size from a 1.3k mini up to a 12kg whole ham on the bone. A visit to his store is like visiting a meat and smallgoods Nirvana with a fabulous cooking school attached. It is well worth a foodie excursion.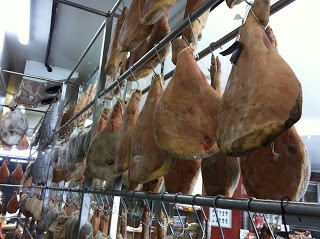 Pino's curing room
I have always been a fan of whole leg ham on the bone, especially at Christmas or to entertain a crowd. For me a good quality ham should have a flavour balance between sweet and salty, not taste chemical, be moist but not wet and not be stringy or smell porky. It is important to remember that all legs are different and colour may vary between different muscles however the ham should have mostly all the same flavour.
You can easily find award-winning hams here. Sydney Royal had an astonishing array of Wine, Dairy and Fine Food competitions and they are a great objective measure of excellence.
Glazing a ham really makes it very, very special and keeps hordes happy. Here is my recipe for Honey glazed ham with mustard fruits and cranberry relish.
Lx