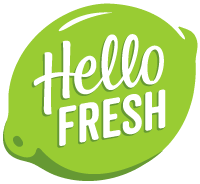 I've always been sceptical about the home delivery of fresh food with tailored recipes to cook from – or meal kits if you will. You see I enjoy sourcing produce and spontaneously deciding what to cook,  but even I am often challenged time wise with the shopping. So I decided to trial Hello Fresh. There are various subscription types; couples, families, for omnivores and vegetarians. Delivery is free.
 Delivery and packaging
It could have been delivered overnight on Sunday, but as I live in a security apartment block, I had it delivered to work on the Monday morning. It came, well packaged with a chiller block and also a very light insulating material which impressed me. Further research has shown that it is made from PLA, or Polylactic Acid which is turned into a felt (the inside of the insulator) and a plastic sheet (the outside of the insulator). It is biodegradable, a good insulator, doesn't use animal products and can either be disposed of in garden waste (check with your council first), or put in your rubbish bin knowing it will completely breakdown.
 Options
HelloFresh offers three box options including a Family Box, suitable for young families that feeds four or five people for four nights at $139.95, a Classic Box that feeds two to four people from $69.95 for three or five nights, and a Vegetarian Box for two or four people from $69.95 for three nights. Subscriptions are flexible and there is no minimum order commitment, and orders can be changed, paused or cancelled at no cost .There is also an app for customers to manage their accounts. I got the classic box that feeds two for 5 nights that would normal cost $109.95, so an average of around $11 per meal.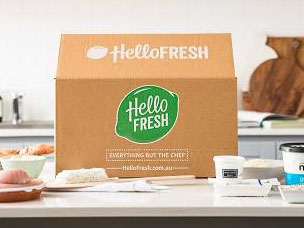 What a kit contains
The company works with such local Australian-owned producers as Meredith Dairy,  Lilydale, Ashgrove Cheese, Moo, Dicky Bill, White Prince and Argyle Meat.
The produce I received  was all in good condition, the meat pre-portioned and packaged separately and even spices included. A booklet of detailed recipes and photos of both the ingredients and finished dishes for each meal were included. The front of the booklet includes a food tip and some information and different I think each week. Mine was labelled Week 9 C5. Meat is clearly labelled with a use-by date and you can choose from the five meals which order you would like to prepare them in.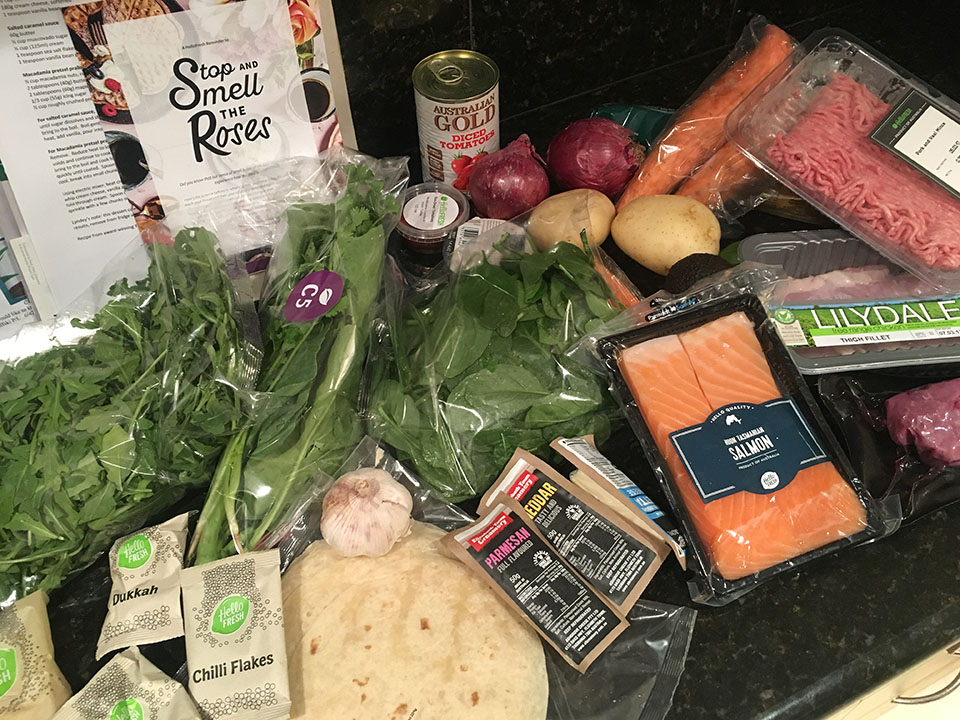 How to use your kit
You can tear off each recipe. On the front a photo of the finished dish, a description of what it is, prep and cook time and difficulty level indicator (all of mine were level 1), a list of required pantry items e.g. sugar, oils, eggs, soy sauce etc and an actual photo of the ingredients supplied and to be used. Good work on this as many people might not know what things are called. The beginning of the cooking lesson. The flip side has the recipe for either 2 or 4 people, an indicator where an ingredient features in another recipe e.g. a whole bag of rocket leaves might need to be split between two recipes, an equipment list and then step-by-step recipes complete with photos.
 My analysis of the recipes I cooked
I like the freedom of deciding what order I will cook the recipes. As it happened I didn't cook them all in a week but found the keeping qualities of the produce excellent, though I did freeze the chicken breast to use the following week
.
Cheesy Chicken Quesadillas with Avocado Smash
I just felt like these the first night. We'd had a busy few days and the appeal of something to eat in our hands was undeniable. This recipe worked perfectly and I loved the little block of cheese, just the right size for them. However, call me a guts, but we found the portion of 1 ½ quesadillas each a bit small and we needed to snack afterwards. Having said that, absolutely delicious and I'd make them again.
Balsamic Glazed Salmon with Crumbed Dukkah Potatoes
We had a friend staying with us and I happened to have another salmon fillet in the freezer. So I used that, added a bit more red onion to the recipe and some steamed asparagus and it all worked well. I have previously used dukkah to crumb lamb, but what a great idea on the roasted chopped potatoes and onion. I'll pinch that. It is really easy to throw them in the oven, then later the salmon for the last 15 minutes of cooking (which incidentally reduces the smell of salmon cooking) and meant I could do other things while it cooked. Really easy and again delicious.
Nonna's Italian Spaghetti with Tomato Sauce & Meatballs
Full marks for using pork & veal mince. I simply substituted gluten-free pasta as that is my preference. I found this recipe a little bit fiddly. Why would you turn on the oven, just to cook some garlic in olive oil for 15 minutes? Waste of time, heat and money. I only like to turn on the oven, which heats the kitchen at an already hot time of year, if I am using it for more than one thing, like the salmon recipe. Lovely to roast and caramelise garlic but much better to put the oil and garlic over a low heat on the stove for the same effect.  Otherwise fine, though I found my sauce with the meatballs in didn't need to cook for a final 15 minutes, more like 10. I especially would not put baby spinach leaves in a sauce as recommended to cook for 15 minutes as they would cook away to nothing. I stirred mine through at the end. Pleasant enough but not as appealing as the above two recipes. Also I felt it needed a salad with it.
Fetta & Sundried Tomato Stuffed Chicken with Rocket
On looking at it, this recipe didn't appeal to me so much. I think when I had my catering business in the 1980s I stuffed too many chicken breasts with apple or pear and wrapped in prosciutto and baked. Though the recipe in my first book Plates. Real Food for Fast People published in 1995 did very well. However, I was pleased with the end result. My partner prefers not to eat tomato so rather than the provided sun-dried tomatoes, I put some tapenade in his along with the provided fetta cheese. The accompanying sweet potato worked well in the oven where the chicken breasts finished off after browning in a pan. We were happy.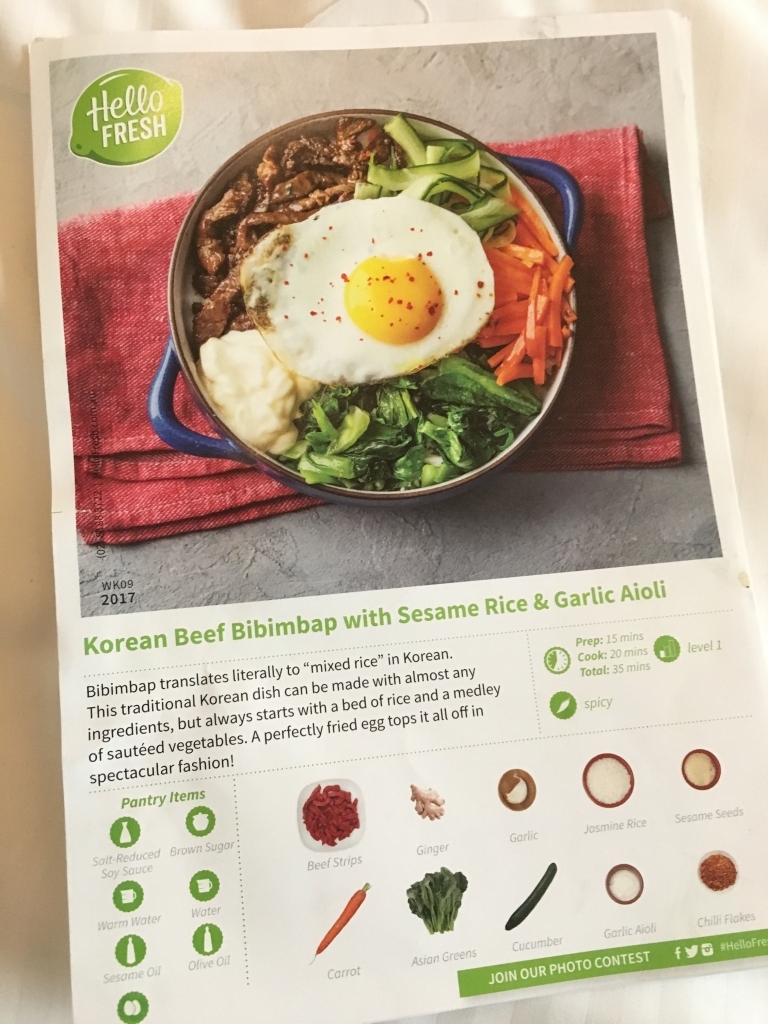 Korean Beef Bibimbap with Sesame Rice & Garlic Aioli
Without knowing it, I saved the best till last.  This dish was stunning. I take slight issue with the recipe which calls for combining beef strips (great quality and cryovaced) with soy sauce, ginger, brown sugar, garlic and warm water. Now, I guess knowing it was going to be cooked very soon you might forgive the warm water. Or use it first to dissolve the sugar then cool. But it is teaching bad habits to put raw meat in warm water and set aside. Someone might think they can do that and leave it for longer or overnight. Warmth encourages the growth of bacteria so it is a no-no. Also, why put in water anyway? I mixed the marinade ingredients and put the beef in and found they adhered to the beef and tasted great after it was all cooked.I preferred this drier marinade. I did, however, love the idea of putting sesame seeds and sesame oil through the rice. Another idea I'll be borrowing, though I cooked my rice in the microwave rather than in a saucepan as recommended. However, what a great, satisfying dish: sesame rice, flavoursome beef stirps, carrot sticks, cucumber ribbons, wilted Asian greens, garlic aioli (provided in a cute little pot) topped with a fried egg. Very on trend and worth repeating. I was especially impressed with the quality of the beef.
My final analysis
The sceptic now understands. I think this is a great service. There is no waste, no shopping and I think each recipe is a cooking lesson. I am always a fan of teaching people to cook. Also, I think it will encourage people to expand their repertoire and try new things. Ultimately I hope, more than anything, it will encourage people to cook who otherwise wouldn't and then they can reap the psychological, health and just plain friendly benefits of doing so. Long may we enjoy the hospitality of the table!