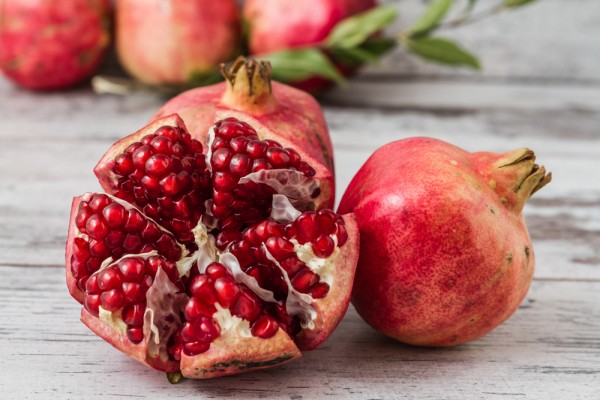 Pomegranates can initially be deceptive. From the outside they don't look like much, a bit like passionfruit if you think about it. But open them up and you'll find beautiful ruby coloured seeds that truly are jewels in nature's crown. Now that Autumn is here, pomegranates have graced us with their presence. It's time for their sweet perfumed scents to fill your kitchens once again and for you to revel in their beauty. Fun fact about pomegranates, it's name means 'apple with many seeds' however it technically is part of the berry family. 
There are many ways to use pomegranates in your cooking. Firstly, to enhance colour, flavour and texture in a dish, add the seeds to rice, salads,  tagines and desserts. Or, secondly, add the gloriously tangy and fragrant pomegranate molasses. Pomegranate molasses is used extensively in Middle Eastern cooking, particularly in rice dishes and marinades. By adding a couple of tablespoons to a dish it provides an agro dolce or sweet/sour note which is flavour enhancing. I remember when my lovely friend Janni Kyritsis had MG Garage restaurant, he served the seeds piled high beside a bottle of iced Bombay Sapphire gin and with a pink grapefruit granita. Unforgettable!
Pomegranates can be purchased whole, or even just packets of the seeds, at your local fruit and veggie market. Purchasing tip: look for bright and freshly coloured ones that are plump and heavy. You can also freeze the seeds when they are in season.
How to remove pomegranate seeds
Roll the fruit first to loosen the seeds.

Then you can cut it in half and bash the outside with a wooden spoon or similar but be sure you do it over the sink with a big bowl as they can splatter.

Alternatively, score the outside into quarters.  Then submerge the pomegranate in a bowl of water and and pull apart the quarters, releasing the seeds with your hands.

The pith will float and the seeds will sink. Remove the pith and discard, then drain the seeds.