Thursday 10 September 2015
Another glorious day and we were onto a coach for a quick visit to stunning Orvieto, 125 km north of Rome. Orvieto rises abruptly from the surrounding green landscape, up sheer cliffs, on the flat summit of a large hill made of tufa, a volcanic rock.  The site of Orvieto was once an Etruscan acropolis and was a major centre of Etruscan civilisation before coming under papal control and final annexation to unified Italy in 1860.
The funicular offering stunning views – and saving the legs!
Access is via a funicular up the top for a shuttle bus to the 13th century Duomo (Cathedral) square. We only had a short stop so I went straight for the imposing Duomo which dominates the town while others explored the enticing shops around the square.
The stunning Duomo (Cathedral) in Orvieto built from 1290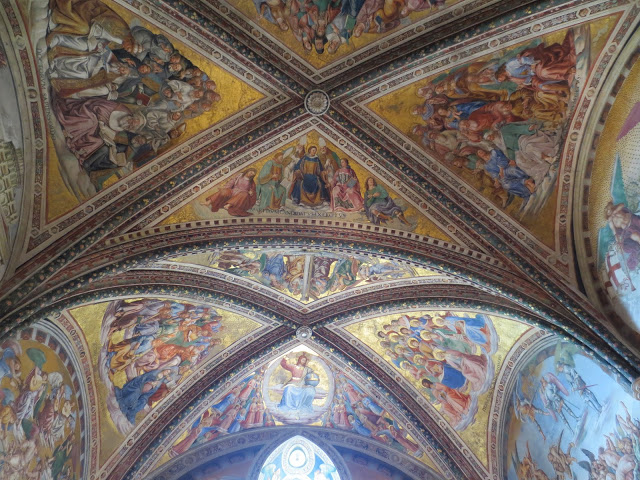 Inside this impressive Gothic cathedral is the Chapel of San Brizio, frescoed by Dominican friar Giovanni da Fiesole (an early Italian Renaissance painter known as Fra Angelico) and Luca Signorelli (Renaissance painter).
From Orvieto, we travelled just outside the town to Decugnano Dei Barbi, a boutique winery which took a bit of finding – but thanks to our skilled bus driver we made it despite the narrow roads and hairpin bends
It was a first for some of our group, visiting the underground caves where the wine is aged and bottled. It was made all the better by our guide being an English speaking Master Sommelier.
.
Entrance to the underground caves at Decugano
Riddling rack – the bottles are gradually turned by hand so that the dead yeast cells drop down to the neck of the bottle, ready to be frozen and then removed from the bottle.
What astounded me was that their sparkling wine was disgorged by hand using an ancient machine. (Disgorging removes the dead yeast cells from the wine after the secondary fermentation which gives it the bubbles.)
Lunch followed in the most perfect of settings – a former chapel on the estate.
Here we tasted four of the outstanding estate-grown wines:  Decugnano brut Traditional Method 2009, Il Bianco Decugnano Orvieto Classico Superior Doc 2012, Il Rosso Decugnano Igt 2012, Pourriture Noble Doc 2013.
These came with a lunch of local produce comprising homemade meat and vegetable lasagne, fresh focaccia, local cheeses and salamis, prosciutto crudo, fresh roast mix vegetables, salad, mushroom bruschetta and local biscuits.
View from the chapel where we had lunch
What a full, fun and stunning day. Next day, we go off to board the ship!