Project Description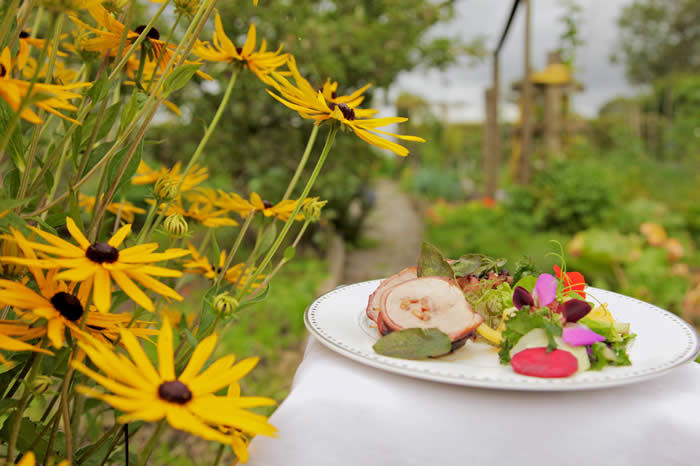 From Lyndey Milan's Taste of Ireland – episode 4, County Fermanagh
This recipe is all about Pat Doherty's black pigs and the pork and bacon they produce. They roam freely on an island in Lough Erne and the finished product is sold in his shop. I combined with with salad, freshly picked from Orchard Acre Farm.
Serves 2
Preparation 5 minutes
Cooking 15 –20 minutes
1 large (300g) pork fillet
6 long, even rashers bacon
1 teaspoon extra virgin olive oil
3 teaspoons (15g) butter
8 fresh sage leaves
Stuffing
1 tablespoon pine nuts, toasted
1 teaspoon fennel seeds
200-250g pork mince
Salad
2 thick rashers bacon
4 leaves curly lettuce
4 leaves baby kale
4 soft lettuce leaves, e.g. butter lettuce
1 young beetroot, peeled and sliced
½ cucumber, peeled and sliced
2 yellow tomatoes, cut into small wedges
1 sprig spearmint, leaves chopped
Nasturtiums, leaves and flowers
Snow pea shoots and flowers
Vinaigrette
½ teaspoon Dijon mustard
½ teaspoon brown sugar
½ tablespoon (10ml) white wine vinegar
2 tablespoons (40ml) extra virgin olive oil
For pork, mix stuffing ingredients and set aside. Cut a pocket in the pork fillet by slicing lengthways, leaving the last centimetre uncut. Cut a further pocket by slicing sideways from this cut, down the left and right side.
Open fillet out and flatten with fingers. Place stuffing evenly down the length of the fillet. Roll pork to reform original shape. Wrap bacon rashers, one at a time around pork, overlapping the ends. If necessary, hold together with toothpicks. Heat a large frying pan over medium heat and add oil and two teaspoons butter. When the butter is foaming, add pork fillet and cook over medium heat, turning frequently until, brown on all sides. Reduce heat to very low and cover. Cook for 10 – 15 minutes or until firm to the touch and cooked through. Remove to a warm place, cover with foil and rest for 5-10 minutes.
For vinaigrette, whisk together all ingredients except oil in salad bowl. When well combined, drizzle in oil while still whisking. Taste and adjust seasoning if necessary.
For salad, cut extra bacon into small strips to make lardons and dry fry in preheated small frying pan over medium heat until brown and crisp. Remove and drain on paper towel. Build salad on top of vinaigrette placing leaves first, then beetroot, cucumber, tomatoes, spearmint and finally lardons and flowers. Toss just prior to serving.
To serve, melt remaining one teaspoon butter in a small frying pan and when foaming add sage leaves. Turn and when crisp drain on paper towel. Slice pork, dot with sage leaves and serve with salad.
Lyndey's note: beetroot leaves can also be added to the salad