On to our ship – and more
Friday 11 September
We leave Rome
As our bags had to be out the night before, it was a relaxed morning before our departure from Rome  by coach for Civitavecchia ("ancient town") on the Tyrrhenian Sea. This is the Port of Rome, about 80 km west-north-west of Rome.  We were in plenty of time, so our Tour Manager, Helen, suggested we take the opportunity to make a stop before our arrival at the ship in the afternoon.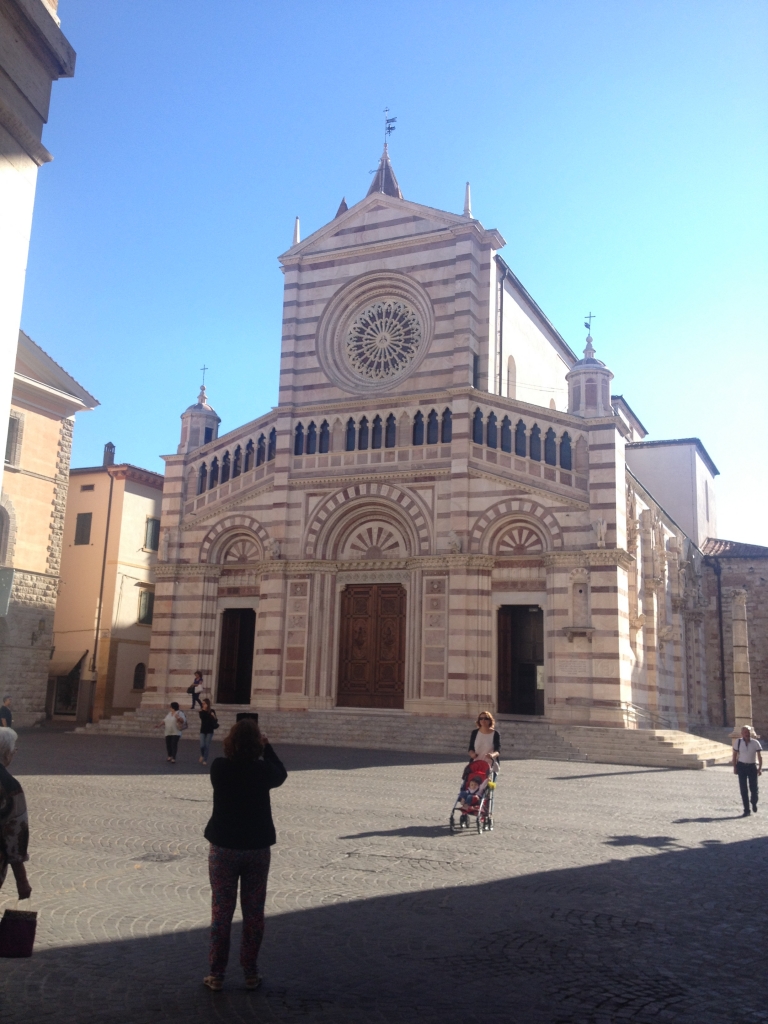 A surprise stop
It proved to an appealing little town called Bagno-Grosseto and we were able to walk through the old town. There was clearly a local festival on, with bunting and evidence of festivities but we were a bit early. Not too early for a walk around
and there's always time for a quick light lunch!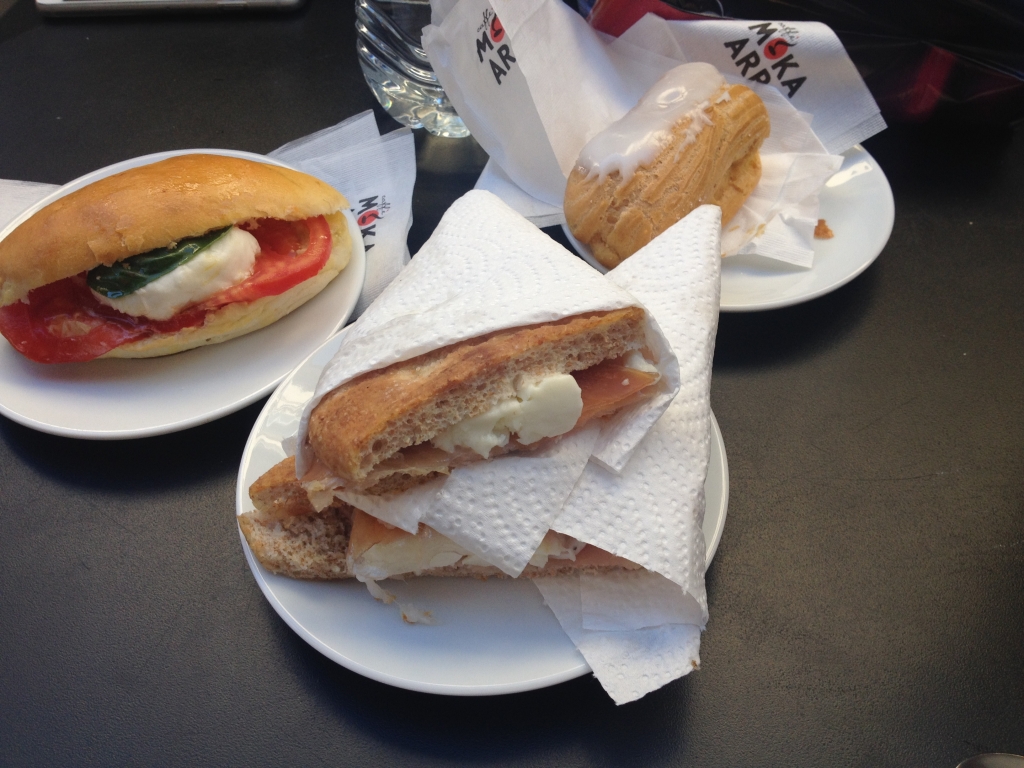 Then it was back onto the coach.
We couldn't really see the port until we got quite close, then suddenly there it was before us with our ship, and others towering above. Celebrity Reflection, launched in October 2012,  is the newest in the Celebrity fleet. It has a length of 1047 ft, a beam of 123 ft and a draught of 27 ft. It cruises at 24 kts with an occupancy of 3046 persons.  We felt dwarfed by the size of the ship!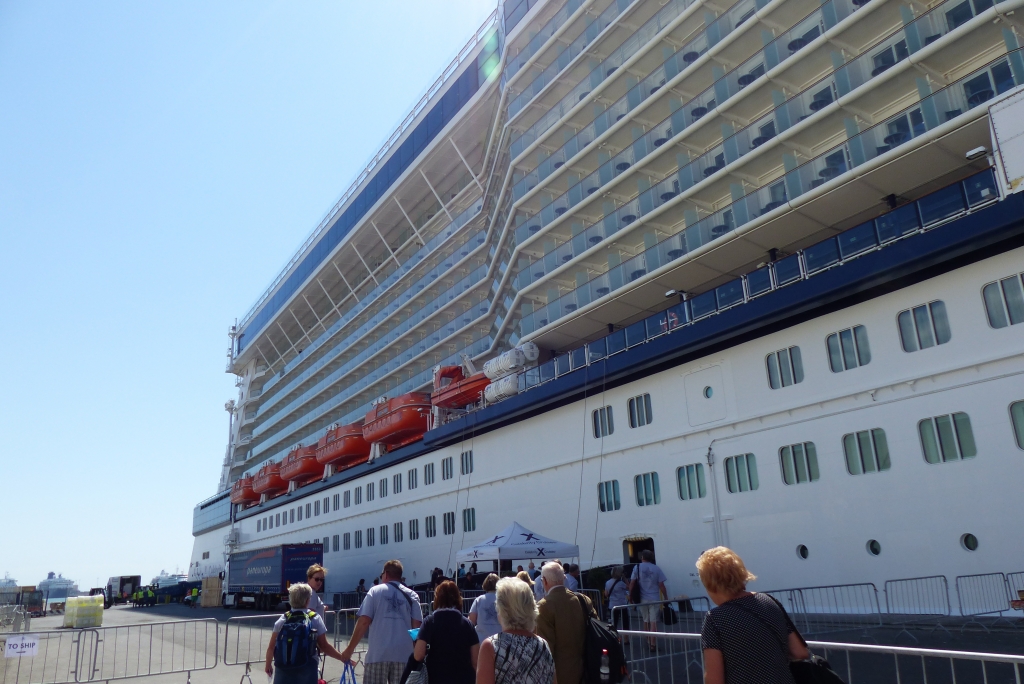 The boarding process was very streamlined. 3000 people to board and go through security. I had been warned that before I would be able to unpack, my knives (well, a cook has to travel with her knives when she's cooking!) and any travelling irons would be confiscated as would any excess of alcohol – and returned on our departure from the ship. It all went well and the crew were very welcoming. We were photographed and given our sea passes which were indispensable for boarding and disembarking the ship – not to mention charging things to your State Room! My biggest surprise was that before we got on, we had to sanitise our hands!  This was to be a constant and repetitive theme and soon became a habit – a good habit if you think how important it is to keep any spread of infection at bay.
We were told to go straight to the Ocean View Café for lunch. There was a massive choice with different stations offering different cuisines and, of course, a gelato bar!  An incredible variety and at a good standard. This kind of mass dining is not my thing but certainly this was to be a popular venue for many onboard throughout the cruise as there was always something on offer!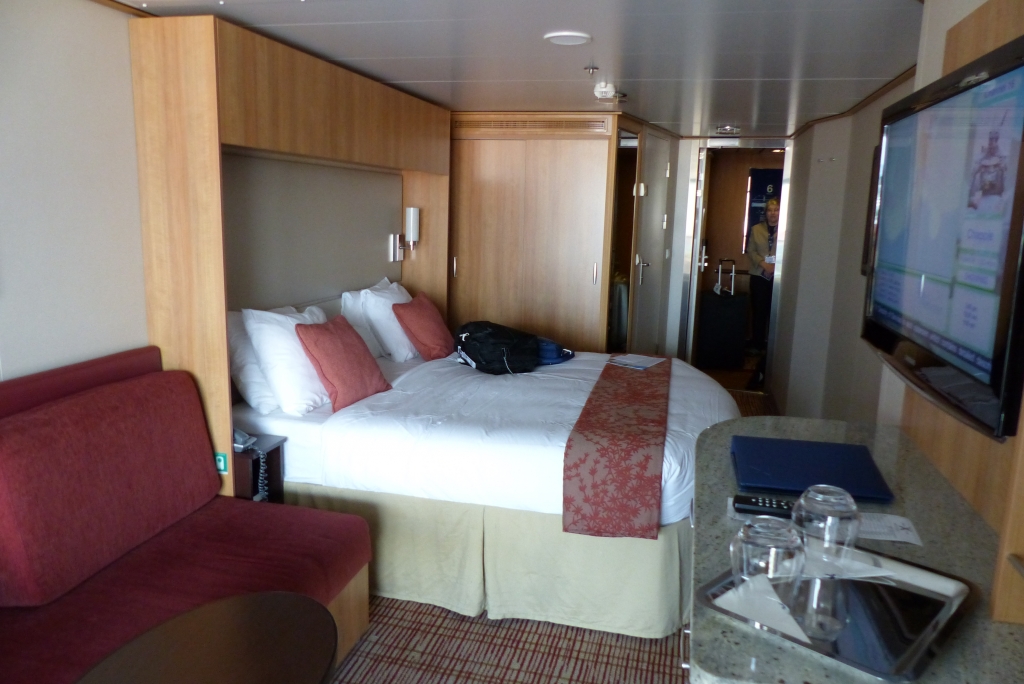 Soon we were given access to our State rooms (sounds much more flash than cabin!) I was very happy with mine, on the port side of the ship, complete with its own balcony.  The State Room had a comfortable Queen size bed (which could separate into 2 singles) A small, but very workable en suite with plenty of drawers, good storage and lighting, a fridge and safe, a comfortable lounge, small table, TV and desk.
Surprisingly my suitcase arrived quickly with my knives. So I unpacked as quickly as I could, delighted to be able to live in one place for 10 days, fessed up to Customer service about my knifes (which I gave them) and went off for a walk around the massive ship. Soon it was time for the compulsory life boat drill.  Then,  I was on deck as she slipped her moorings at 5pm.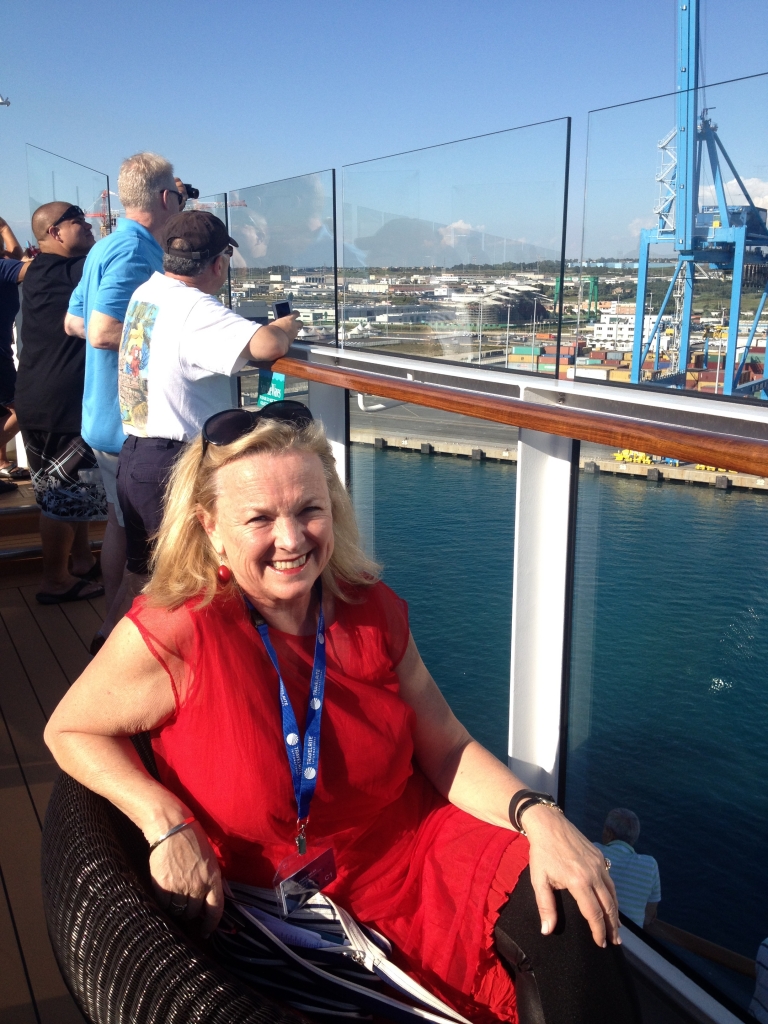 Leaving Civitavecchia
Our Mediterranean Adventure
Then it was the first of many Happy Hours for our group as we met to discuss the ship, dinner details and what was happening the next day.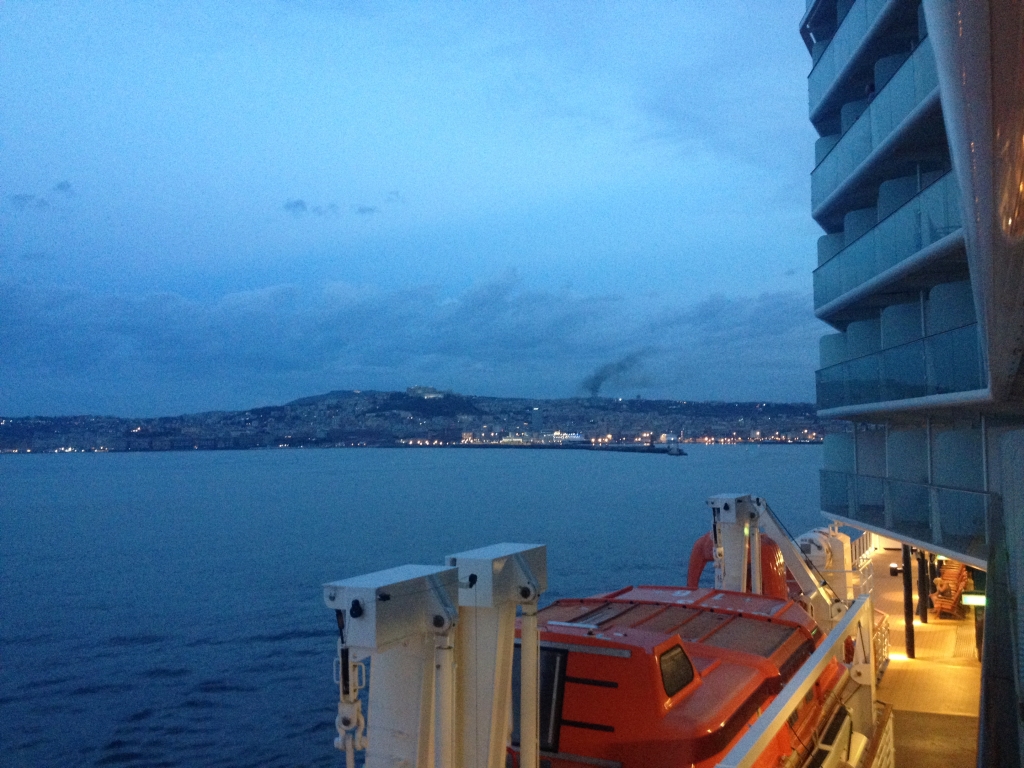 Dinner every night was from 6pm, though you could go later, in the more upmarket Opus Restaurant with a choice for a four course menu, individual table service and more good-humoured staff.  There is a traditional menu which stays constant and then another with several choices per course which changes nightly.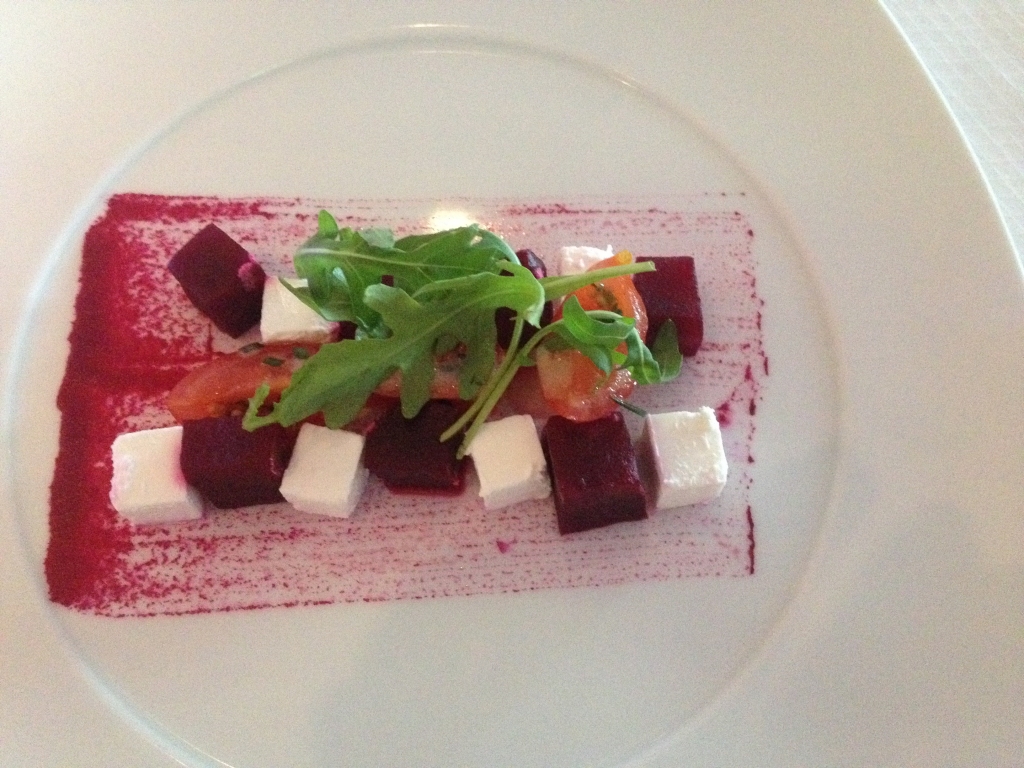 Opus Restaurant and entrée on the first night
Next day – Taormina!