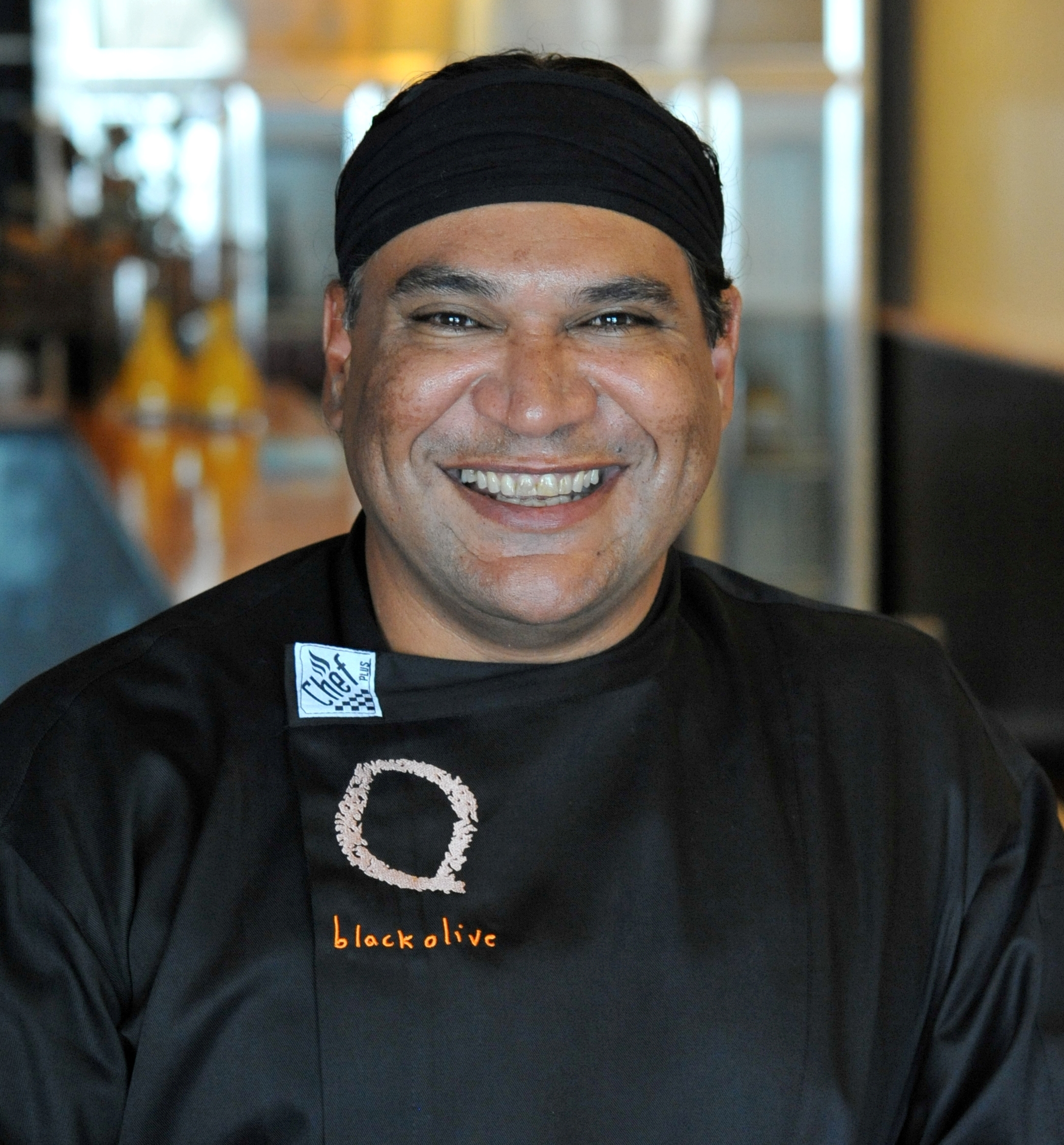 How would you describe yourself and your journey with food?
I would describe myself as a passionate, curious and hope to be seen by others as a normal and approachable type of guy. My journey with food was imbedded in me & I knew at a young age I was destined for the kitchen. Gaining an apprenticeship in the late 70's secured my career, and working in different kitchen environments developed my love of food and it's ever evolving forms over the span of my career.
Friends unexpectedly drop by and you ask them to stay for dinner. What do you cook on unplanned entertaining occasions like this?
The cupboard is usually full and I always have something to eat somewhere in the house! If it's Spring or Summer though, I usually like to sit outside. Wheel out the BBQ or Habashi, put on a pot of potatoes to par boil. Get my guest comfortable in the backyard with some music, nibbles and a drink. Because I have a good supply of shops close by, I can nip down to the butchers & grocers to grab some lamb cutlets, kangaroo fillet, some pork sausages, and a salad all within twenty minutes. Then I'll whip up a mixed grill, some seared field mushrooms, potatoes, onions and a refreshing salad. Otherwise, fish on the BBQ cooked in paperbark is always a favourite!
What is your favourite native Australian spice or herb you like to cook with and what recipes do you like to use it in?
The range is vast. Native foods are complex in flavours and experiencing their flavours is a feast for the palate. Why? Because you can distinguish with a lot of them the different scents, flavours and tastes from well-known fruits and plants. I guess it depends on what I'm creating, but have several favourites!
With the citrus aspects from the Lemon Myrtle
The satay earthiness and caffeine and chocolate tones from the green and black Wattle-seeds are the ones mostly known
But there also is the liquorice scent from the Aniseed Myrtle
The earthy piquant and at the same time sweetness of tomato explode in your mouth from the ground Bush tomato, a great base for stews, casseroles, marinades etc
I love the spearmint and peppermint tones of River-mint, great for lamb, fruit, sorbets, biscuits and sweets
Lemon Aspens a wonderful for its eucalyptus and citrus tones, fantastic in lemon curds and desserts
The Muntrie Berry for its apple and cinnamon qualities great in muffins, cakes etc
The Quandong for its fruity tartness great for jams and deserts, also makes a great sauce for meat.
These are just to name a few!
Who first introduced you to your love of food?
Watching my Mum & aunts inspired me a lot in the kitchen, it was like watching magicians in the kitchen mixing all these ingredients together and cook it, then take it out of the oven. It was like magic!
How important do you think food is to the Indigenous Australian culture?
Importance and caution all rolled into one. It's important that communities, local or remote, focus on good nutrition and well-being. Having access to quality fruit and vegetables and educating the mob; especially the young ones, the role that food plays in your everyday life. And caution. Informing the communities the reasons that certain foods are poison to the body. Showcasing the amounts of salt and sugar in a lot of processed foods and how to avoid them. We are all not angels and moderation and exercise are the key. Having said that, food is an integral part of the Aboriginal culture shared by family and community and a time for catch up and telling yarns.
What Indigenous Australian ingredient would you like to turn into a dish suitable for fine dining?
There are a lot of chefs creating amazing dishes at the moment. For me, it would be something showcasing native meats, a dish and dessert spattered with native fruits and herbs.
A seasoned, seared and rested medium rare kangaroo fillet, shaved smoked emu fillet on a bed of Kutjura scented sweet potato, greens and grilled field mushrooms. And of course a merlot quandong jus! Also more desserts featuring our native fruits. Kangaroo is probably one of the healthiest meat options you can eat & I would like to see it done well in all fine dining establishments.
If there was one element of Indigenous cooking you could spread to other cuisines in the world what would it be?
The simplicity & flavour of cooking meat and fish in paperbark.
What was the greatest challenge you had to overcome in the culinary world and what other advice would you give to other young chefs following in your footsteps?
Being one of the first Indigenous chefs to come out of the Illawarra it was an eye opener. I was fortunate to grow up in a city that was very multicultural because of the steelworks and mines. I learnt so much from them and the styles of cooking they brought with them. I encourage young chefs to think about their passion but to realise that the kitchen is a demanding environment. You will know if it's your passion but also learn quickly if you're not cut out for the hours and demands in the industry.
What's your favourite Friday night meal and where will you eat it – home or out?
Because I am away a lot I tend to cook at home and enjoy staying in. If I do go out I like Thai and Vietnamese.
For a romantic night in or out, what's on the menu?
Depends on the mood! But there is something romantic about a fondue.
What's your secret indulgence food?
Chocolates are always up there, but a cheese platter and nice bottle of bubbles eases the tension.
What food couldn't you live without?
I love all types of fresh bread, Vegemite, Promite, butter, fruit, veggies, and sorry! There is no way I could be a vegetarian.
If you could only eat one meal for the rest of your life, what would it be?
That's so unfair! If only you could squeeze a dessert and a main all in one. But if I was pushed, a roast dinner with all the trimmings.
What sort of food do you eat when you're stressed with deadline?
Something savoury to snack on, then a sugar hit while sipping on a glass of white. It changes.
Ever put on a dud dinner party?
Maybe one or two in my younger days. Seems as we get older they fade in time and memory!
What food would you quite happily never eat again?
That's tough! I don't mind a bit of offal but I could let it go.
What's one ingredient you always have in your pantry?
Always have my native herbs and fruits in the freezer and pantry.
If you could invite three famous people to a dinner party, who would they be?
If they're dead!
• Rosa Parks (Because she sat on a bus! How dare she!)
• Lady Di (Because she knew everybody.)
• And my Mum (She would love it.)
If they're alive!
• Obama
• Elton John
• And my Dad
What advice would you give to people who were interested in learning more about Indigenous cooking? Any books, classes or websites you would recommend?
If you do have an interest in native foods, be very patient and be prepared to fail. The amounts used with some of the herbs and fruit is minimal but the intensity of flavours is maximum so be aware. Start experimenting with dishes you know and start adding some extra herbs or spices.
There are some great books out there and the Outback Pride website is always good for a look at and my book The Outback Café ($29.95 + postage and handling, available by clicking here) has a great selection of recipes and information about the herbs and spices found all around Australia. www.outbackpride.com.au or www.blackolive.net.au
If you could give one message to the Australian public about Indigenous Australian cooking what would it be?
Embrace what Australia has to offer with our Native foods and utilise them in everyday cooking. Let's face it, we have embraced all other food cultures from around the world and all have a curry and five spice in the rack. Why not add some wattle-seeds and lemon myrtle in your selection and be proud of what is truly and uniquely Australian.