Nathan Sasi
We know that Nathan is a talented and versatile chef who is not only committed to his craft but also values and honours traditional methods and techniques. He is also  a natural educator with an eye for fashion and style (old school gentleman /Mad Men with a touch of rock and roll), a very proud dad and the biggest fan and supporter of his gorgeous wife (and vice versa!). He wowed everybody at Nomad and now he is the chef and co-owner of Mercado in the buzzing precinct around Ash Street behind Martin Place in Sydney. We put him on the grill:
When did you first know you wanted to be a chef?
My father was a butcher when I was growing up so working with food was a natural choice for me.
Friends unexpectedly drop by and you ask them to stay for dinner.  What do you cook on unplanned entertaining occasions like this?
I'm a lover of small goods so my fridge is always stocked with salami, jamon, preserves cheese and bread. Wine would be flowing and the picnic blanket would be on the floor and everyone would be getting involved.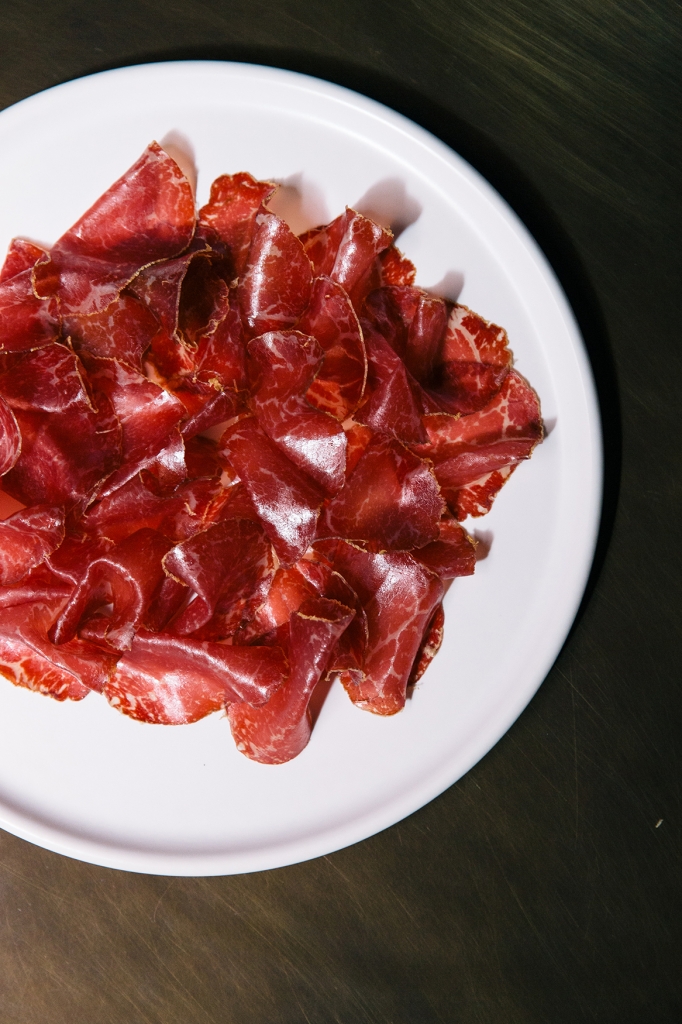 House-made Bresaola at Mercado
What's your favourite night-off meal and where will you eat it – home or out?
I live around the corner from Din Tai Fung and it's a weekly ritual for my wife and I to have dumplings on a Sunday lunch.
What's your secret indulgence food?
KFC I love dirty bird.
What food couldn't you live without?
My mother's  chicken noodle soup. It heals all ailments.
What 5 ingredients would you want on a desert island?
Good quality olive oil, organic garlic, a few chickens, Comte from the Jura, Vin Juane from the same region
What sort of food do you eat when you're stressed with deadline?
Coffee and lots of it, coffee is food.
What's your favourite piece of equipment?
The vita prep, no other blender has that much raw power.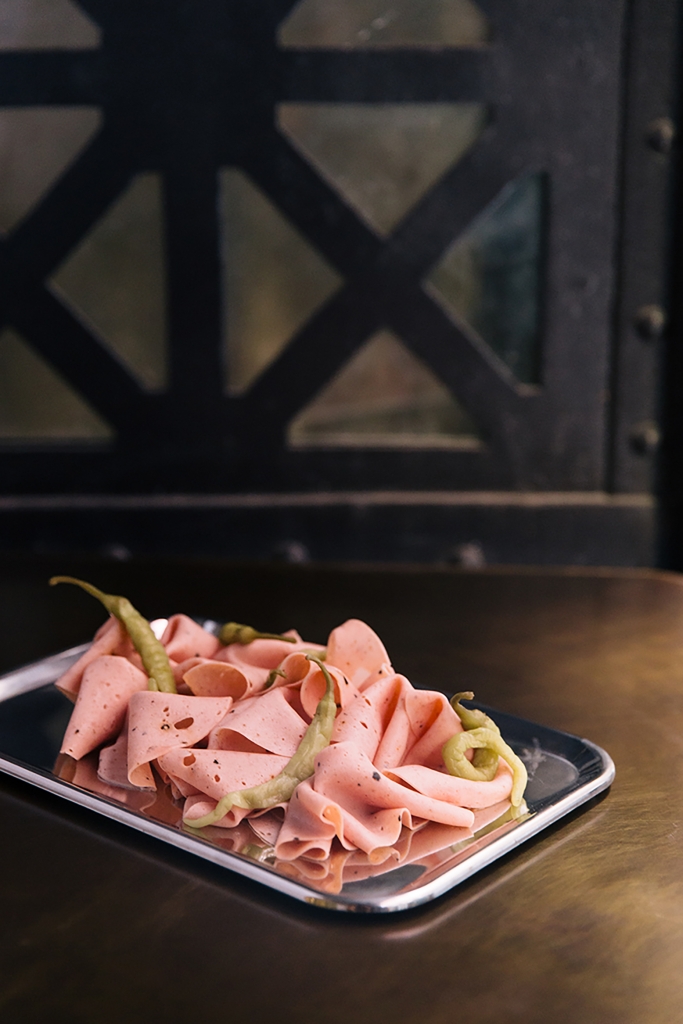 Truffle Mortadella, guindilla peppers at Mercado
What food would you quite happily never eat again?
I appreciate all cuisines and food cultures but fad diets are a bore.
What's your most memorable meal anywhere?
The first date with my wife at Buffalo Dining Club.
If you could invite three famous people to dinner, who would they be?
Marie-Antoine Careme,  Jules Verne & Antoni Gaudi.
At Mercado, what is your favourite dish on the menu?
Our house made cured meats, we produce everything on site and it's a revolving door of all different types of meats. Terrines, salami, emulsified sausages among many others. It's a great opportunity to showcase our skills when it comes to charcuterie.
What would have liked to tell your younger self, when you were starting out?
Travel more
 House made cured meats  at Mercado