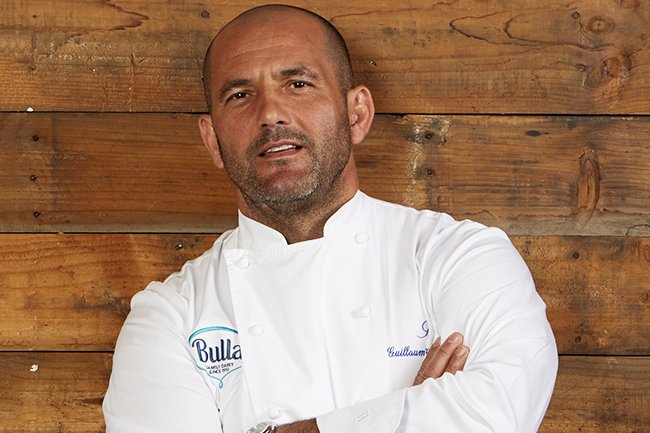 Feed your inner Francophile this Bastille Day: French-born chef, restaurateur and Bulla brand ambassador Guillaume Brahimi shares his secrets to French cuisine.
If you were to create, and a French twist on an Aussie classic dish, what would they be?
Whenever I make a classic Aussie pavlova I serve it with Crème Chantilly to give it that added flavour! It's very easy to make, you just whip 300mL Bulla Whipping Cream, three tbsp. of icing sugar and three vanilla beans, split and scraped… there you have it!
What is your go-to dish / food for your children to eat?
With the winter months now upon us, my kids love a winter warming risotto, served with a parmesan emulsion, using Bulla Cooking Cream.
How do you balance showcasing Australian ingredients, such as Bulla cream, and French products /techniques in your cooking?
One of the most popular dishes at Bistro Guillaume is probably Mussels Mariniere – a classic French dish which we make with locally sourced mussels and cream. This dish is seen as the cornerstone of French cooking.
What are your top 3 tips and the do's and don'ts as to the perfect Croque Monsieur?
It's always important to make sure you're generous with the Béchamel sauce. I love using gruyere to make the sauce. Finally, and most importantly, don't burn it!
What's your ultimate French foodie recommendations in Sydney, from cafes and restaurants, to markets and lesser-known eateries?
Simon Johnson is great for all your specialty foods, imports and cheeses; Victor Churchill is my go-to for meat and any local farmers' markets to ensure you're buying fresh, seasonal produce and, lastly (of course), don't forget to stop by Bistro Guillaume!
What would you say are the simple foundations for French cuisine?
Following seasons and using produce accordingly are the simple foundations for French cuisine. In winter, I am using truffles, a beautiful selection of root vegetables and a selection of good quality cream products throughout my menus.
If there was one rule for French cooking, what would it be?
The one and only rule for French cooking is to respect the produce. Knowing what to buy and when seasonally, is always reflected in French cuisine.
How would you describe a typical French meal?
In a word – delicious! Sitting down to a long lunch on the weekend with friends and family. The table filled with a selection of delicious green salads, roasted vegetables and a beautiful whole roast chicken.
What are your three favourite French dishes and why?
Roast Chicken, as to me, it represents home; Lemon Tart with Bulla Dollop Cream – this popular French classic dessert is my go to dessert; and cheese – it is hard not to enjoy a beautiful cheese plate at the end of the meal. Camembert, Comte and Roquefort are my favourite.
What would you say are the four top ingredients for French cooking and why?
First would definitely be butter, you can't cook French cuisine without butter; Bouquet Garni, you'll find these bundles of herbs in every kitchen in France as it is the basis of so many recipes, crème fraiche – I just love finishing a sauce with a touch of Bulla Crème Fraiche, and salt – an important ingredient to finishing any dish.
Is there one dish or meat that is commonly served in every household?
Roast Chicken with potato mash and bread and butter!