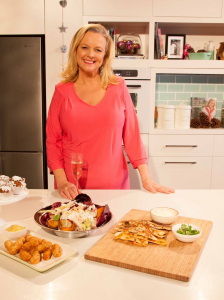 Christmas is done and dusted for another year but our fridges are still groaning with food so try some left-overs magic to avoid waste and keep on enjoying the festive season. Here are some ideas to help you transform ham, turkey and chicken into new meals.
Quick ideas for left-overs magic
Mix up an Asian style dressing with lime juice, fish sauce, a little palm sugar, finely chopped fresh chilli, plus lots of chopped mint and coriander to toss through diced turkey.  Add some bean thread noodles for texture and serve in lettuce cups. You can also do this with left over salmon.
Stuff a split pide with sliced turkey or ham, avocado and tomato.
Toss warm cooked chat potatoes with chopped ham and a mustardy dressing.
Make a Spanish omelette by combining lightly beaten eggs with ham chunks, a few semi-dried tomatoes, olives and chopped parsley. Pour into a large frying pan and cook over low heat until just set.  Finish under a hot grill and serve in generous wedges with salad or smaller squares with a drink.
Fill crepes with turkey, ham and mushrooms in light cheese sauce.
Grab a sheet of puff pastry from the freezer for a quick freeform quiche.  Place the pastry on a baking sheet, crimp to create a 1cm pie edge, pour over beaten egg, top with a few spoonfuls of ricotta, diced ham and a generous sprinkle of thyme.  Bake until crisp.
Toss ham strips through just drained pasta and mix with beaten eggs, finely grated parmesan and lots of black pepper for a speedy pasta carbonara. I like to add a little chilli for bite. Recipe here.
Combine chunks of chicken and ham with wilted leeks, spinach and a little cream, top with mashed potato and bake until golden.
Add sliced ham or turkey to an American-style chef's salad with quartered hard boiled eggs, baby cos leaves, cherry tomatoes and avocado.
Transform leftover steamed rice and diced ham into Chinese fried rice.  In a hot wok toss ham with frozen peas and sliced green shallots.  Add rice and mix until heated through.  At the last moment, add omelette strips, a few drops of sesame oil and a sprinkle of soy sauce for authenticity.
Stuff croissants with sliced ham and cheese and grill until the cheese melts.  Serve hot with a salad.
Jazz up a risotto bianco with ham, chicken or turkey.  Add mushrooms too and, just before serving, stir through some rocket or spinach until wilted.
Use prawns in Prawn Salad with Macadamia Dressing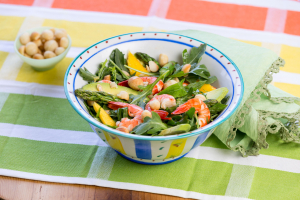 Roast Vegetables
Blend your leftover roast pumpkin, potatoes and sweet potatoes with chicken or vegetable stock to make a chunky veg soup. Top with any leftover herbs you have leftover from Christmas cooking. Roast veg also makes for an easy frittata or quiche – all you need are eggs and cream or milk .as above. Herbs and leftover cheese grated from your cheese platter wouldn't go astray in here either!
Leftover Roast or Poached Salmon
Flake leftover fish and remove all bones. For fish patties, add a cup of your leftover mashed potatoes, 2 eggs and leftover herbs (dill, parsley or coriander would be fab). Shape into patties, dip into flour, egg wash, panko breadcrumbs and fry until golden and cooked. You can also add leftover flaked fish to pasta or rice salads or stir through scrambled eggs for a luxe experience.
Leftover Ham/Turkey/Pork/Roast Beef
There's more to your leftover Christmas roasts than just a sandwiches, salads and wraps (although those are fabulous too!) You can reinvent your turkey with a turkey curry, dice your ham to use in fried rice or thinly slice beef to wrap around lightly steamed veggies for a great Boxing Day picnic treat? Don't forget to use your leftover bones to create beautiful homemade stocks which you can freeze for future use.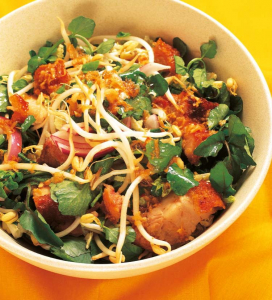 Use left-over roast pork in Asian-style Roast Pork Salad
Left-overs Magic Desserts
Yes, I know this is a rare occurrence but there are a few fun ideas you can use your leftover sweets for! Use my leftover Cointreau dark chocolate truffles for a decadent hot chocolate – simply add 1-2 truffles per mug of milk and microwave for a minute at a time, stirring with each minute until the chocolate has melted for a chocolatey drink with a hint of orange. My white chocolate mascarpone mousse makes an excellent frosting or filling for cakes, especially with the berry topping swirled through. Freeze any leftover brioche or similar sweet breads (such as panettone or croissants) to make bread and butter puddings.Don't forget! You can also freeze leftover wine, homemade stocks and herbs from your Christmas events for future meals.
Recipes
Turkey quesadillas
Turkey salad with ginger and lime mayo
Ham or turkey croquettes
Panettone bread and butter pudding