Let's Talk Turkey with Lyndey Milan
Everything you wanted to know about roasting a turkey.
No matter what we say about our warm climate, the overwhelming majority of Australians still love a roast turkey for Christmas dinner. Available year round frozen, at Christmas time there is something very appealing about a fresh bird as the centrepiece for a really succulent and delicious Christmas feast.
However, there are some tips and tricks to make your cooking task easy, so here Is my step-by-step guide with lots of alternatives.
Defrosting a frozen turkey
If buying a frozen turkey be sure you will have room for this very large bird in your freezer. Allow plenty of time to thaw so that there is no ice left in the cavity of the bird at all. This should be done, in its original wrapping in the fridge. Allow up to two days for a 4 – 6 kilo bird. Store fresh turkeys in the fridge for up to three days.
To defrost in the microwave: remove the plastic wrap and metal clips. Place turkey, breast side down in a shallow dish. Defrost on 30% power for 30 minutes. Allow to stand 30 minutes. Shield wings, leg ends and breast with foil and place it breast-side down. Continue on 30% for 10 minutes per kilo. Stand 30 minutes. Prepare for roasting immediately.
Roast Turkey
Preparation Time: 20 minutes
Cooking Time: 2 1/2 – 2 3/4  hours
Serves: 8 – 10
Ingredients:
1 x 4 kilo turkey
125g butter|
1/2 cup (125 ml) extra virgin olive oil
1 square of muslin, approx 1 metre, washed and dried
1/4 cup (60ml) melted butter, extra
2 cups (500 ml) chicken stock
1 cup (250ml) white wine
100mls fresh orange juice
2 tablespoons redcurrant jelly
Step 1: Stuffing the bird
Preheat oven to 180°C.
Remove excess fat, neck and the giblets from the cavity of the turkey. (Use the neck and giblets to make stock or discard.) Wash the bird inside with cold running water, then pat dry inside and out with paper towels.
Fill the body cavity from both ends loosely with stuffing, always making sure the stuffing is prepared and cool before stuffing (see recipe below). Also never stuff the bird until you are ready to roast it (as this is the perfect moist environment for bacteria growth), and don't overstuff as the stuffing expands during cooking. It also increases the cooking time for the bird.
Step 2: Trussing the bird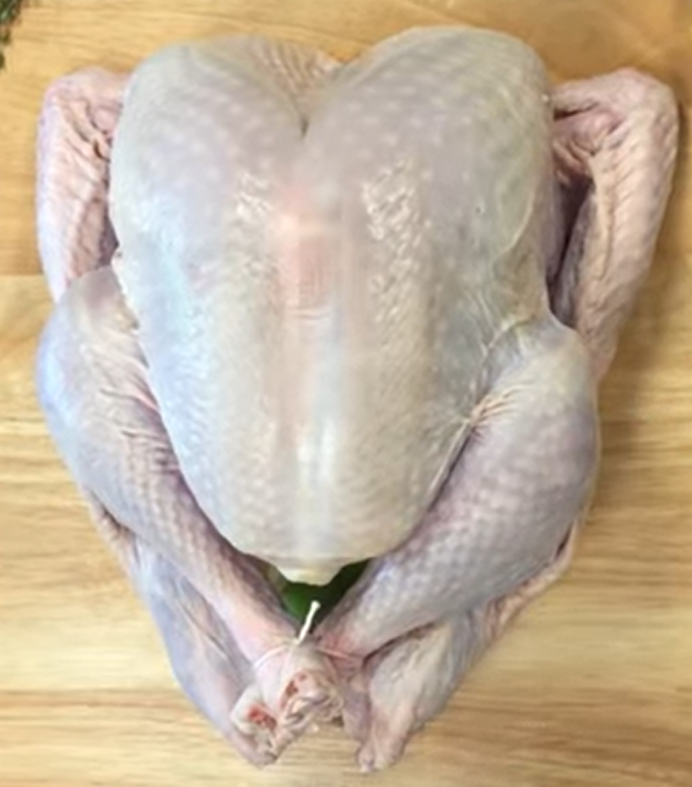 Whether or not you truss the turkey is a matter of personal taste. However, because it is a big bird, it is helpful to keep the stuffing inside. Tuck the wing tips and the neck skin flap underneath the turkey. Skewer or sew the larger opening shut. Simply putting four skewers across the opening from side to side and then lacing back and forth in an S motion with string then pulling tight is very simple and effective. Tie the legs together over the skewers before roasting. You can watch how to do this on Youtube.
Step 3: Preparing the turkey for the oven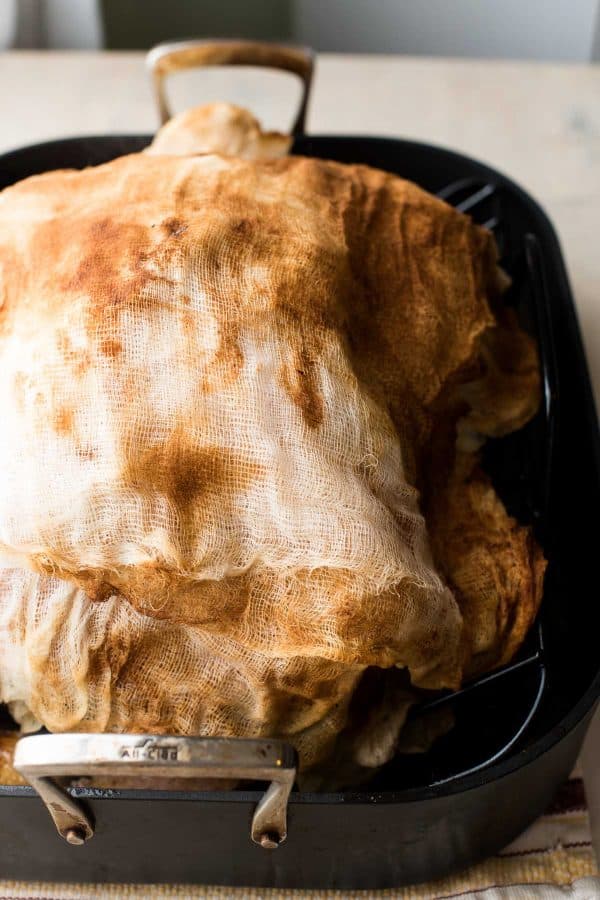 Melt the butter, mix with the olive oil. Soak the muslin in this and wrap it carefully around turkey. (Alternatively drape bird with 500g bacon or the ham skin.) This will help to keep the meat moist, especially the more delicate breast meat. Cover the entire bird with foil. Place on a rack (or bed of chopped vegetables) in a large roasting pan and put into oven. Cook for 2 hours. (In the past recommended cooking times were often far too long, making the roasted turkey dry. Allow approximately 35 – 40 minutes baking time per kilo. Use this calculation to adjust this recipe if your turkey is either smaller or larger than 4 kilos.)
Step 4: Basting
Remove the muslin and foil. Brush the turkey with more melted butter or pan juices and return to the oven. Repeat every 15 minutes and continue to cook for another 30 – 45 minutes. To test for doneness, prick the skin at the thickest part of the thigh with a skewer. The juices should run clear with no tinge of pink. It is very important not to overcook turkey or the meat can dry out. Always test the turkey as cooking times can vary depending on how cold the bird is when it goes into the oven, how dense the stuffing is and oven variation. Remove the turkey to a heated platter in a warm place, cover loosely with foil and allow to rest for at least 15 minutes before carving so that the juices will settle making slicing easier.
Step 5: Making the sauce
Remove any fat from the baking pan, either by tilting the pan and spooning it off the surface of the juices, or by using a fat/lean pouring jug. Place the pan over medium to high heat and add the wine and stock to the remaining pan juices and bring to the boil. Scrape the pan with a wooden spoon to remove the residue on the bottom of the pan. Cook until reduced by half. Add the orange juice, return to the boil for a few minutes and then stir in the redcurrant jelly to dissolve. Taste and add salt and pepper if necessary.
For a thicker gravy, dissolve a tablespoon of cornflour in 2 tablespoons of cold water or stock. Add a little of the hot liquid into this and then return it all to the pan, stirring all the time until the sauce has thickened. (Always make sure after the addition of flour to any sauce that it simmers for at least one minute to get rid of the floury taste.)
Step 6: Carving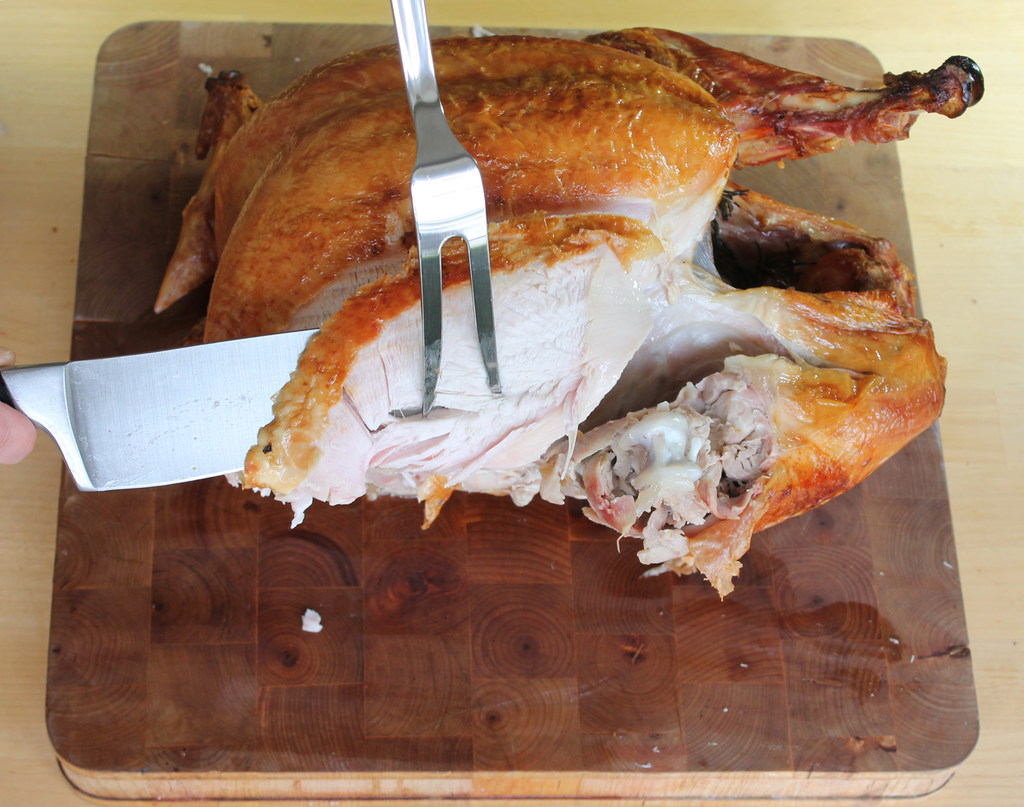 Place a folded tea towel underneath the board on which you are carving the turkey. Make sure your knife is sharp and have ready another heated platter for carved meat and as you carve tip any juices into the sauce. Cut into the turkey where the ball joint of the wing joins the breast and remove the wings. Separate the leg and thigh sections at the joints, cutting from above at the natural separation from the body. Thinly slice the meat from the legs and thighs. Keep this darker meat separate. Supporting the turkey with a carving fork, thinly slice the white breast meat on both sides. Remove the stuffing. Couscous based stuffing is easiest to spoon out. Forcemeat stuffing can also be carved. It's best to serve each person both white and dark meat and some stuffing.
Couscous Stuffing
Ingredients:
700mls chicken stock
375g couscous
250g bacon, finely chopped
2 onions, finely chopped
1/2 teaspoon salt
freshly ground black pepper
100g pinenuts, toasted
200g chopped, mixed, dried fruit
juice and zest of an orange
3 tablespoons freshly chopped herbs e.g. parsley, thyme, sage
Heat chicken stock in microwave or saucepan until hot and pour over couscous and allow to swell up. Leave for at least 10 minutes. This is a little more liquid than usual to encourage the couscous to stick together rather than form separate grains.
Dry fry bacon and onion together until just beginning to brown. Mix through couscous with remaining ingredients. Mix well. Test for seasoning. Cool before using.
Sausage and Fruit Stuffing
Ingredients:
12 large dessert prunes
15 dried apricots
3/4 cup port
20g butter
1 large onion, finely chopped
250g sausage mince (or sausages taken out of skin)
250g pork and veal mince
1 1/2 cups (90g) fresh breadcrumbs, approx 3 slices
290g can whole chestnuts, drained and chopped
3 tablespoons fresh herbs, finely chopped e.g. parsley, thyme, sage
1 beaten egg
salt and freshly ground black pepper to taste
Soak prunes and apricots in port, preferably overnight. (Alternatively heat in the microwave on high for 3 minutes and leave to cool.) Saute onion in butter until transparent. Add the minces to the pan with the onion and saute, stirring frequently until golden. Remove to a bowl.
Drain the dried fruit, deglazing the pan with any remaining port, scraping the pan with a wooden spoon. Pour over minces in bowl. roughly chop dried fruit and add to bowl.  Add the remaining ingredients and mix well. Season to taste. Cool.

Roast Turkey with Steamed Fresh Vegetables
Roasted vegetables are always popular. However, simply steamed (or microwaved) fresh vegetables are also delightful. Allow 200g vegetables per person.
Serves: 8
Preparation Time: 5 minutes (excl. preparation of turkey)
Cooking Time: 10 minutes (excl. preparation of turkey)
Ingredients:
1 stuffed turkey, cooked as for the basic recipe
1.6 kilos vegetables e.g.  baby carrots, yellow and green button squash, asparagus, green beans, snow peas.
2 tablespoons freshly chopped parsley and/or toasted flaked almonds
As this is quite a volume to cook at once, more than will fit in a steamer follow this simple method, beginning with the slowest cooking vegetables first. Place peeled baby carrots in the bottom of a large saucepan and just cover with hot salted water. Cover with a lid and bring to the boil. Reduce heat to a simmer and add the baby squash in a layer. The water should not cover the squash. Prepare asparagus by snapping off the ends where the spear naturally breaks and washing well. Once this has been done it is time to layer these on top of the squash. Cook for a couple of minutes more then add green beans. Add the snowpeas if you are using them for the final minute of cooking.
Drain vegetables. Toss together with freshly chopped herbs and/or nuts and serve.
Here Is my recipe for Roast Turkey with Italian Sausage Seasoning and Vegetables
LEFT-OVERS
What to do with left-over turkey is the perennial problem. Here are some ideas! To store, remove the stuffing from the turkey and keep separate. Cover with foil and keep in the fridge.
Chopped up turkey can be put into omelettes, crepes, quiches, Cornish pasties and pies. Chunks marry wonderfully with a chef's or Caesar salad, croissants with cheese, curry mayonnaise like the old favourite Coronation chicken or make a wonderful curry all its own. Shredded it can happily be stirred through fried rice or mushroom risotto or made into rissoles. Minced with breadcrumbs or mashed potato, shallots, a little mustard and grated cheese, then rolled in egg & breadcrumbs it makes delicious croquettes.
To be more modern, place in softened rice paper with Lebanese cucumber, snowpea and bean shoots and hoisin or char siew sauce or make it into Sang Choy Bow.
Turkey Curry
Serves: 4
Preparation time: 5 minutes (excl. preparation of turkey)
Cooking time: 12 – 15 minutes (excl. preparation of turkey)
Ingredients:
1/2 tablespoon (10ml) extra virgin olive oil vegetable oil
2 teaspoons finely chopped or grated ginger
2 cloves garlic, finely chopped
1 small onion, finely diced
1-2 tablespoons Thai green curry paste
1 tablespoon (20ml) Thai fish sauce
1 tablespoon sugar
1 1/2 cups (375 ml) coconut cream
salt and freshly ground black pepper
600g left-over roast turkey (from basic recipe) cut into chunks
2 tablespoons chopped coriander leaves
Heat oil and fry the aromatics for a few minutes to develop their distinctive flavours: ginger, garlic and onion. Now add the curry paste. Fry for a moment or two then add sugar and fish sauce. Stir well and pour in the coconut cream. Bring to a simmer and season with salt and pepper. Add the turkey and reheat to simmer.
Serve with jasmine rice and garnish with coriander leaves.
Turkey Sang Choy Bow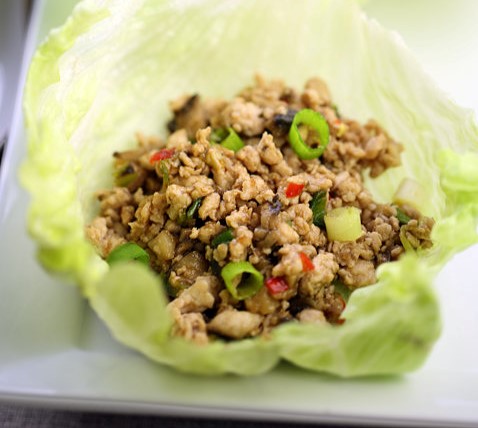 Serves: 4
Preparation time: 5 – 10 minutes (excl. preparation of turkey)
Cooking time: 10 minutes (excl. preparation of turkey)
Ingredients:
2 tablespoons (40 ml) extra virgin oliveoil
1 small cup water chestnuts, drained and chopped
4 slices fresh ginger, peeled and chopped
750g finely chopped cooked turkey
1/4 cup (60 ml) chilli sauce
2 tablespoons (40 ml) dry sherry
1 tablespoon (20 ml) soy sauce
1 teaspoon sugar
salt and pepper to taste
2 tablespoons cornflour
1/2 cup (125 ml) chicken or beef stock
crisp iceberg lettuce
Carefully separate lettuce leaves and trim with scissors to form neat "cups". Place in a bowl of iced water to crisp.
Heat a wok or frying pan and add the oil. Stir-fry the chestnuts and ginger in the oil. Stir in the turkey, chilli sauce, sherry, soy sauce, sugar, salt and pepper.
Blend together the cornflour and stock and add this mixture to the wok or pan. Cook for a further 1 – 2 minutes, stirring.
Drain lettuce leaves and place on serving plate and fill each leaf with 3 – 4 tablespoons of the warm stir-fried mixture. Roll up the leaves and serve.
Some other turkey recipes to try with left-overs
Turkey Quesadilla
Turkey Salad with Ginger and Lime Mayo