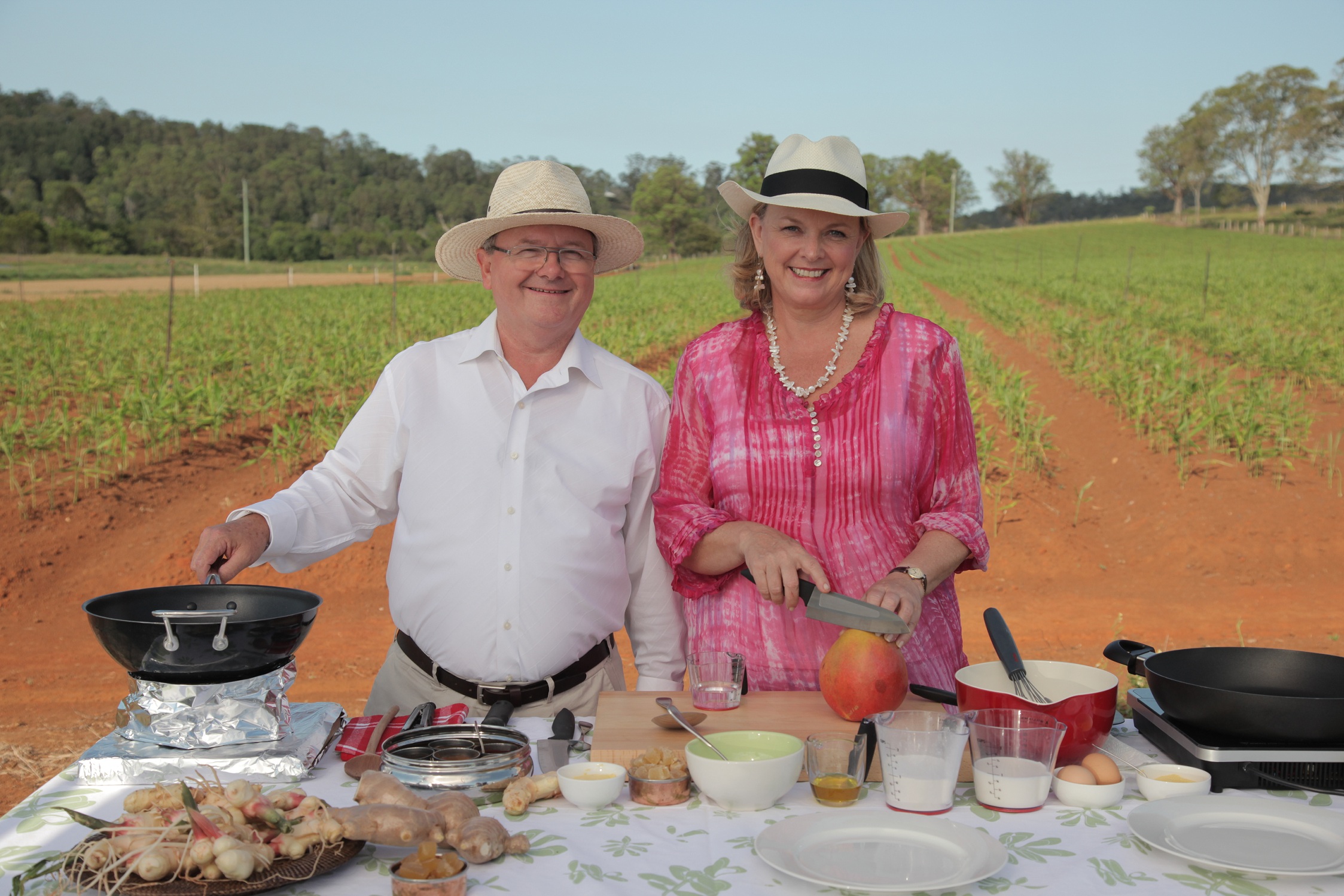 Take one 1961 convertible EK Holden, stir in a snippet of home-cook hero and a dollop of spice expert, set on the road to foodie heaven and voila – Lyndey & Herbie's Moveable Feast.
Fresh from filming Lyndey Milan's Taste of Ireland, Lyndey  takes her quirky culinary road trip concept to the eastern seaboard of Australia in her new television series.
Joined by spice expert Ian 'Herbie' Hemphill, Milan motors in Edna the classic Holden to some of the most stunning and celebrated food and wine regions in Australia.
The show features eight half hour episodes featuring the culinary duo's adventures in Byron, the Sunshine Coast, the Riverina, Tasmania and the Hawkesbury.
In Lyndey & Herbie's Moveable Feast, Lyndey meets some of the more colourful characters behind Australia's modern culinary enterprises.
"The idea is to follow the journey of food from paddock to plate observing not only the Primary products and processes but the people.   There are also some  tantalising twists put on classic dishes," Lyndey says.
"Herbie and I like to get out and get dirty. We both love regional Australia, meeting food and wine producers, hearing their stories and tasting the fruits of their labour."
Lyndey says they certainly got some attention in Edna as they motored to some of the island continent's most scenic and bountiful outposts.
"The majesty of Australia is our backdrop.  From the tropical north to the brown, open spaces of the west we encounter spectacular scenery and fascinating, hospitable characters.  The fun starts when we transform their superb produce into enticing dishes with the addition of spice – remembering that most spices are not hot."
The road trip through Queensland, northern and southern NSW and on to Tasmania reveals not only the ingredients that make the meal but also the personalities and ideas that inspire them.
Here are a few highlights.
From bush tucker to talking turkey the duo discover the beauty of Byron Bay, eat local macadamias, collect coffee beans, and unwind at Olivia Newton John's spectacular retreat.
On Queensland's Sunshine Coast the focus is on agriculture, ballroom dancing and Wagyu beef and there's an extended visit to the local snail farm.
The Riverina food bowl in southern NSW serves up an eclectic mix of citrus, flavoursome capers, world class wineries and walnuts perfectly suited to Lyndey's divine walnut cake.
In the Hawkesbury area the gastronomes trawl for prawns and dig in to fresh yabby (fresh water crayfish) tails right on the river then visit a farm for a side dish of micro herbs and salad leaves.
Tasmania beckons in the final episode where gnocchi is served with nettles and the discovery of a native pepper makes for a chocolate brownie with real bite.
Behind the wheel of the classic Holden, in the kitchen or literally 'in the field', Lyndey and Herbie showcase some of the diverse enterprises that engender Australia's multi-cultural culinary landscape.