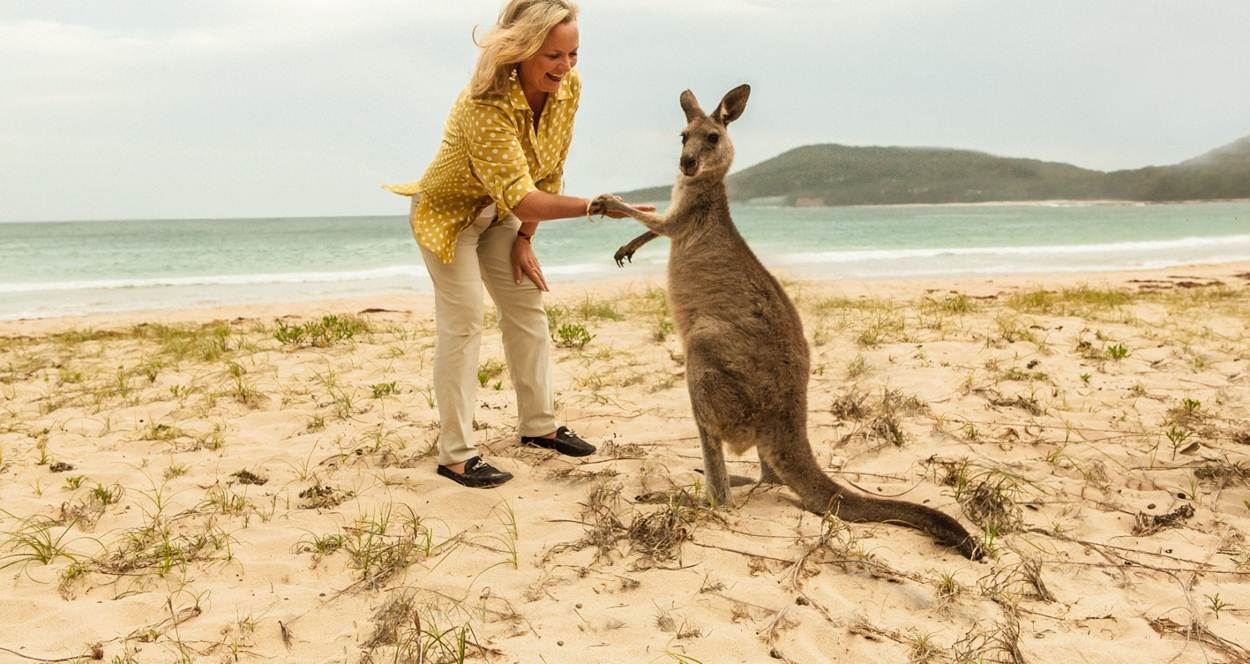 Home cook hero Lyndey Milan returns to TV to taste Australia!
Australia's much-loved TV personality Lyndey Milan is heading back to our screens as she unearths the characters, places, pastures and heroes that form the backbone of a thriving Australian culinary culture and delivers a real Taste of Australia.
Australia's diverse climate and vast landscapes provide perfect conditions for bountiful yet assorted harvests. This sets the scene for Lyndey's mission, to seek out and experience the very best food and wine this country has to offer. Lyndey is in all her glory; funny, quirky, and with a devilish sense of adventure.
On her travels, Lyndey encounters wildlife synonymous with the country, from koalas and kangaroos, to dolphins dipping in and out of crystal clear blue waves. But it's not just the animals that come out to play as Lyndey is joined by a plethora of producers, wine makers and top chefs.
From foraging on a rocky beach with the charismatic Rick Stein or cooking with Pete Evans in a sustainable school garden, to talking with Maggie Beer about her love of the Barossa, Lyndey shares her Taste of Australia with some of the country's most celebrated foodies.  One episode, celebrating Lyndey's home town of Sydney, sees the vivacious cook enjoy a true Aussie barbecue with celebrity chef Neil Perry set against the majestic backdrop of Sydney harbour.
The home cook hero enjoys a variety of activities as she meets farmers and producers across the country. Lyndey rolls up her sleeves and pulls on her gumboots to experience goat milking, camel riding, wood chopping at the Sydney Royal Easter Show, gold panning, boot scootin' at the Tamworth country music festival and even salmon milking in Victoria's Yarra Valley.
Whether fishing, foraging for mushrooms or snail farming, Lyndey's passion for Australian food and produce is contagious. This 16 part series explores the best the sunburnt country has to offer from traditional, Aboriginal native foods to refined contemporary classics as seen through the eyes of an Aussie food legend.
Broadcast dates and times
Lyndey Milan's Taste of Australia is currently airing on 7TWO, Sundays at 1:30pm
Ep 1 – THE SNOWY MOUNTAINS of NSW
Read my blog here
Ep 2 – – ARMIDALE & TAMWORTH
Read my blog here
Ep 3 –  SOUTH AUSTRALIA
Read my blog here
Ep 4 – ORANGE: WINTER WARMERS
Read my blog here

Ep 5 –  SYDNEY & SURROUNDS
Read my blog here

Ep 6 –  PORT MACQUARIE
Read my blog here
Ep 7 –  CANBERRA
Read my blog here 
Ep 8 – ALBURY
Read my blog here
Ep 9 –MELBOURNE & THE YARRA
Read my blog here
Ep 10 – ORANGE PART 2
Read my blog here
Ep 11 – THE BLUE MOUNTAINS of NSW
Read my blog here
Ep 12 – HEROES
Read my blog here
Ep 13 –THE SHOALHAVEN
Read my blog here
Ep 14-  THE MARGARET RIVER
Read my blog here
Ep 15- KUNUNURRA
Read my blog here
Ep 16-  BROOME
Read my blog here
Recipes available by clicking here!

Related Links
Destination NSW
Armidale Tourism
Tamworth
South Australia
Orange
Port Macquarie
Visit Canberra
Albury City
Visit Melbourne
The Yarra
The Blue Mountains
The Shoalhaven
Discover the Shoalhaven
Western Australia
Margaret River
Thank you to all who attended the Brisbane and Noosa cookbook launches of Taste of Australia! Click here to see photos from the events!
Good news – you can now purchase copies of the cookbook, Taste of Australia online by clicking here! Grab your copy now!