Travel
They say "travel broadens the mind" but sometimes we don't see what is at our own back door. Well, in this case, the back of the Gold Coast. Recently, when I was going to the Gold Coast to speak at the opening of the Gold Coast food & Wine Festival, I took the opportunity to explore a little. Only about 1 hour 40 minutes' drive from the airport in the hinterland is O'Reilly's Rainforest Retreat. It is a stunning a dramatic drive up Green Mountain with a winding, narrow road with breathtaking views to the valleys below. Sadly some of the road was washed away during Tropical Cyclone Debbie so some stretches are one way only. However, I put my headlights on and had no trouble. The road is being repaired which also means currently no big coaches can go up – so a blessing in disguise for the car driver.
Sunset and Tradition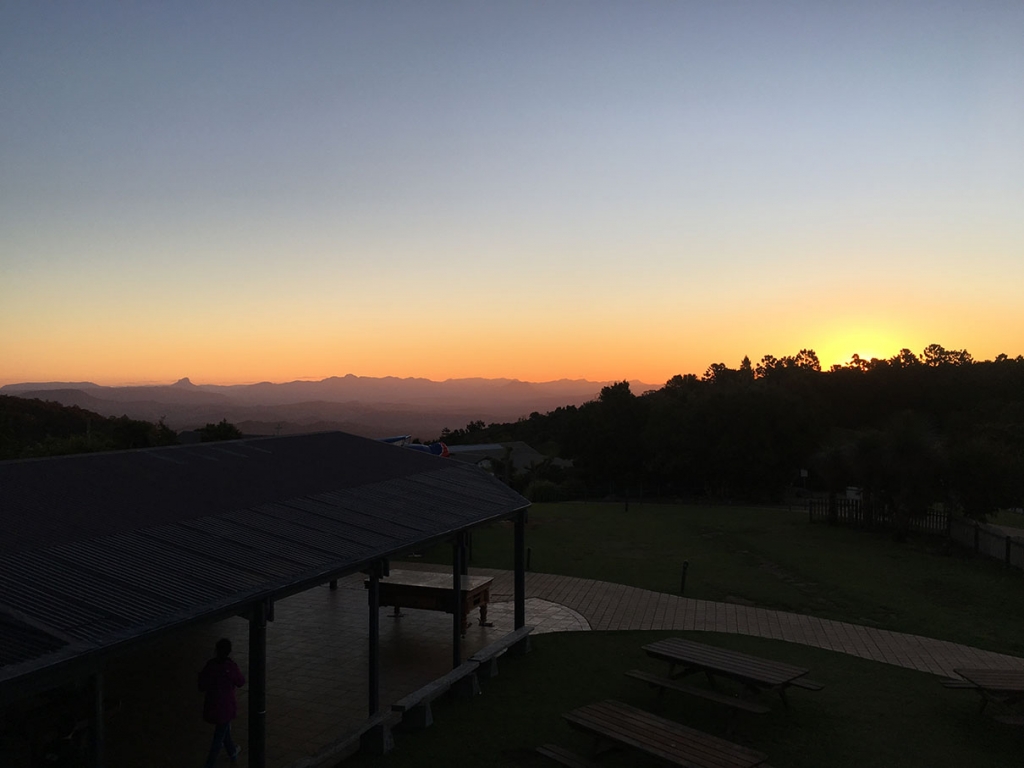 Sunset view from viewed from the Rainforest Bar
I arrived at O'Reilly's in time for a stunning sunset which I viewed, with a gin and tonic, from the Rainforest Bar, with expansive views overlooking the western McPherson Ranges. It was cool but outside heaters kept things cosy. Then I checked into one of the award-winning 48 self-contained and architecturally designed Villas perched unobtrusively onto the sloping hillside. It was warm and welcoming. Large lounge-dining room, well-equipped kitchen and a deck with stunning views during the day and a plunge pool.
There's nothing like a bit of history and tradition and O'Reilly's has been operating for 90 years, with third generation Shane O'Reilly now at the helm.  Some guests return, introducing children and grandchildren to the retreat and various members of the O'Reilly family.
Dining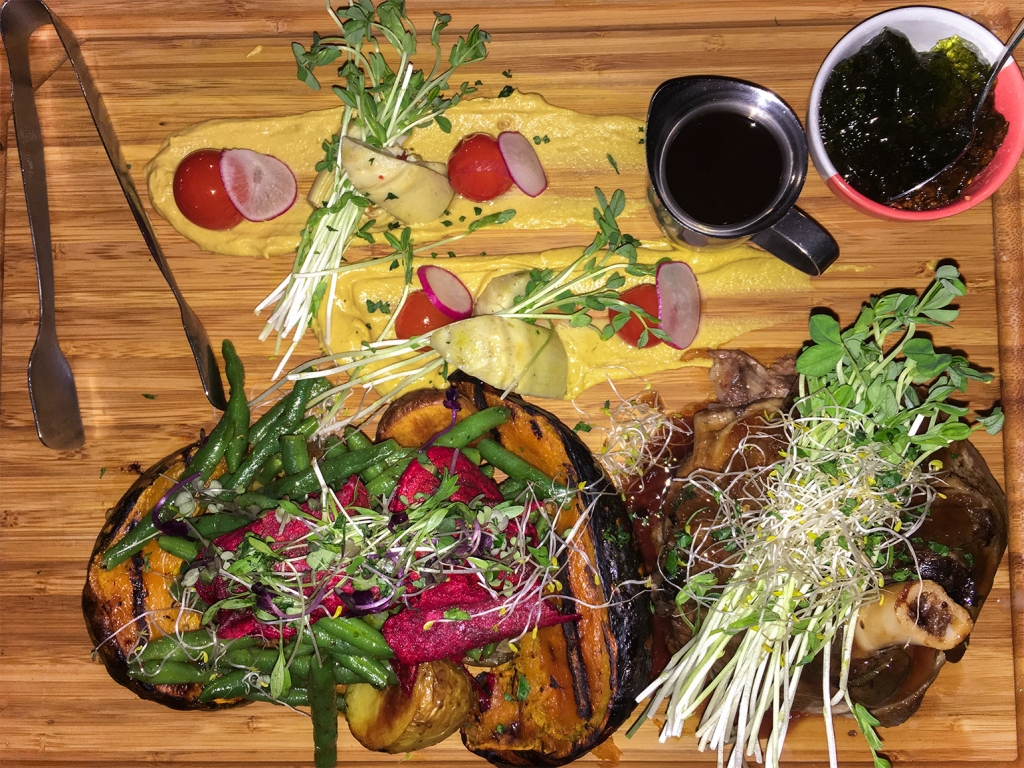 Slow cooked lamb shoulder with pumpkin, chats, balsamic shallots, beetroot crisp, minted jelly and pan glazed gravy and mustard
Dinner in O'Reilly's Dining room is a la carte, served by welcoming staff with a wine list which is concise, but with good offerings from some boutique Australian producers as well as O'Reilly's wines produced in their vineyard which I had passed on my way up the mountain. The menu states "Where dining is about ingredients and friends at the table. We believe that food brings people together, a time for families and friends to share experiences and connect in a lively place. We care about what we put on your plate, we source our produce locally; and we bake our own breads, pastries and pizza bases daily right here." "It is well above the sort of "home-cooking" you might expect somewhere like this though neither is it elitist fine dining, rather well-pitched for the venue and the clientele. Items are clearly marked vegetarian, dairy free and gluten free, including pizzas on request.
I was delighted to share O'Reilly's Signature Special for two: Slow cooked lamb shoulder with pumpkin, chats, balsamic shallots, beetroot crisp, minted jelly and pan glazed gravy and mustard – just the thing for a cold night.  Similarly, I shared Lychee pannacotta with water chestnut and coconut sago and Deconstructed Pavlova's served with fresh fruit, chantilly cream and passionfruit coulis. The latter was surprisingly light with shards of pavlova scattered with blueberries, strawberries and grapes, a scoop of passionfruit sorbet and passionfruit coulis.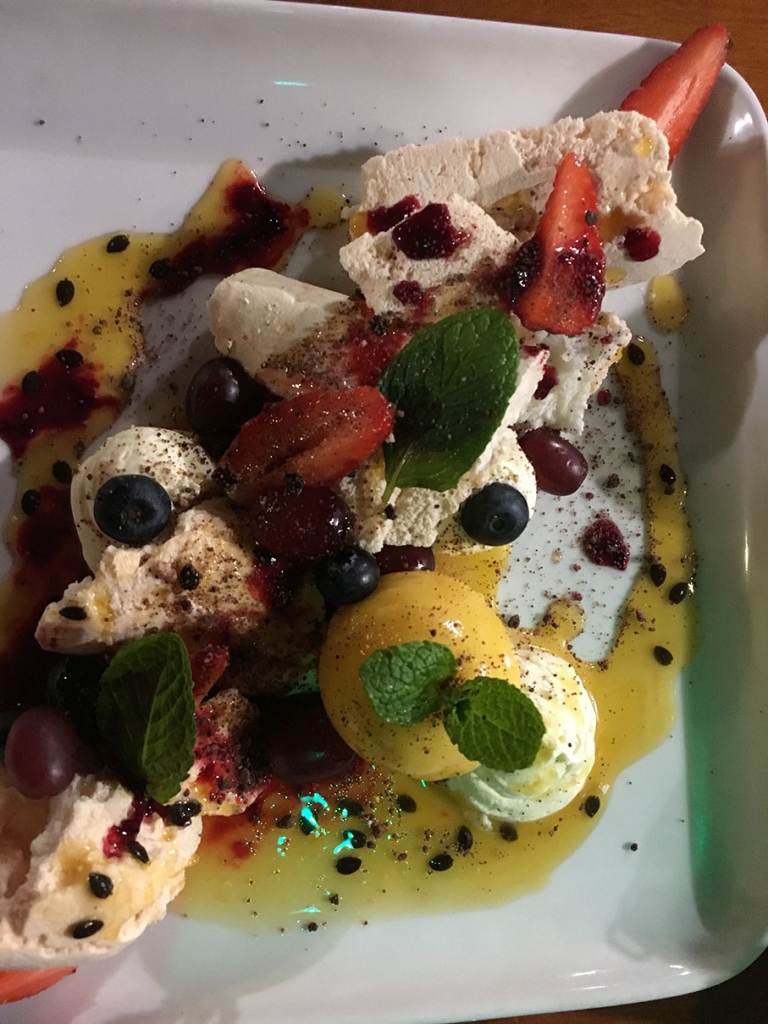 Deconstructed Pavlova's served with fresh fruit, chantilly cream and passionfruit coulis
Early to bed and early to rise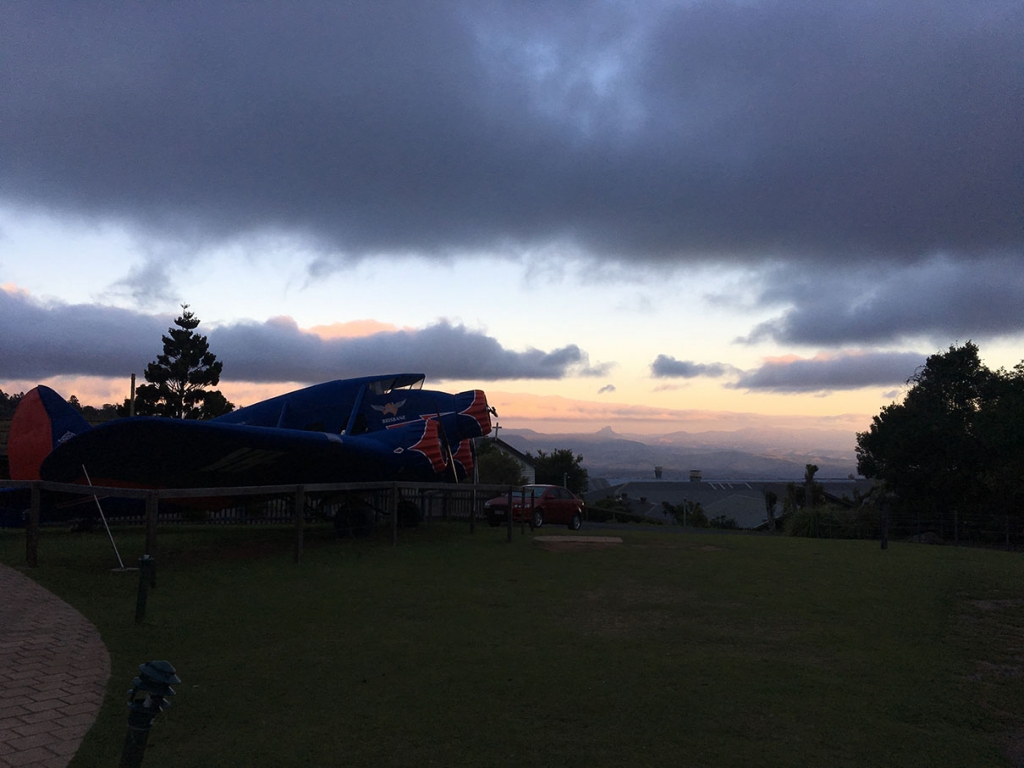 Watching the sunrise – replica of the Stinson plane on the left
Everyone eats and retires early at O'Reilly's, which was just as well as I was up before 6:45am for sunrise and an escorted bird walk with one of the characters around the place, Glen Threlfo. He's been a guide for 38 years and trots out a great commentary along with a deep love for what he does. Not only that, he was able to show us remnants of hides in which he and the film crew hid during filming with David Attenborough. A highlight for me was seeing a bowerbird in its bower and a pademelon and joey. I've sometimes used "what is a pademelon" as a trick question in a food trivia quiz but had never seen one myself. For the record they are small marsupials, much like a small wallaby or very small kangaroo. Then it was back to the dining room to warm up for a full breakfast with requests cooked to order.
Bowerbird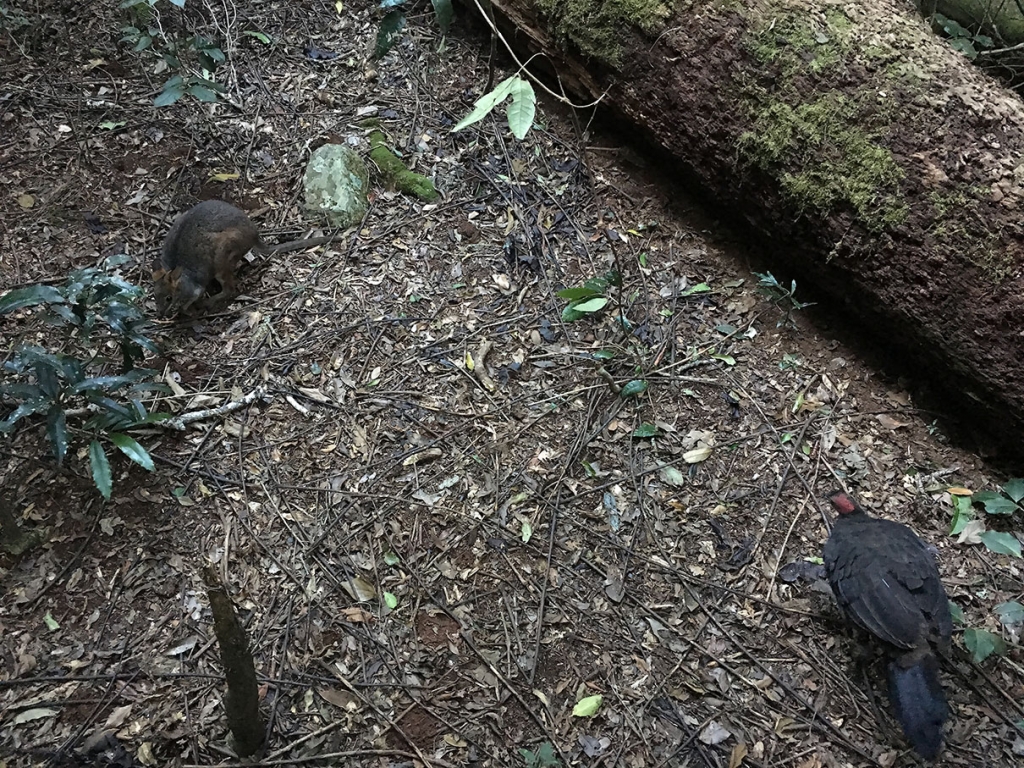 Pademelon with Bush Turkey
Treetop Walk
It's also worth going on the iconic Tree Top Walk – the first of its kind in Australia constructed 30 years ago. It's 180 metres in length and is made up of 9 suspension bridges, with much of the walkway being 15 metres above the ground. Only 6 people at a time can go on any stretch and there is also an enclosed ladder for the adventurous to go even higher up a tree to view the beautiful rainforest from above. There's also an easy 2.4 kilometre return walk on The Wishing Tree Track or maps and advice for much longer hikes.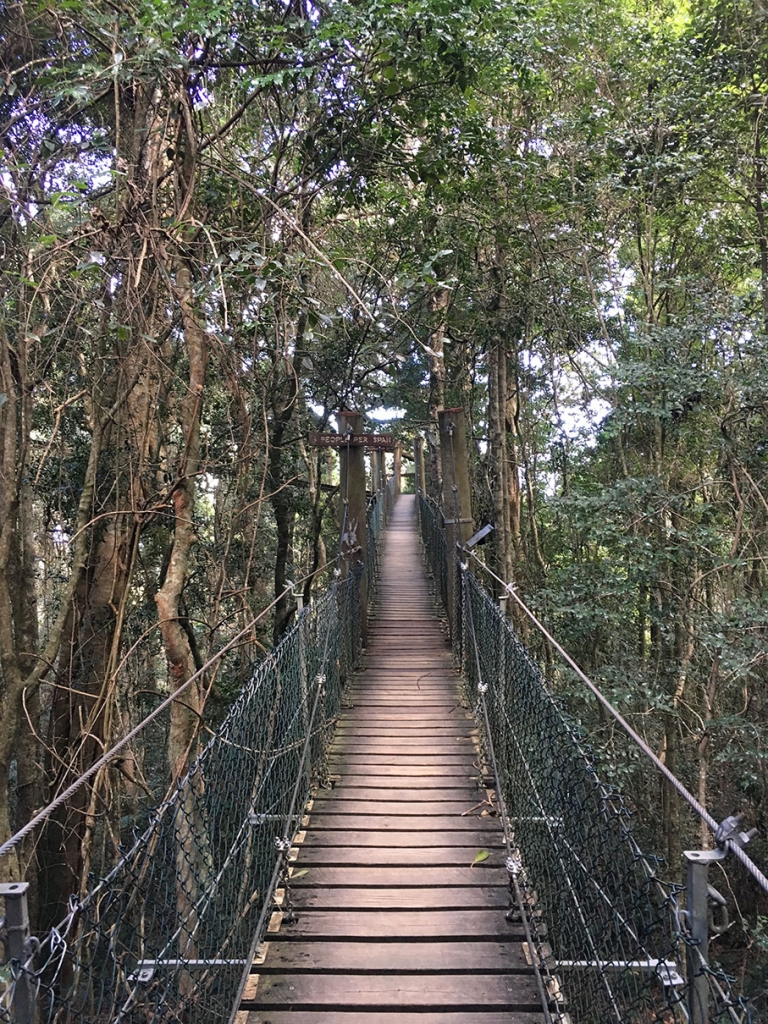 One of the suspension bridges on the tree top walk
On the site is also a replica of the Stinson plane which crashed in 1937, 80 years ago. Famously Bernard O'Reilly trekked through the bush and heroically discovered the only two survivors. There are various branches of the family which is of Irish descent and all grew up in this unique area. You'll find the O'Reilly name popping up and various parts of the business and the retreat will welcome its one-millionth guest sometime this year.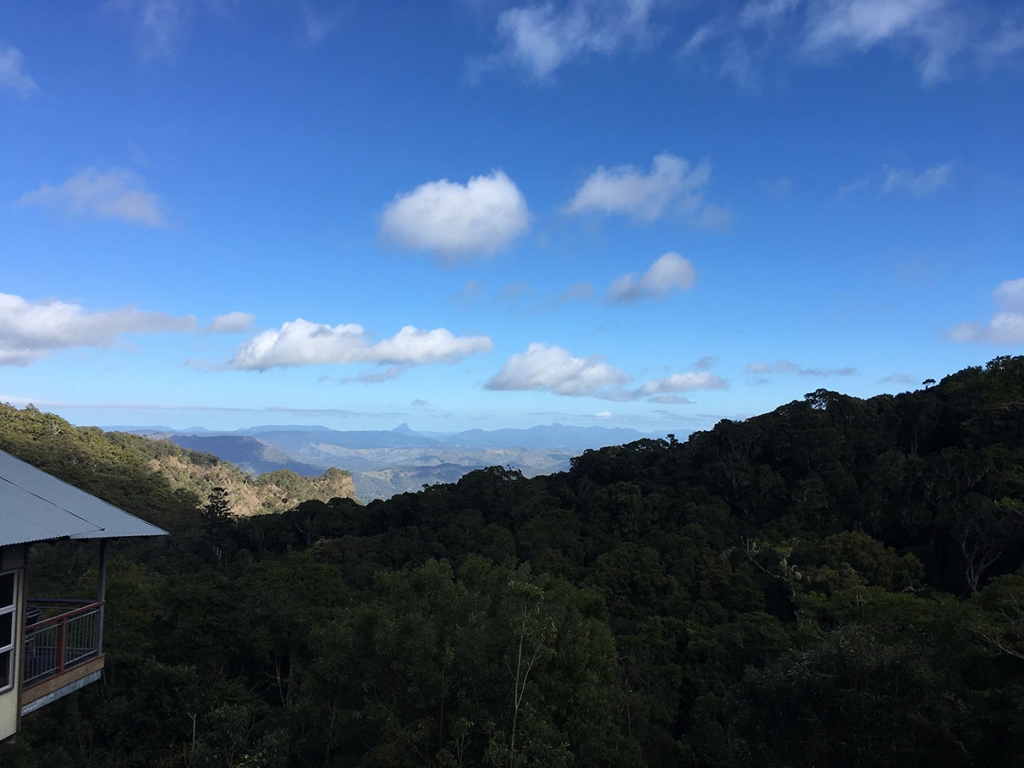 View from my villa
O'Reilly's Canungra Valley Vineyards
I didn't have time to try the Lost World Day Spa including a couples suit and 25 metre infinity lap pool as I preferred to make my way 45 minutes down the mountain to O'Reilly's Canungra Valley Vineyards, with 8-acres of vines and a magnificent 1800's homestead "Kiloween" as Cellar Door which was incredibly cut in half, transported to the site and reassembled. The setting, on expansive lawns beside Canungra creek, is glorious. When I arrived, as,  an Ambassador for Australia's Biggest Morning Tea, I was delighted to see one in progress with a rubber duck race concluding on the creek. O'Reillys are an active supporter of the local community and the day was very successful, especially for a small community.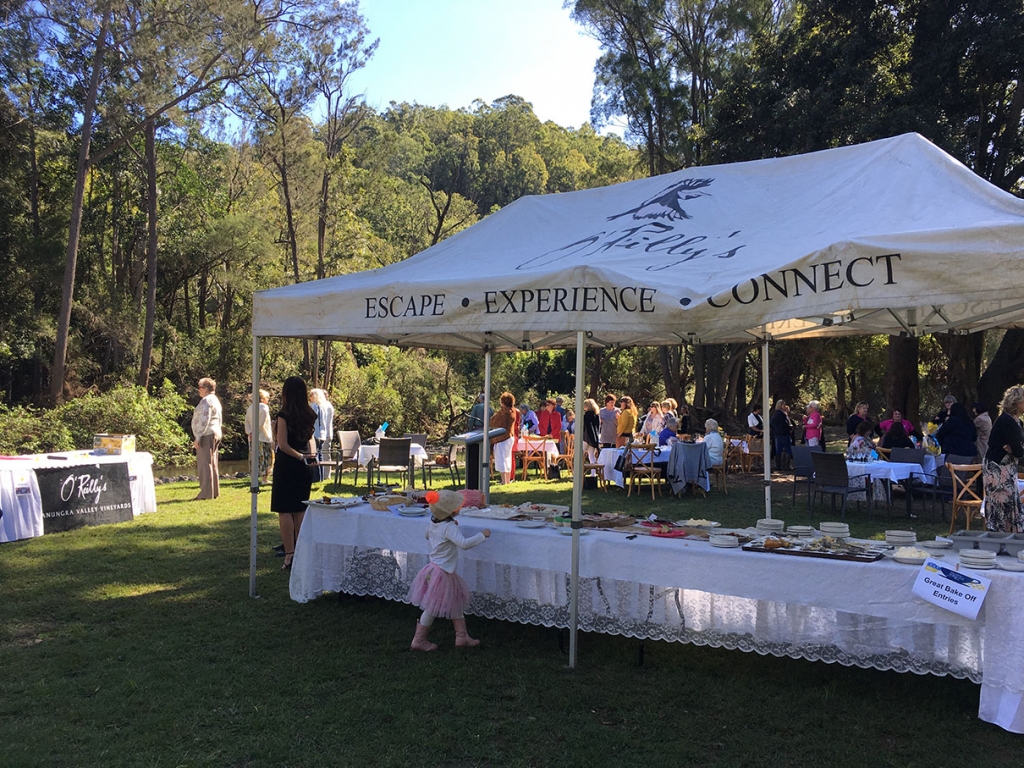 Australia's Biggest Morning Tea at  O'Reilly's Canungra Valley Vineyards
Picnic by the Creek
Next it was time to try all their wines at the bar, both those grown onsite and at Stanthorpe plus red and white organic wines which are made for them by Tamburlaine. I did spit! Charmingly, many of the wines are named after family members. I was interested to learn that the Estate Grown Vince Reserve Verdelho was picked by their active wine club members. Then I took a bottle of the Tom Reserve 2014 Tempranillo to sample a picnic hamper on the lawns beside Canungra Creek, keeping an eye out, unsuccessfully, for turtles and platypus. I sampled some of the generous offering of antipasto, dips, Southern Fried chicken, rare roast beef, local cured ham, seasonal salads, cheeses, crackers and freshly baked bread and bush tomato chutney. It all concluded with and a scoop of ice cream to take away on my drive down to Surfers Paradise.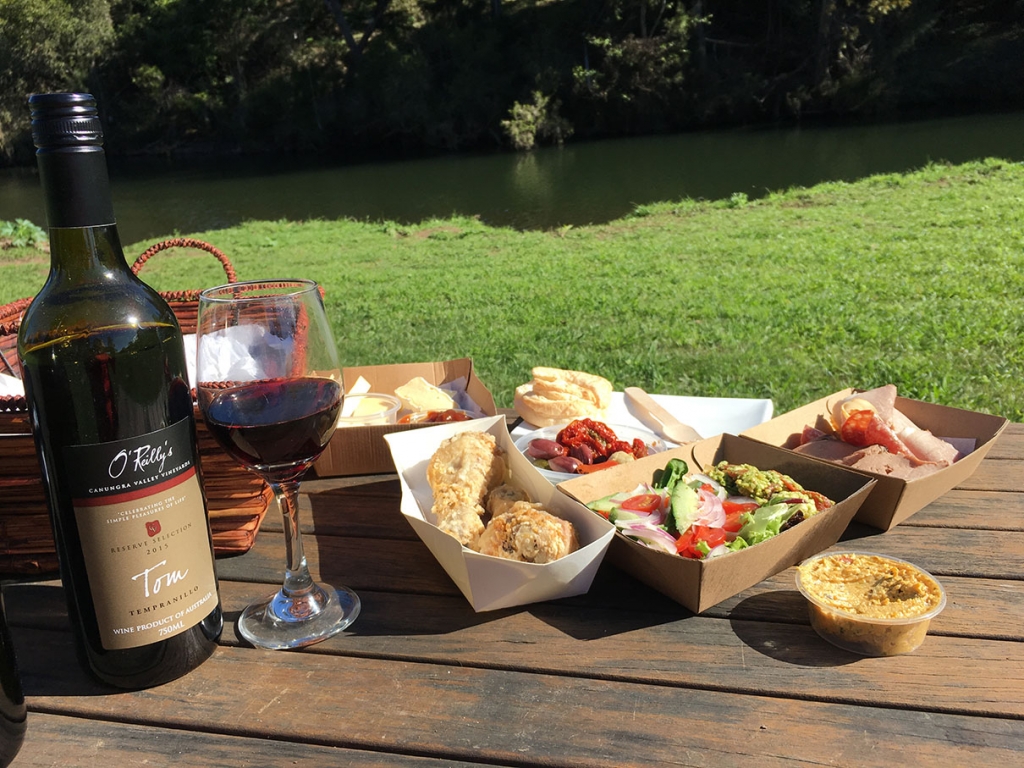 Picnic beside Canungra Creek