SBS to launch five new local dramas, major documentaries in 2021
SBS will screen more local content than ever in 2021 – including five new Australian dramas; documentary series and one-off specials about family violence, anxiety and adult literacy; and a weeknight cooking show hosted by former MasterChef winner Adam Liaw.
"The best way to deliver our charter [obligations] is through Australian stories," said Marshall Heald, SBS' director of TV and online content. "Our strategy is about capturing the power of niche content while providing those big landmark programs that pull more people into the network."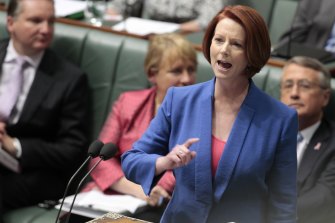 SBS documentary Strong Female Lead examines gender politics during the term of Australia's only female prime minister, Julia Gillard.
CREDIT: ANDREW MEARES
The multicultural broadcaster unveiled its 2021 programming line-up in an online presentation to advertisers on Wednesday.
Among the Australian series launching next year are New Gold Mountain, initially scheduled to debut this year until COVID-19 restrictions halted production. Filmed at Ballarat's Sovereign Hill, the murder mystery explores the Australian gold rush from the perspective of Chinese miners.
It's also SBS' most expensive drama to date.
"Period dramas obviously have much larger budgets," Heald said. "It looks absolutely extraordinary."
Mabel Li and Yoson An in the SBS drama New Gold Mountain, which explores the Australian gold rush from the perspective of Chinese miners.
CREDIT: SBS
The Unusual Suspects, staring Aina Dumlao, Miranda Otto and Michelle Vergara Moore, is billed as a four-part heist caper while murder mystery Copping It Black looks at "the beauty of Indigenous art and the sometimes-devious practices in the global art market".
Iggy & Ace, a comedy that examines addiction and recovery through a queer lens, and The Tailings, a coming of age story set on Tasmania's west coast, will premiere on SBS On Demand. Both series were developed through SBS' Digital Originals program, which provides opportunities for people traditionally under-represented in the screen sector.
"When you're making a show for SBS On Demand, it needs to be innovative," Heald said, noting that the Digital Originals initiative has been extended for a further three years. "You can take enormous risks in the stories you tell."
"We want to ensure that all Australians can participate in these watercooler moments."
SBS director of TV and online content, Marshall Heald
One-off documentaries include Australia vs Anxiety, hosted by comedian Celia Pacquola, and Strong Female Lead, which examines gender politics during the term of Australia's only female Prime Minister, Julia Gillard.
Jay Laga'aia will anchor Lost For Words, a three-part series about Australia's low adult literacy rates, while investigative journalist Jess Hill examines domestic abuse in See What You Made Me Do.
"It's a horrific fact that the most dangerous place for a woman is in her own home," Heald said. "This will be an incredibly powerful show that will help people understand what coercive control is and it will also look at some solutions."
NITV's The First Inventors, a co-commission with Network Ten, offers new insights into ancient Indigenous innovations and discoveries. Also set to debut on NITV is Incarceration Nation, a critical look at Australia's justice system.
Comedian and actor Celia Pacquola hosts Australia vs Anxiety on SBS.
CREDIT: SBS
Adam Liaw, the winner of MasterChef's 2010 season, will present The Cook Up at 7pm weeknights on SBS Food. Each of the 200 episodes will have a different theme – from family meals under $20 to Syrian cuisine – with guests including Colin Fassnidge, Silvia Colloca and Lyndey Milan.
New international dramas include psychological mystery The Sister, post-war thriller Shadowplay, Northern Ireland crime drama Bloodlands and Latin-language epic Romulus, which will air alongside new seasons of The Handmaid's Tale, War of the Worlds and Why Women Kill.
SBS On Demand, which allows viewers to explore the platform in Arabic or Simplified Chinese, will add Hindi, Korean and Vietnamese language navigation next year. Heald will also expand the number of programs offering subtitles in multiple languages.
"We've already subtitled The Handmaid's Tale in Arabic and Simplified Chinese and we'll [be doing the same with other languages] for our big 'tentpole' shows," Heald said. "We want to ensure that all Australians can participate in these watercooler moments."
At a Glance: SBS in 2021
NEW
Copping It Black
New Gold Mountain
The Unusual Suspects
Iggy & Ace
The Tailings
Australia Uncovered (seven single-episode documentaries)
Lost for Words
Australia's Health Revolution with Michael Mosley
What Does Australia Think About?
See What You Made Me Do
Are You Addicted To Technology?
The Cook Up with Adam Liaw
The First Inventors (NITV co-commission with Network Ten)
Incarceration Nation
RETURNING
Who Do You Think You Are?
Australia in Colour
Every Family Has a Secret
Mastermind
Celebrity Mastermind
Insight
Dateline
SBS World News
The Feed
The Point
Living Black
NITV News
Nula
Little J and Big Cuz
Going Places With Ernie Dingo
Untold Australia (three single-episode documentaries)
Eurovision Song Contest
Sydney Gay and Lesbian Mardi Gras
SPORT
Tour de France
UCI Road World Championships
International Champions Cup
US Open Finals
National Basketball League
National Basketball Association
Women's National Basketball Association
ISU Figure Skating
FIG Gymnastics
Dakar Rally
Written by: Michael Lallo, November 18, 2020 at The Sydney Morning Herald