I had always been an independent traveller until I started hosting tours and cruises for Travelrite in conjunction with Celebrity Cruises. Now I am a convert to the joys of group travel, especially when there is a cruise involved. All the organisation and stress is removed while lifelong friendships are made. What's not to love? I have blogged a bit about my previous trips to the Mediterranean and Eastern Mediterranean but as I am now researching authentic experiences for my next one, departing in October, I thought I should follow up.
First up, everything is booked and planned for you. All you need to do is pack, get your passport and hop on that plane. Tours have started in Rome and Venice and this year it will be Barcelona. So look out for some behind-the-scenes visits.
Sail Away on Celebrity
Once on the fabulous Celebrity Constellation we unpack, only once until we leave the ship after 10 glorious nights on board. This is one of my favourite things, not having to pack and unpack constantly and the easy ability to pop back to my state room to change any time I like.  We all have our own butler and service (with a ratio of 1 staff: every 2 guests) comes with a smile. Then we "Sail Away" as the ship is guided by a tug – last year through the spectacular Grand Canal in Venice before the first of many fun-filled evenings at dinner and a world-class show – a different one every night .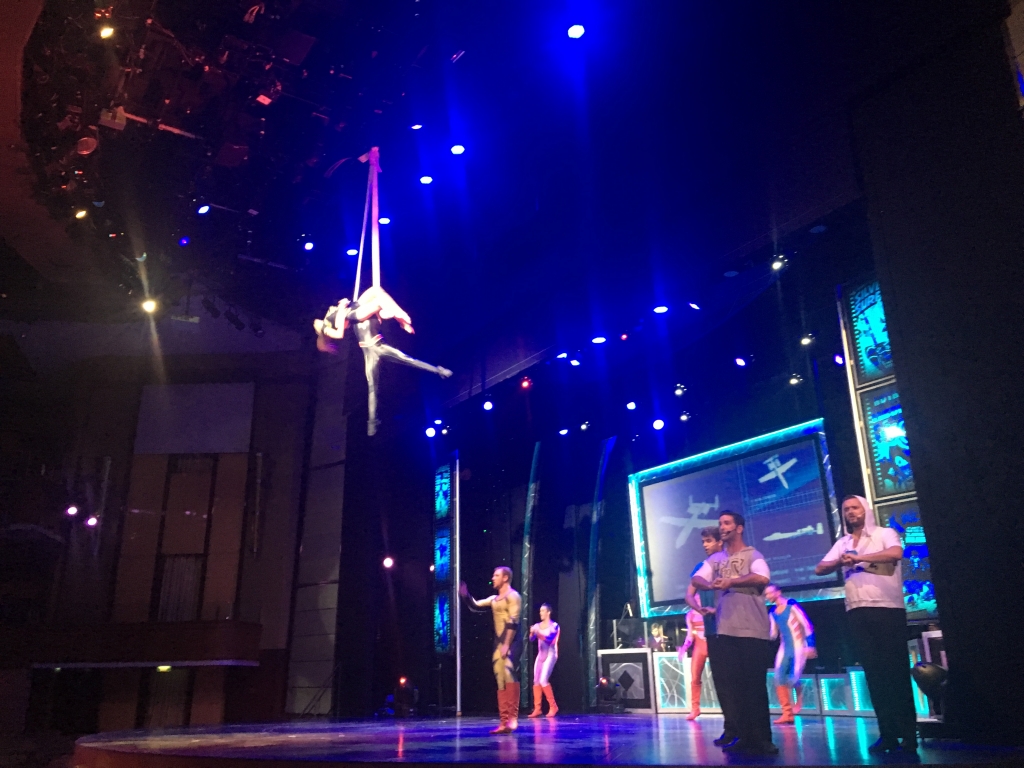 One of the world-class shows on Celebrity Constellation
A glorious day at sea
I always love a day at sea for the opportunity to explore the fabulous facilities of the ship, relax by the pool or day spa or take a class.  We had three on this cruise.  "Celebrity Today" also advises what's on and there is a daily summary too, of international news so you can keep up with what's going on at home. The gym is amazing and has the best view from the ship – though the restaurant view is good too.
Lunch in the main restaurant on a sea day
It's also a great opportunity for me to give an illustrated talk or a cooking class.  There are fantastic places to visit including Alicante, Seville, Gibraltar, Montpellier, Aix-en-Provence, Florence and Corsica and I research the food in each one. Onboard, we received wonderful co-operation from Executive Chef, Alexander Capello, who kindly allowed me the services of a sous chef as assistant and an outstanding functions co-ordinator with extras thrown in for the group like a galley tour and food and wine matching session. Celebrity was recognised by the Wine Spectator Restaurant Awards for their one-of-a-kind wine program making them the most awarded at sea. One night we also dined in one of the specialty restaurants which was a highlight.
A tasting sample from one of my classes: L to R Cauliflower fritter, Orecchiette with eggplant and ricotta, biscotti, panzanella and prawn wrapped in basil & pancetta.
All Ashore for Taormina, Sicily
For days ashore, we always have our own coach (often with wifi) and local tour guide which is fabulous. I had been to Taormina before, but this time our guide not only took us on a walk through town (where there are no vehicles) but also showed us where to get the best gelato and recommended a restaurant, Terrazza Angelo  for lunch. I was sceptical, but he offered to pay if I wasn't happy, and those of us who dined were very happy – also with the wine which is grown on the slopes of Mount Etna, Europe's highest active volcano which we could see smoking. With it we variously ate seafood antipasto, seafood risotto, grilled seafood, pasta and pizza.  And The Best tomato salad – Sicily is where Italy sources the best. Always we are greeted back at the ship by smiling staff with cold drinks and cold towels.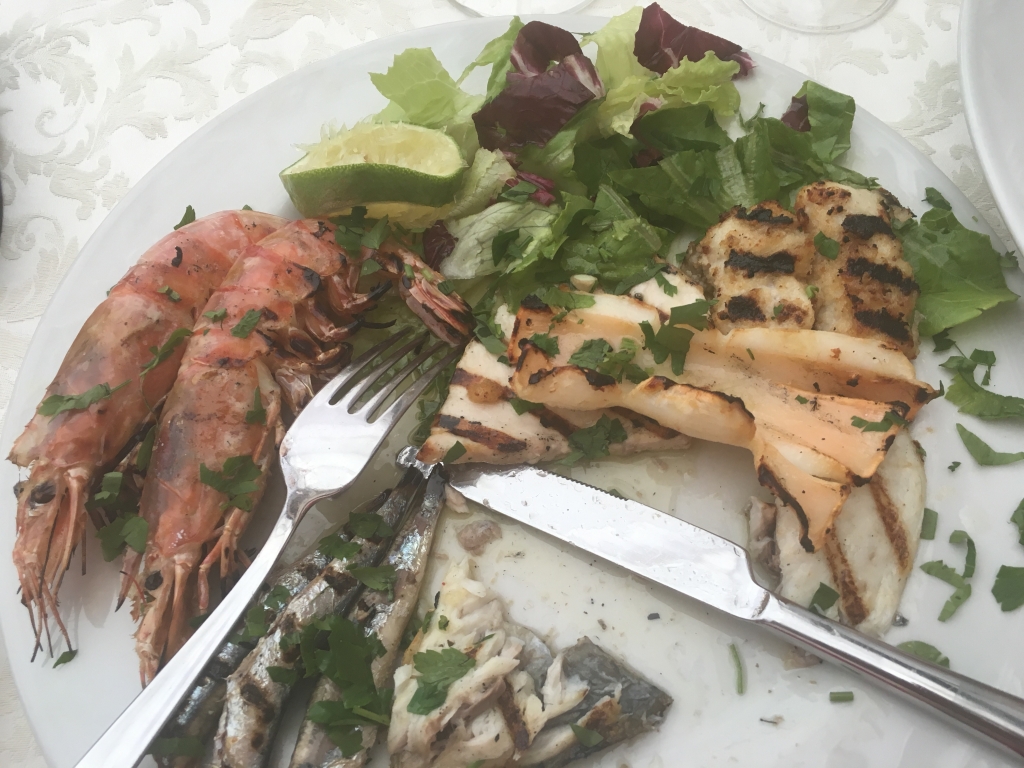 Grilled seafood – or what's left of it
Next stop: Sorrento, Italy
Next day we disembarked in Naples and with a fabulous guide drove to Sorrento on the Amalfi coast with its spectacular views of the Bay of Naples. This time we visited a farm, just outside,  which grew and processed olive oil and made limoncello from its own lemon trees and were treated to a demonstration of mozzarella making right from the curds being mixed with hot water, then pulled and tied.
We were spoiled with a tasting of all these goodies, plus huge ripe tomatoes, salami and cured meats, olives, bean salad, frittata and lemon cake. The finale was learning how to make real gelato in a hands-on experience, complete with certificate of accomplishment at David's Ice Cream in Sorrento, followed by yet another tasting.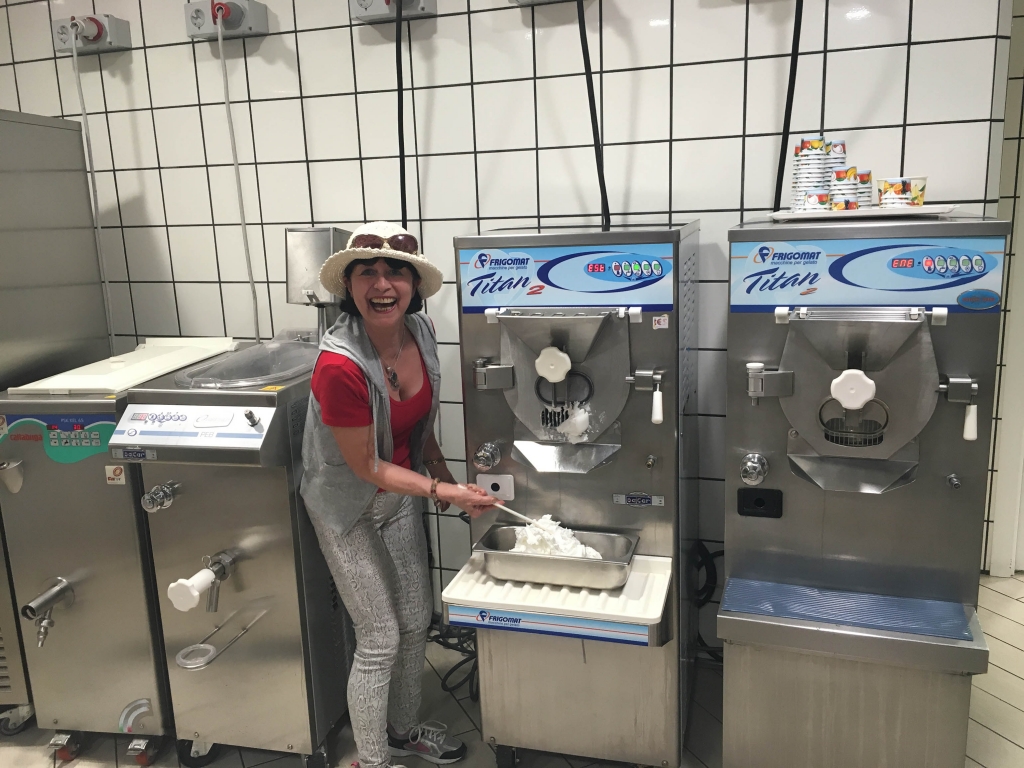 Hands-on experience making real gelato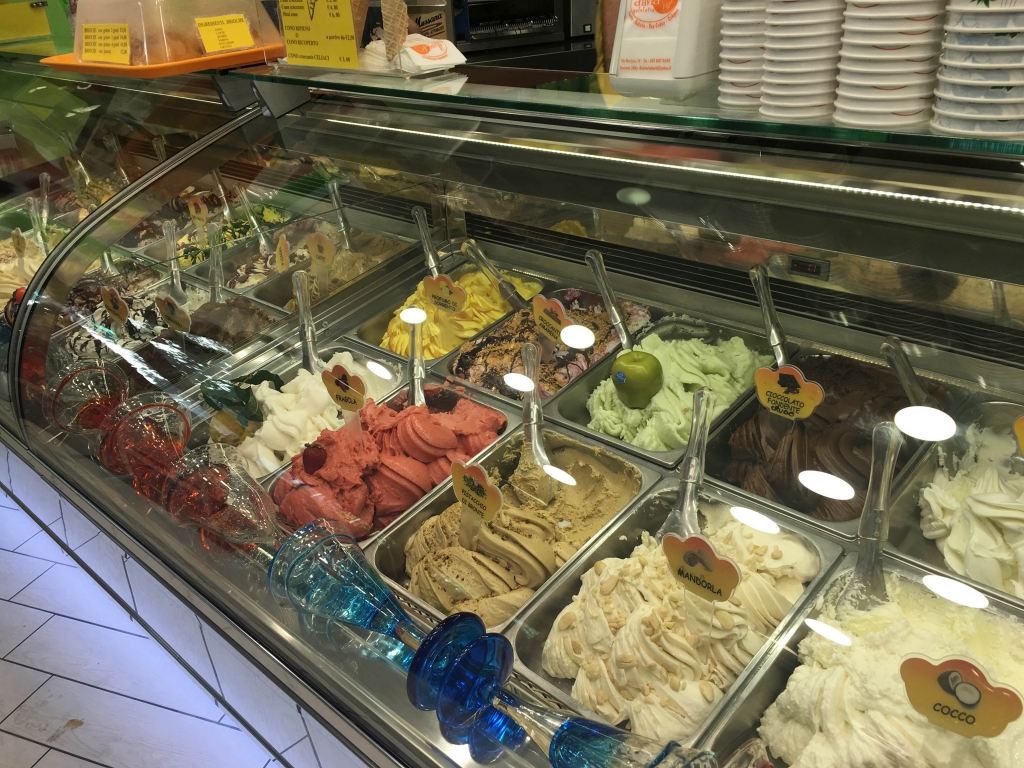 The array of gelato at David's
This says it all about our experiences
Orvieto, Italy and an indulgent trip into the country
Civitavecchia, the port of Rome was our next stop, for a quick trip to picturesque Orvieto, a medieval hill town of Orvieto with an impressive Duomo or Gothic cathedral which houses some of Luca Signorelli's most beautiful frescoes.
Orvieto Duomo
Nothing could have prepared us for what was next. Simply the most charming lunch of the whole trip. Leon Zwecker is not only the talented winemaker at Az. Vitivinicola Madonna del Latte, he cooked and served us a three-course lunch, out amongst the vines. Tomato timbale with cheesy bread, asparagus tagliatelle, an extraordinary array of local cheeses and tiramisu, all matched with a different one of his wines.
Tomato timbale and bread
Madonna del Latte Viognier
Tagliatelle with asparagus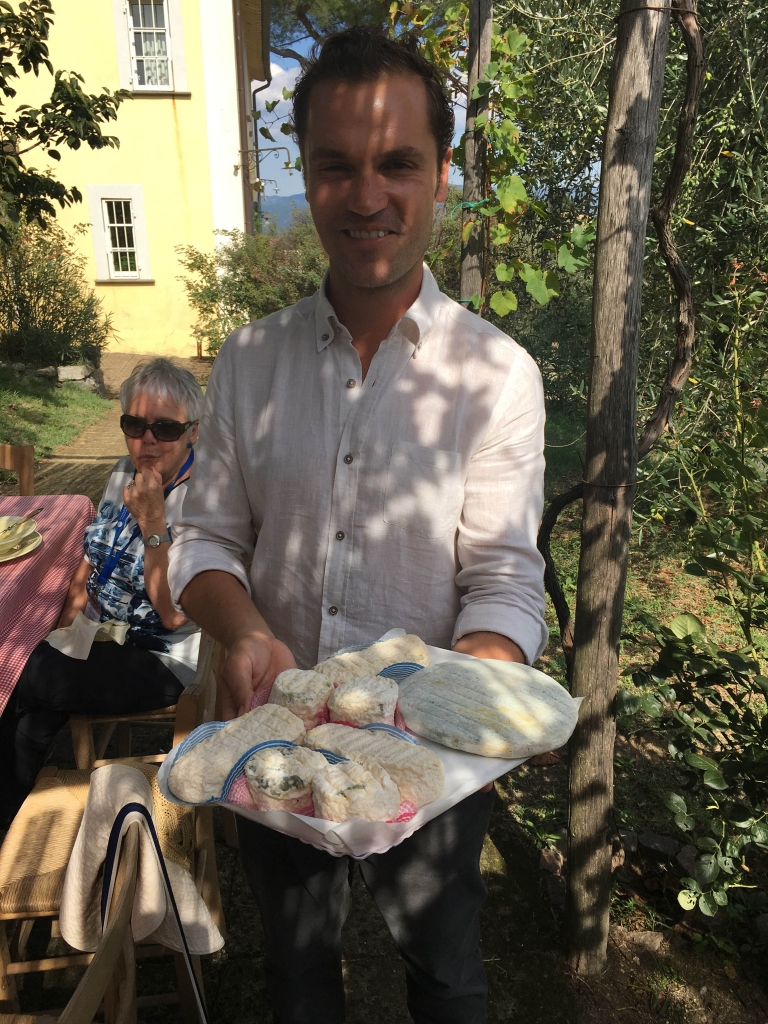 Leon Zwecker with local cheeses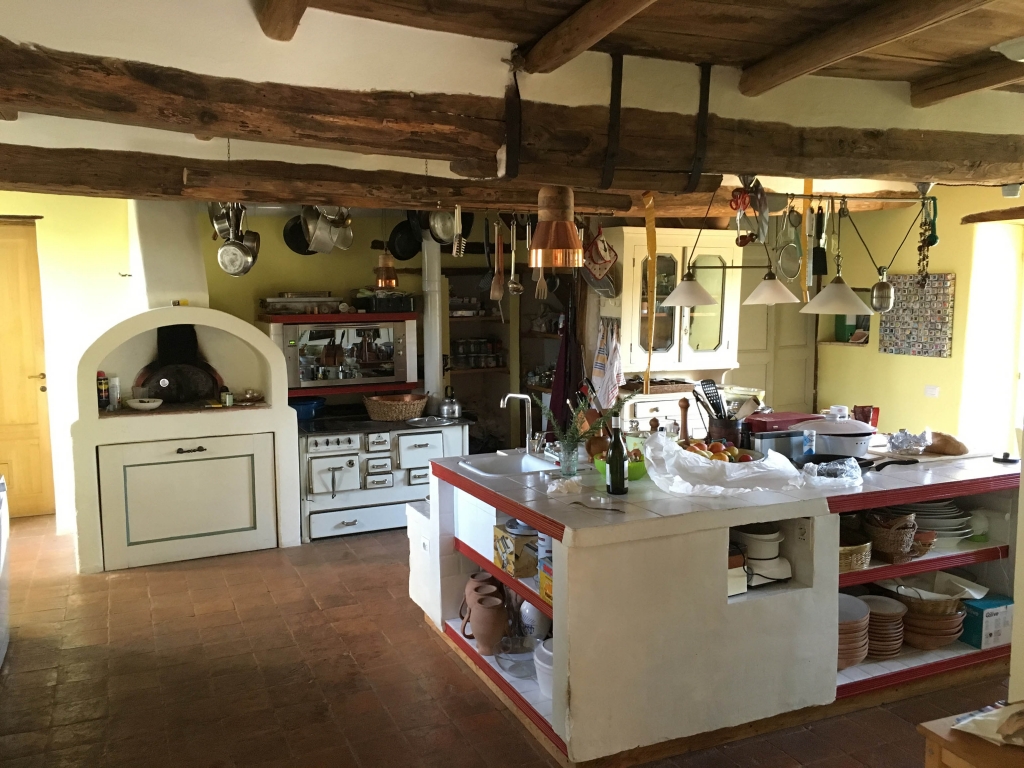 His kitchen was incredible too
We skipped dinner on board that night and sat out on the back deck of the ship, watched the sunset, relaxed with a drink and snacked on the left-over cheese. Bliss.
Florence, Tuscany, Italy
Florence was a highlight – how could it not be? Another excellent guided walking tour with the charming Ilaria, including seeing the famous San Lorenzo Market before lunch at Le Fonticine which had been recommended to me for its Bistecca alla Fiorentina. We dined on Zucchini carpaccio, tortelloni filled with ricotta and spinach in cheese and truffle sauce, Beef steak florentine style, fried potatoes and  beans with extra virgin oil and Homemade chocolate cake with mascarpone cream.
Chef at Le Fonticine preparing the beef
Parade In Florence
With free time afterwards many shopped, but I happened on an annual parade, when villagers from the surrounding countryside dress in period costume and celebrate the wine vintage.
Dubrovnik, Croatia
Our last landfall was  this picturesque town, where again we enjoyed an informative  guided  tour of the Old Town with visits to some of the historic buildings, a market and some of us walked around the top of the walls. This is where some of Game of Thrones has been filmed so it was wonderful to experience first hand. The birds'eye view was fascinating.
Me on top of the ancient walls of Dubrovnik
We finished the organised part of our tour with a truly outstanding lunch at Restoran Restoran, a restaurant recommended to me by close friends who have a house in a village not far away.  It was of international standard with good local wines and a wonderful finale for our last day ashore.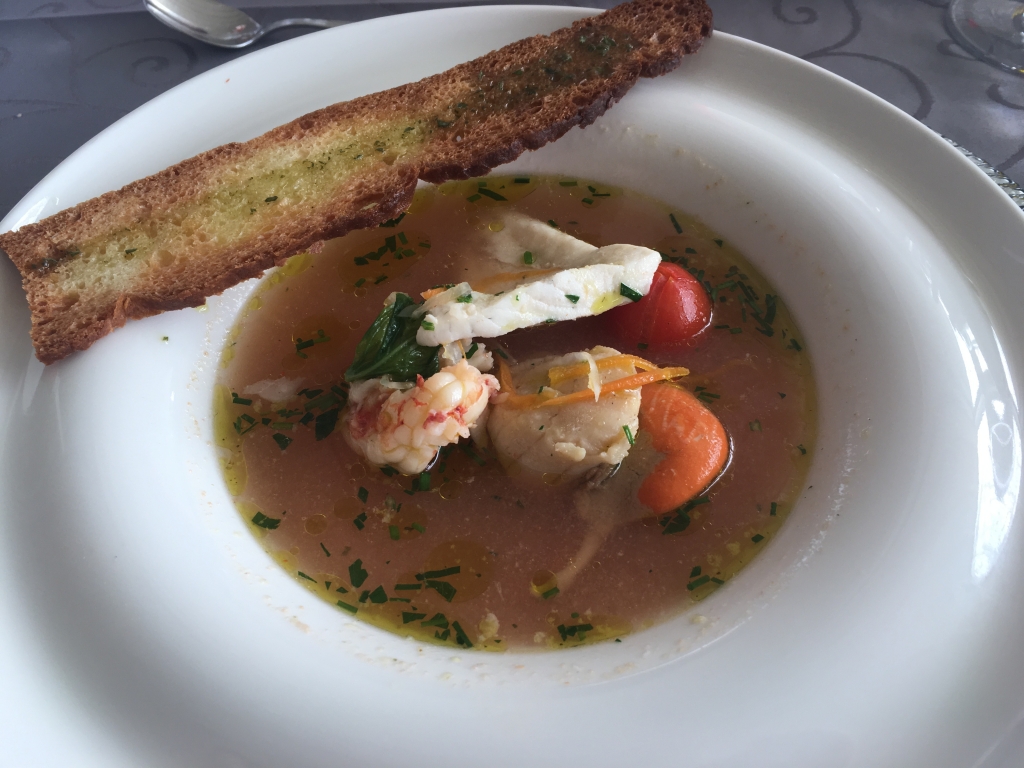 Delicate seafood soup
Lobster with pasta
Beef with black truffle and parsnip puree pot
Dessert of light semolina parfait with grand marnier followed and some made their way back to the ship, and others of us stayed ashore as the ship was staying in port until the middle of the next day.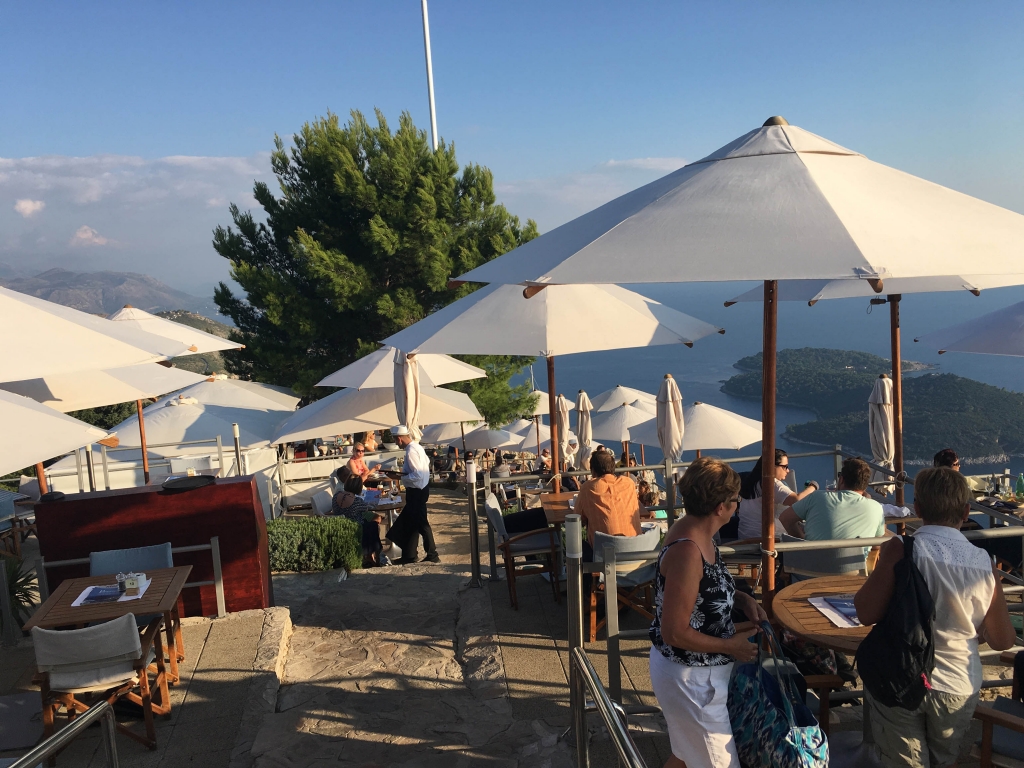 So, we went up behind the town in a cable car to a bar overlooking the whole area.  We also tried a small bar, outside the city walls, right on the waters' edge before happening on the most beautiful concert outside one of the churches. Then a small snack for dinner before a last nightcap before returning to our lit-up ship.
Next day I explored the local markets and was surprised by my lovely guests with a book on Croatian cooking, as the next day was my birthday. A wonderful last night dining together onboard.
Off the ship to Como via Verona
Departing the ship, we travelled on our own coach to romantic Verona where we met up with Francesca, a really wonderful guide for a walking tour of this beautiful city. Famous as the setting for Shakespeare's play, Romeo and Juliet, it also boasts smart shopping streets and a 1st century AD Roman amphitheatre (pre-dating the Colosseum by almost 50 years) which is still used for opera in the summer.
1st century AD Roman amphitheatre in Verona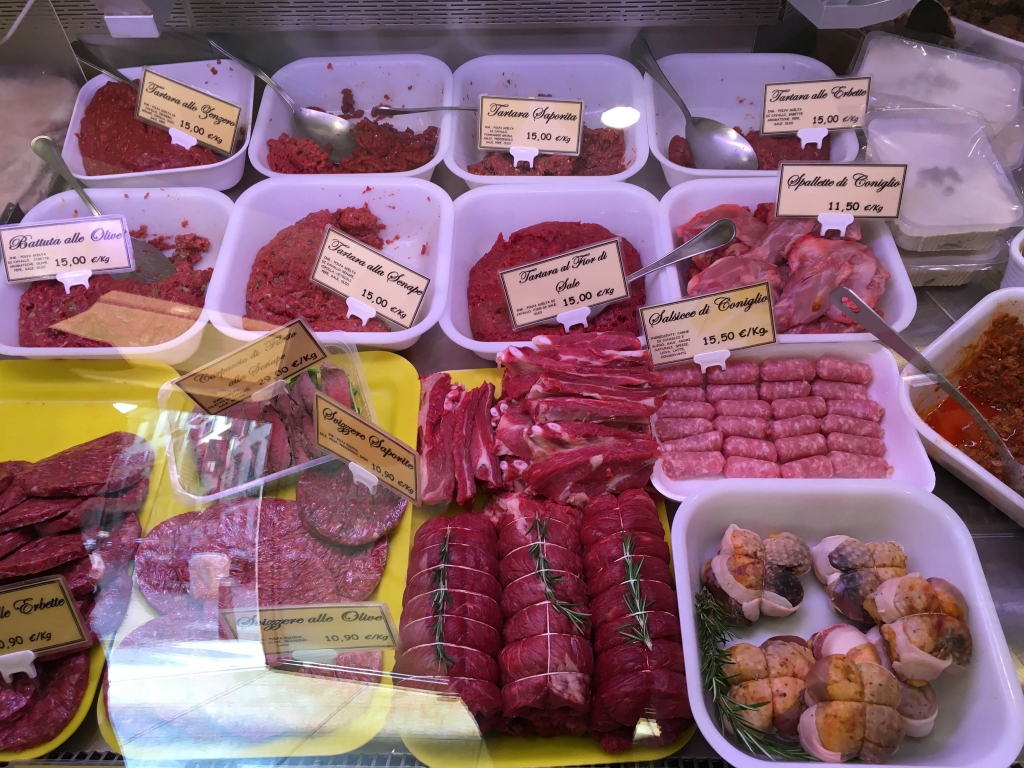 We were fascinated to see a butcher specialising in horse meat, though there is plenty of rabbit, game and other meats too
A chance for a casual lunch in a wine bar or coffee and cakes for some. I was treated to the singing of Buon Compleanno (Happy Birthday) by the Italians at the next table. A jolly time then back on the coach to travel to Como on the lake of the same name, our base for the next four days.
 Authentic Producers and Behind the Scenes Tours
I've been lucky in my professional life to go on many family (familiarisations) and special events. However, I was very proud when food industry friends in Australia helped me line up two amazing visits for me to take my guests. This is what makes these tours special.Look out for my next blog where I tell you all about these.
Did this wet your appetite?
If you're quick, you can still join me this year from 5 October to 23 October on my next fully escorted tour. Fly to Barcelona to join me on a 19 day trip, including an 11 day Western Mediterranean cruise beginning with three days in Barcelona to a final three days in Rome! Priced from $9,885 per person twin share.
For full details please visit Travelrite International or call on 1800 630 343.