A memorable Mother's Day this year is on the cards this year but maybe not for the best reasons. Many mums have been taking on changed working conditions, home-schooling, as well as mental health challenges during isolation.
So many mothers who don't have their kids living at home anymore will be wishing they could hug their children and/or grandkids extra tight this year, only to have to wave from the doorway at a responsible social distance.
If your Mum lives near you, there's a way to still make this day something special. How about cooking up something a little special and dropping it off at her door for a memorable Mother's Day! Not all food travels well but I've got some great ideas which will withstand a car trip and will help make sure your Mum is feeling the love.
Spiced Orange Cakes
This is an adaptation of the famous Middle Eastern cake,  but making it into individual cakes makes it easier to just eat one at a time! It is a great recipe for the kids or grandkids to help with the final touches! There's no 'wrong way' to drizzle the syrup and sprinkle over the pistachio and petal topping.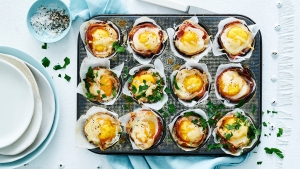 Prosciutto Egg Cups
Deliver brunch in style (and still in the tray) with this baked egg dish. Grab a few for you too! Delicious to eat hot or cold.
Gruyere Gougere
These delicious cheesey puffs aren't an everyday treat plus they travel well in a plastic container.  Mum could even heat them up briefly in the oven (not the microwave).
We are all trying to find a silver lining and a way to support each other and this is one caring thing we can do make other people feel special in this strange time. Show me your gorgeous creations (home made card included!) for a memorable Mother's Day by tagging me @lyndeymilan.
You can also read my interview with Zomato on Women In Hospitality, what Mother's Day means to me and how to make it special.